Sponsored by Fresh Press Farms. Recipe and Photo by Laura Miner of Cook at Home Mom.

This Prosciutto and Fig Salad with White Balsamic Vinaigrette is great as a holiday side or to serve with your favorite fall and main dishes. It's nicely balanced with both sweet and savory flavors. The arugula is herby and peppery. The figs are lightly sweet with a fruity, honey flavor. The prosciutto adds salty, savory goodness. And the almonds add a bit of crunch. The vinaigrette is mild and lightly sweet, with a nutty flavor from the high-quality oil used (more on that below).
Why High-Oleic Sunflower Oil?
You'll notice that this recipe is made with sunflower oil—and there's a good reason we chose to use Fresh Press Farms High-Oleic Sunflower Oil. Typical sunflower oils are high in polyunsaturated fats (known as PUFAs), but high-oleic sunflower oil is made with sunflower seeds bred to contain a higher percentage of monounsaturated fats. That's the type of fat extra-virgin olive oil is famous for. In fact, it contains only 11% PUFAs, compared to the usual 69%. That's a big win for your health—and also means that the Fresh Press Farms' Sunflower Oil has a longer shelf life and is much more stable for use in high-heat cooking. That allows you to enjoy its rich, buttery flavor in a wider variety of dishes.
We love that Fresh Press Farms sources local sunflower seeds and cold presses and bottles their High-Oleic Sunflower Oil right on their Georgia farm. Plus, each Fresh Press Farms can is made from infinitely recyclable aluminum. The aluminum is not only counter-worthy; but also the best way to keep light oxidation causing oxygen out of the oil for freshness.
It's a grove-to-pantry process you can feel good about! You can find Fresh Press Farms' high-quality oils at your local Sprouts market—or order directly from the farm on their website and use code Whole30 for 10% off.  
Prosciutto and Fig Salad with White Balsamic Vinaigrette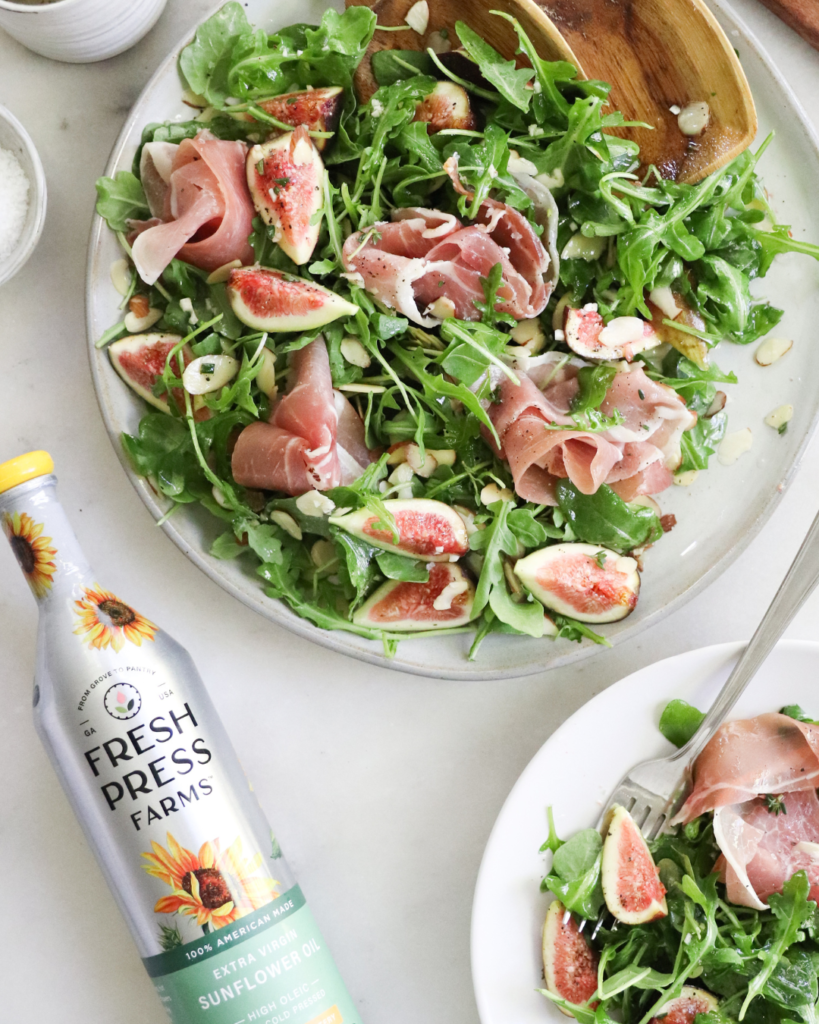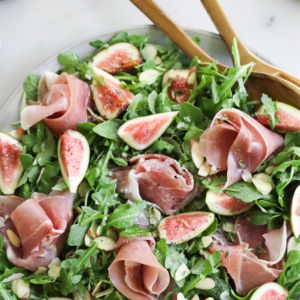 Prosciutto and Fig Salad With White Balsamic Vinaigrette
Ingredients
Prosciutto & Fig Salad
6 cups baby arugula (about 5 oz.)
8-10 fresh figs 
6 slices prosciutto (about 6 oz.)
1/3 cup sliced raw almonds
fresh thyme
salt and pepper to taste
White Balsamic Vinaigrette
6 tbsp Fresh Press Farms High-Oleic Sunflower Oil
3 tbsp white balsamic vinegar
1 clove minced garlic
1/2 tsp minced fresh rosemary
salt and pepper to taste
Instructions
MAKE the salad dressing. Add all the ingredients to a small bowl and whisk together.

SEASON with salt and pepper to taste. Set it aside until you're ready to dress the salad.

CUT the figs into quarters. Arrange the arugula on a large plate.

DRESS lightly and toss the salad, then sprinkle with a little fresh thyme and season with salt and pepper.
Laura Miner
Recipe Creator | Cook at Home Mom
Laura is the recipe creator behind the food blog Cook at Home Mom. She lives in Lynchburg, VA with her husband and three kids.