Today, we're introducing the newest beverage to join our Whole30 Approved program: Spindrift. Spindrift is the first sparkling water made with real, squeezed fruit. It's a great option for those who want more flavor in their sparkling water or those who prefer to avoid natural flavors.
[Tweet "#Whole30Approved Spindrift—sparkling water made with real squeezed fruit. Simple & delicious!"]
The team at Spindrift knows the value of good, real ingredients; they source all of their fruit from family farms. Flip over any can of Spindrift for your "Whole30 ingredient check," and you see a short list of real ingredients: just real, squeezed fruit and sparkling water. That's it! Obviously Whole30 compatible, and a fun, flavorful option for the whole family.
They offer 7 tasty flavors: Blackberry, Cucumber (Melissa's favorite), Grapefruit, Lemon, Orange Mango, Raspberry Lime, and Strawberry. They also just launched a brand new flavor, Half Tea and Half Lemon. Each one is refreshingly fizzy and tart, made to pair perfectly with your Whole30 meals. It's a great way to add a little punch of bright flavor to your day.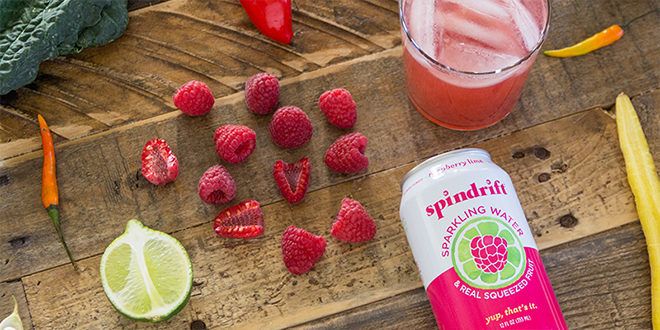 A can of Spindrift is a great way to treat yo' self (especially when food boredom starts to creep into your Whole30). It's also the perfect drink to toast with when you're celebrating Whole30-style; looking festive and pretty poured into a fancy glass with a fruit garnish.
You can find Spindrift nationwide in Trader Joes, Whole Foods, Target, Kroger, and Costco and at café-style restaurants like Starbucks and Panera. To find the retailer closest to you, check their our Store Locator. And, keep an eye on our Whole30 Instagram this week; we've got some Spindrift to give away to one lucky Whole30'er!
Whole30 Party Platter, featuring Spindrift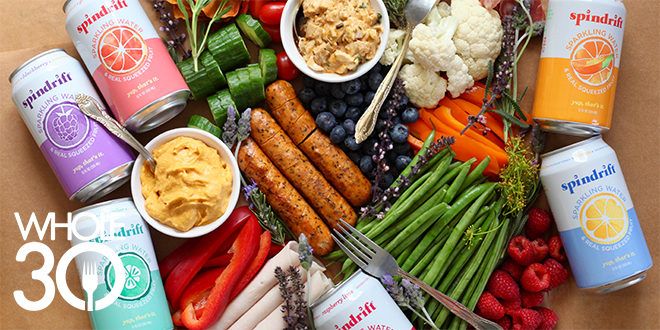 We took one look at Spindrift's gorgeous, brightly-colored cans, and were inspired to build a Whole30 party platter to pair with our favorite flavors. It's the perfect way to gather friends together to welcome the spring season—you don't even have to tell them it's a Whole30 menu.
1 | Gather your Ingredients for the Platter
3-4 of your favorite Whole30-compatible sausages, grilled, chilled and sliced
Whole30 compatible Prosciutto (we like Whole30 Approved Applegate)

Whole30-compatible deli turkey slices, individually rolled. (Tip: try the meat counter of your local health food store; ask for "sliced thin.".) Alternately, grill and chill a chicken breast, and slice it diagonally to serve.

4-5 selections of your favorite veggies, served raw. We chose sliced bell peppers, cucumbers, cauliflower, green beans, and tomatoes.

2-3 selections of your favorite fruit. Berries work well here, but you could also use sliced apples, pears, citrus supremes, or mango spears… even something exotic like star fruit slices.

Sweet Potato "Hummus" dip (recipe below)

Buffalo Chicken dip (recipe below)

Your favorite flavors of Spindrft
2 | Makes the Dips
Sweet Potato Hummus
Ingredients
1 medium sweet potato, baked, cooled and skin removed
1/2 tsp. of sea salt
2 Tbps. of tahini
Juice & zest from 1/2 of a fresh orange
2 Tbsp. of nutritional yeast
1 tsp. of yellow mustard
Instructions
PLACE all ingredients in a food processor and pulse until very creamy.
Buffalo Chicken Dip
Ingredients
1 medium or large boneless/skinless chicken breast, cooked, cooked and minced
1 cup of Whole30 Approved mayo (we like using Primal Kitchen Chipotle Mayo)
2 Tbsp. of Whole30 compatible hot sauce
1 whole scallion, minced
1/4 cup of fresh cilantro, minced
Instructions
MIX all ingredients together in a bowl and serve either warm or cold.
3 | Assemble the Platter
MAKE the Sweet Potato "Hummus" and Buffalo Chicken dip. These dips can be made a few days in advance and stored in an airtight container in the frig for up to 4 days.
GRILL, chill and slice your sausage, and chicken breasts (if including).
SLICE and cut your vegetables and fruit.
ARRANGE your selections.
SERVE your platter to your favorite people, accompanied by a delicious Spindrift!
ENJOY!
This post was sponsored by Spindrift. Thank you for supporting our Whole30 partners!
Melissa Urban
Co-Founder / CEO
Melissa Urban is a 7x New York Times bestselling author (including the #1 bestselling The Whole30) who specializes in helping people establish healthy boundaries and successfully navigate habit change. She has been featured by the New York Times, People, the Wall Street Journal, Forbes, The Today Show, and Good Morning America, and is a prominent keynote speaker on boundaries, building community, health trends, and entrepreneurship. She lives in Salt Lake City, UT with her husband, son, and a poodle named Henry.