Michelle Smith has been making Whole30 compatible recipes for years and sharing them on The Whole Smiths blog and @thewholesmiths Instagram. We love her easy 30-second homemade mayo; her relatable sense of humor; and her family-friendly, flavorful recipes.
That's why we can't wait for June 5th, the day that Michelle's The Whole Smiths Good Food Cookbook hits the shelves of your favorite bookstore. Good Food Cookbook is the first ever official Whole30 Endorsed cookbook, and it's packed with 120 healthy recipes. The best part? Half of the dishes are automatically Whole30 compatible, and an additional 19 can be easily modified to fit the program.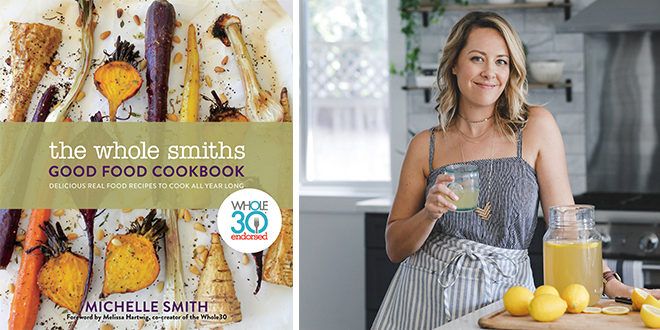 The remainder of the recipes will serve you in life after the Whole30, when you're making your Food Freedom work for you. You'll get a peek into how Michelle includes non-compatible items into her routine, with recipes that include some whole grains, dairy and natural sweeteners. The Whole Smiths Good Food Cookbook makes healthy home cooking a manageable, delicious and family-friendly endeavor in your everyday life, during and after your Whole30.
Here's the first sneak-peek from The Whole Smiths Good Food Cookbook, an all-in-one meal that left the entire Whole30 team drooling on their keyboards and will prove as appealing to grown-ups as it will to kids.
Broccoli Chicken Ranch Potatoes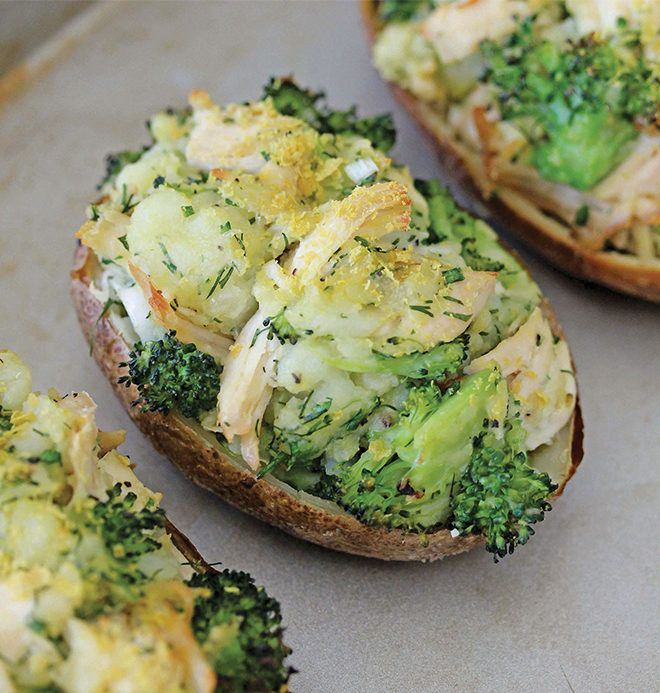 I really wanted to include a Whole30-compatible twice-baked potato in this book. Even though twice- baked potatoes usually have cheese (and lots of it), I decided to make a go at creating a version so loaded with flavor and goodness that nobody would even miss the extra dairy. I'm here to tell you that I succeeded. – Michelle of The Whole Smiths
Ingredients
3 medium russet potatoes, scrubbed clean
1 1⁄2 teaspoons extra-virgin olive oil
2 teaspoons salt
3 tablespoons ghee or salted butter
3 scallions, chopped
2 garlic cloves, minced
1 1⁄2 tablespoons chopped fresh dill
1 tablespoon chopped fresh parsley
1 tablespoon nutritional yeast
2 teaspoons chopped fresh chives
1⁄4 teaspoon freshly ground black pepper
1⁄2 pound broccoli florets (from about 1⁄2 head)
2 cups shredded cooked chicken (light and dark meat)
Instructions
PREHEAT the oven to 450°F. Line a large baking sheet with parchment paper.
PRICK holes in the potatoes with a fork, then coat with the olive oil and sprinkle with 1 teaspoon of the salt. Place the potatoes on the prepared baking sheet and bake for 1 hour. Let cool. Reduce the oven temperature to 375°F.
CUT the cooled potatoes in half lengthwise and scrape the flesh into a large bowl, reserving the skins. Mash the ghee into the potatoes using a fork, then stir in the scallions, garlic, dill, parsley, nutritional yeast, chives, remaining 1 teaspoon salt, and the pepper. Add the broccoli and chicken and fold into the potato mixture.
SCOOP the potato filling into the reserved potato skins and place them upright on the baking sheet. Bake for 20 minutes, or until the edges of the potatoes are lightly golden.
ENJOY!

This post contains affiliate links, which means we make a small commission from purchases made via the link. Thank you for supporting our Whole30 partners!
Shanna
Chief Content Officer
Shanna Keller, our Chief Content Officer, hails from Boise, Idaho, where she lives with her husband Alan and a poorly-behaved terrier named Olly. She has spent her career telling stories of life transformation on social, web, e-mail and print media platforms. In addition to celebrating Whole30 successes and stories online, Shanna loves to cook, read, and climb.