By Whole30 team member and resident outdoor adventurer Jen Kendall
Summer is in full swing, and it's the season to take all of the camping trips, road trips, and trips to the beach that you can fit into three months. As someone who never underestimates the amount of happiness a good camping trip can bring, I love it!
If you've got an adventure on the calendar and are committed to your Whole30 (or just want to support your Food Freedom), you may be looking for some compatible alternatives to typical camping fare. This might seem daunting, but with a little planning and preparation—two of our favorite Whole30 keys to success—you'll find that your meals away from home can be just as delicious and even just as simple to prepare.
In Part 1 of Whole30 In the Wild, I outlined everything you need to know about taking your Whole30 food on a road trip or camping adventure in order to keep you successful while away from home, and today, in Part 2, I'm sharing three of my favorite Whole30-compatible camping recipe ideas. While I included full recipes below, all three of these dishes are versatile and to modify depending on which veggies and protein you have on hand. Plan to share these meals with your non-Whole30 camp-mates, road trip buddies, or kiddos—they're packed with flavor and are sure to be crowd-pleasers.
[Tweet "Camping while on a #Whole30? We've got 3 great meal ideas for you. #Whole30ontheroad"]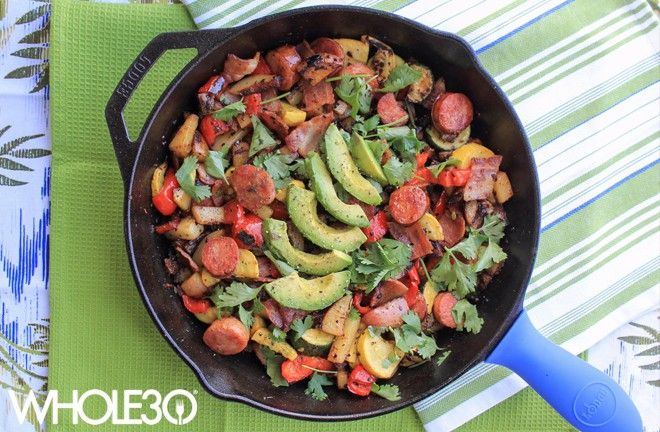 Hearty Egg-less Breakfast Skillet
Serves 4 Hungry Campers
Cast Iron Skillets are one of the coolest camping tools there are—they don't require washing with soap, food crisps beautifully, and the longer you own them and use them, the more non-stick they become. Don't forget an oven mitt, a good spatula, and a serving spoon, as the skillet becomes very hot. Feel free to swap the veggies for other seasonal options, use sweet potatoes instead of white, or fry up a different compatible meat. The methodology will remain the same—fry the meat first to render the cooking fat, add in potatoes, and then toss in the veggies last.
Bonus: If you can't possibly imagine a breakfast skillet without eggs, simply scramble the number of eggs you'll want to cook and place them in a mason jar with a tight lid. The jar can hang out in your cooler with all of your other goodies until you're ready to whip up the eggs. 
Ingredients
6 slices of compatible bacon, chopped (Pederson's Natural Farms or Applegate No-Sugar Bacon)
1 pound fully cooked & compatible sausage of choice, sliced into rounds or diced (I used Pederson's Kielbasa, but these Applegate dinner sausages are also compatible, as well as many varieties of Teton Waters Ranch.)
3 cups potatoes of choice, diced (I use red potatoes, skin on) or compatible bagged hash browns.
1 bell pepper, diced
½ onion, diced
1 zucchini or yellow squash, sliced
1 ripe avocado, sliced
Cilantro, chopped (optional)
Salt & Pepper and other seasoning blends of choice (I used Paleo Powder Seasoning, we also love the Whole30 Approved options from Primal Palate).
Pre-Trip Prep Work
*While prepping for your camping trip, you might be tempted to skip this step. Don't. It won't take long, and I promise you'll appreciate these extra steps the morning-of.
CHOP bacon and sausage and place in separate Ziploc baggies or Tupperware.
DICE potatoes and veggies, putting potatoes in one container and mixed veggies in another. The potatoes may discolor once chopped, but they are perfectly fine to eat and you probably won't notice once you brown them in the skillet.
PACK a cast iron skillet with a lid, and don't forget a baking glove to grab the hot handle.
BE SURE you don't forget some tongs, a large serving spoon, a cutting board, a sharp paring knife, and any other plates, silverware and serving utensils you may need.
Instructions
ADD bacon to a cast-iron skillet and place over a sturdy camp stove or a campfire with a metal grate.
LET bacon begin to fry and once it begins to render enough grease, remove the bacon to a separate plate and add the diced potatoes to the skillet. Salt potatoes and cover, letting them begin to cook for 4-5 minutes before stirring.
ONCE potatoes begin to brown and crisp evenly, add back the bacon, sausage, and the onions and peppers. Once the onions begin to turn translucent, add in the squash. Season to taste, and stir occasionally until all of the veggies begin to soften and caramelize.
WHEN everything is hot and ready, pull the skillet from the heat (make sure you use a glove!) and garnish with avocado slices and cilantro.
[Tweet "#Whole30 camping recipes to inspire your summer road trips, today on the blog."]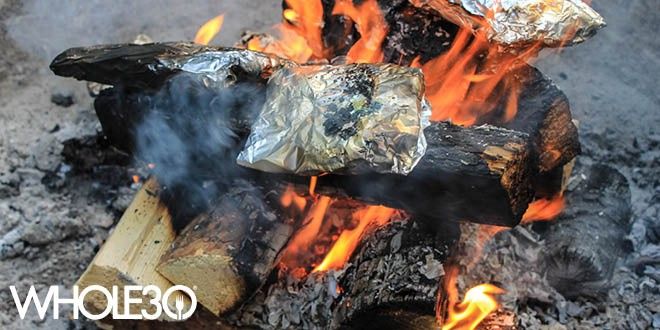 Beefy Foil Packet Dinners
Serves 4 Happy Campers
Foil Dinners are the quintessential camping dinner, and with their endless possibilities, everyone in your group can create a meal they will love. These are especially kiddo-friendly—kids can choose their own veggies and toppings and help make their own dinner. Also, for a sweet hack to keep your food from burning, check out this tip from Simple As That Blog.
Ingredients
1-2 pounds ground beef, depending on how meaty you want your packets to be.
4 cups mixed veggies of choice, chopped. Peppers, onions, carrots, zucchini, and mushrooms are great choices.
4 cups potatoes, chopped (I used red, skin on) or compatible bagged hash browns.
Seasoning blends of choice (I used Paleo Powder Seasoning, we also love the Whole30 Approved options from Primal Palate).
Sauce Ideas: Primal Kitchen's Chipotle Lime Mayo, Tessemae's Organic Ranch, or The New Primal Marinades, BBQ or Buffalo Sauces
Aluminum Foil
Pre-Trip Prep Work
SEAL meat in a Ziploc Freezer bag so that it doesn't leak.
WASH and dry veggies. Chop and store in a large Tupperware together, or separate if you want to create an assembly line for choosing veggies.
CLEAN potatoes and dry. Chop and store in a large plastic bag. Don't worry about discoloration—it is more unsightly than problematic.
Instructions
LINE up the meat, veggies, potatoes, and seasonings on a table. Place 4 large squares of aluminum foil out for each camper, plus 4 more for a second wrapping.
ON each square of foil, add the desired amount of meat, potatoes, veggies, and seasonings in the middle, careful to not overfill. Seal tightly and wrap with a second sheet of foil.
PLACE each foil pack over mature coals or a low fire grate (works best when the fire is hot enough). Cook 10-15 minutes per side, depending on how large each packet is and how hot the fire is. On mature coals, 20-25 minutes total is usually plenty.
PULL out one packet to check doneness, and be careful of steam when opening. When meat and potatoes are cooked through, the packets are done. Let cool for a few minutes, top with garnishes, and enjoy.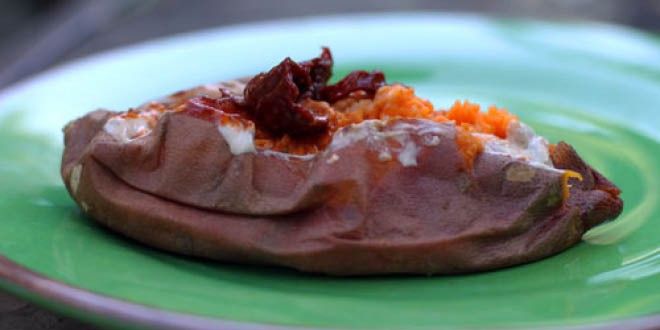 Fire-Roasted Sweet Potatoes
If you're active with outdoors adventures on your trips, you'll want to make sure you are getting enough healthy, starchy carbs to fuel your activities. Sweet potatoes are a comforting side dish with plenty of nutrition and opportunities to customize each camper's toppings.
Ingredients
Sweet Potatoes, 1 per person
Aluminum Foil
Topping Ideas
Spiced: Ghee or coconut oil, cinnamon, pumpkin pie spice, and a sprinkle of salt. Unsweetened, dried cranberries or sliced bananas are a great addition, too.
Savory: Ghee, sage, thyme, rosemary and a sprinkle of salt and pepper.
Spicy: Ghee, paprika, red pepper flakes, and salt and pepper.
Pre-Trip Prep Work
WASH and scrub sweet potatoes. Store in a dry location.
PLAN your toppings by packing full spice bottles or measuring them into sealable baggies.
PACK your ghee and/or coconut oil.
Instructions
WRAP sweet potatoes tightly in aluminum foil. They will be going straight into the coals, so don't be shy with foil.
PLACE foil-wrapped potatoes into the mature coals and turn every 5-10 minutes for a total of 30-40 minutes. Once they are done, they will be soft when you poke them with your tongs.
REMOVE from the fire and gently release the foil, watching for steam. Cut lengthwise and add toppings as desired.
ALTERNATIVELY, you can place the sweet potatoes directly in the coals without foil if you don't plan to eat the skin. This is a little messier, but if you forget the foil, it's a great solution.
What are your favorite Whole30 road tripping and camping tips and tricks? Join the conversation on Facebook and Instagram.
Post photo courtesy of Dirty Gourmet.
---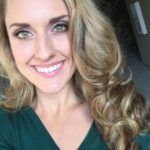 Jen Kendall is the Whole30 Approved Program Manager and an avid lover of the outdoors. You can find her on Instagram, where she regularly posts photos of her adventures. She lives in Salt Lake City, Utah.
Save
Save
Save
Jen Kendall
Whole30 Approved Program Manager
Jen Kendall, our Whole30 Approved Program Manager, is a born and raised Floridian who now lives in Utah with her husband Quinn and their two-year-old boy Easton. She graduated the University of Florida in 2010 from the College of Journalism and Communications and has a strong interest in nutrition, health and exercise. Jen has an insatiable appetite for travel and adventure and also loves books, spending time in the kitchen cooking and experimenting with recipes, Crossfit, and enjoying as many days as possible in the outdoors year-round.