Today we're introducing you to our newest Whole30 Approved partner, New Barn. Their Unsweetened (in the green bottle) is the first-ever Whole30 Approved almond milk, and we're pretty darn excited about it. From Whole30 headmistress Melissa Urban:
I've spent lots of time talking with (New Barn founder) Tedd Robb and his team about health, happiness, and community-building. First, this product not only meets, but exceeds our Whole30 standards. Have you read the list of ingredients on your Whole30-compatible almond milk lately? They're almost always long, and full of stabilizers. While this shouldn't pose an issue for your Whole30, I still much prefer seeing a short, clear ingredient on a product, don't you? New Barn Unsweetened Almondmilk has just FOUR: spring water, organic almonds, acacia gum, and sea salt. Um, that's it. Which I love! In addition, after spending so much time with Ted, it's clear their mission, values, and philosophy are a perfect fit for our community. I love working with companies who are just as excited about supporting our Whole30'ers as I am, and I can't wait to see how you find new, exciting, tasty ways of incorporating their unsweetened almond milk into your Whole30 meals.
[Tweet "On the #Whole30 Blog: Cooking with #Whole30Approved @newbarn_co Almondmilk. #Whole30Recipes"]
NOTE: While New Barn makes lots of tasty almondmilk-based products, their Unsweetened variety in the green bottle is the only Whole30 Approved product. (Their other flavors have sweeteners that rule them out for your Whole30, but could be a good choice when you want to kick your heels up in life after Whole30.) Currently, New Barn is available at Whole Foods Markets nationwide, and they're expanding to other small retailers throughout the country this summer.
We think you'll find New Barn almondmilk is a versatile ingredient that adds a touch of creaminess to your favorite Whole30 recipes: soups, dressings, sauces and more. We asked Michelle Smith of the whole smiths to whip up a few fresh Whole30 recipes for us, and her creamy asparagus soup and avocado dressing do not disappoint. (And be sure you read all the way to the end, because we've got some sweet New Barn giveaways heading your way!)
Roasted Asparagus Soup & Crispy Proscuitto Crumbles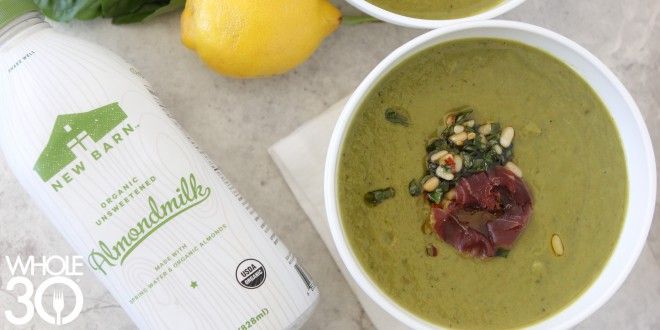 Whole30 says: Take advantage of the spring asparagus crop with this veggie-packed soup. While the crispy prosciutto is a tasty and beautiful garnish, you'll want to add more protein (in the form of grilled chicken or fish, perhaps?) to make this a complete Whole30 meal.
Ingredients
6 slices prosciutto (make sure it's compatible)
4 cloves garlic, smashed
2 shallots, roughly chopped
1 leek, sliced
1 onion, quartered
2 lbs. asparagus
5 tbsp. olive oil
2 tsp. lemon pepper or black pepper
1 tsp. salt
6 cups compatible chicken broth
1 cup New Barn Unsweetened Almondmilk
2 tbsp fresh basil, chopped
1/4 cup pinenuts
zest of 1 lemon
Pinch of red pepper flakes
Directions
PREHEAT oven to 375 F.
LINE a baking sheet with parchment paper and add prosciutto slices in one even layer. Bake for 10-12 minutes, until crispy. Remove and set aside. Increase oven temp to 400 F.
COMBINE garlic, shallots, leek, onion, asparagus, olive oil, pepper and salt in a large bowl and toss to coat all ingredients thoroughly.
SPREAD the asparagus mix evenly over one large or several smaller baking sheets / pans and roast for 35 minutes until tender. Once done, add asparagus and onion mix to a high-powered blender or food processor. Add 3 cups of chicken broth and blend until smooth.
ADD asparagus mix to a large stock pot along with remaining chicken broth. Bring to a simmer and add New Barn Almond Milk, stirring to combine. Salt & pepper to taste. Meanwhile, combine basil, remaining olive oil, lemon zest and red pepper flakes in a small bowl.
SERVE soup with a bit of basil mix and crispy prosciutto over top, and enjoy!
Avocado & Cilantro Lime Dressing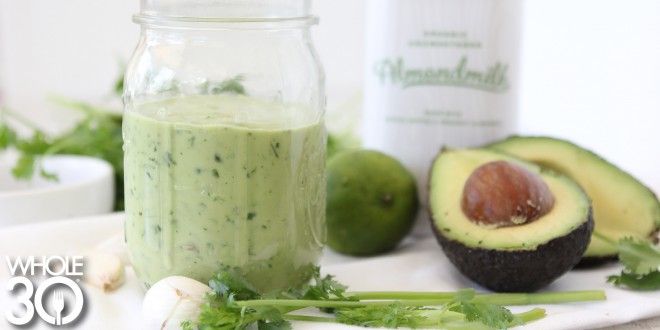 Whole30 says: This dressing is a great accompaniment for any salad, but we think it works particularly well with the steak salad on page 220 on The Whole30.
Ingredients
1 avocado
1 jalapeno
2 cloves garlic
1 & 1/4 cups New Barn Unsweetened Almond Milk
1/2 tsp. salt
Juice of 1 lime
Pinch of red pepper flakes (additional for more heat)
Directions
ADD all ingredients to a high-powered blender and blend until smooth.
SERVE over top of your favorite salad… and don't forget the protein!
New Barn Giveaway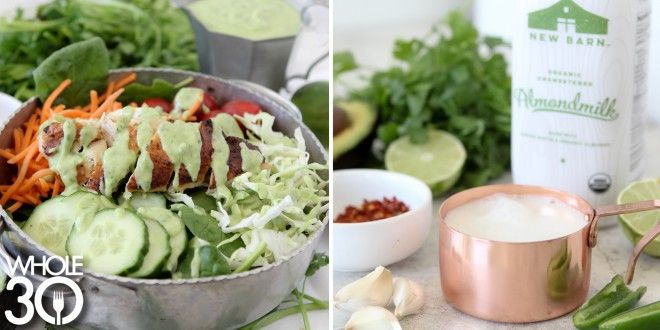 Want to win some Unsweetened Almondmilk for yourself? We're giving away New Barn almondmilk and swag on Instagram and Facebook today, so head over there for a chance to win. In the meantime, share your excitement about our newest Whole30 Approved partner on The New Barn's Facebook (/thenewbarn), Instagram (@thenewbarn), or Twitter (@newbarn_co) feeds!
---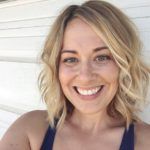 Michelle Smith is a food blogger and a Whole30 veteran. She is a frequent contributor to the Whole30 community, blogging recipes, kitchen tips, and healthy lifestyle inspiration on the whole smiths blog and her Instagram feed.
Melissa Urban
Co-Founder / CEO
Melissa Urban is a 7x New York Times bestselling author (including the #1 bestselling The Whole30) who specializes in helping people establish healthy boundaries and successfully navigate habit change. She has been featured by the New York Times, People, the Wall Street Journal, Forbes, The Today Show, and Good Morning America, and is a prominent keynote speaker on boundaries, building community, health trends, and entrepreneurship. She lives in Salt Lake City, UT with her husband, son, and a poodle named Henry.