Sponsored by Bonafide Provisions
Looking for a special Whole30 recipe to serve at a dinner party or gathering? Normally, the recipes we share are written to serve 2-4 people, sutable for a weeknight family dinner. Today, we're sharing a dish that Chef Jeromy of Grand Summit resort in Park City, Utah created to serve our entire group of Whole30 Certified Coaches at our first annual Whole30 Coach Summit last weekend.
[Tweet "We're sharing a recipe for Pork Colombo featuring @bonafideprovisions on our #Whole30 blog today. #sponsored This one is perfect to feed a crowd at your next dinner party or event!"]
Chef Jeromy's Pork Colombo is elegant and delicious, but comforting at the same time. It features in-season produce and nourishing, Whole30 Approved bone broth from our event sponsors Bonafide Provisions. It was the perfect special dish to serve to our Whole30 Coaches, and we know your family and friends will love it, too. (Even the "I'm NEVER gonna do a Whole30" crowd.)
Our Whole30 Approved Partners at Bonafide Provisions make nourishing bone broth from the highest quality ingredients. They offer four bone broth varieties that can be found in grocery stores nationwide. Click here to find Bonafide Provisions in a grocery store near you.
Put this Pork Colombo recipe in your collection for the next time you want to craft a satisfying and nutritious meal for a crowd.
Pork Colombo, Featuring Bonafide Provisions Bone Broth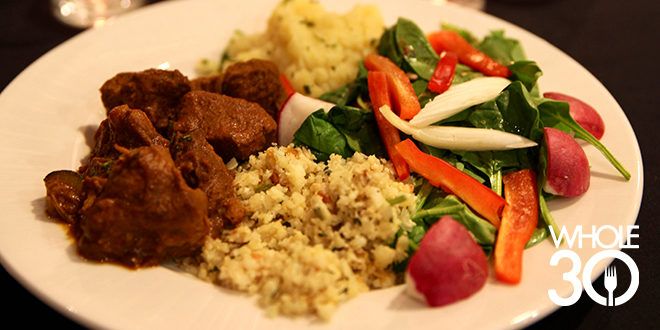 Pork Colombo served with Cauliflower Rice Pilaf, Mashed Parsnip and a green salad.
INGREDIENTS
(Serves 8-10 people)
For the Pork:
15 lbs. Pork Butt
3 Summer Squash (Medium Dice
3 Zucchini (Medium Dice
2 Eggplant (Peeled and Medium Dice)
2 Yellow Onions (Small Dice
1 Bulb Garlic (Minced
3 Gallons Bonafide Provisions Beef Broth
3 Tbsp Extra Virgin Olive Oil
3 Bay Leaves
2 Tbsp Apple Cider Vinegar
Cauliflower rice for 8-10 people
For the Colombo Spice:
4 Tbsp whole Coriander Seed
2 Tbsp each whole Anise Seed, Yellow Mustard Seeds, Black Peppercorns, Cumin
2 Tbsp each ground Fenugreek, Cinnamon, Garlic Powder, Paprika
4 Tbsp each ground Ginger, Turmeric, Salt
1/2 tsp of ground Clove
2 pinches of red pepper flakes
INSTRUCTIONS:
CUT the meat into 1 inch cubes. Keep the fat intact and set aside.
MEANWHILE, toast the whole coriander, anise, yellow mustard seeds, black pepper, and cumin together over medium heat, tossing regularly for 3-5 minutes. Once the spices cool, grind in a coffee or spice grinder to a powder. Mix all remaining spices together and generously fold them into the pork. Let the spiced pork butt rest in the refrigerator overnight or at least four hours.
IN a four-gallon stock pot, add the oil. Once the pot is preheated, add the diced onion and minced garlic. Sauté until the onions are translucent, then add the pork. Brown the pork roughly five minutes. Deglaze the pan with a necessary amount of Bonafide Provisions beef broth to prevent burning. Once the pork is browned, add the remaining broth and bay leaves, bring to a boil, then reduce to a simmer for 1 hour.
ADD the diced squash, zucchini, and eggplant and continue to simmer for another 45 minutes or until the pork is fork tender and the sauce has thickened.
ADD two tablespoons of apple cider vinegar and season to taste with salt and pepper. Serve over cauliflower rice.
ENJOY!