I've lived in the South for 99% of my life. One of the things I love best is finding ways to adapt for Whole30 some traditional low country recipes, for which we owe a deep debt to enslaved people brought to the estuary coasts of Georgia and North Carolina against their will, who also brought with them the flavors of the African West Coast.
If you've ever eaten in the South, you've likely had (or at least heard of) a low country boil, and this recipe is a quick-and-easy homage to that. In my house, we have this for dinner at least twice a month, and it's especially nice because it feels like a finished, somewhat fancy meal even for those who don't like to (or are just learning to) cook.
Simple Seafood Bake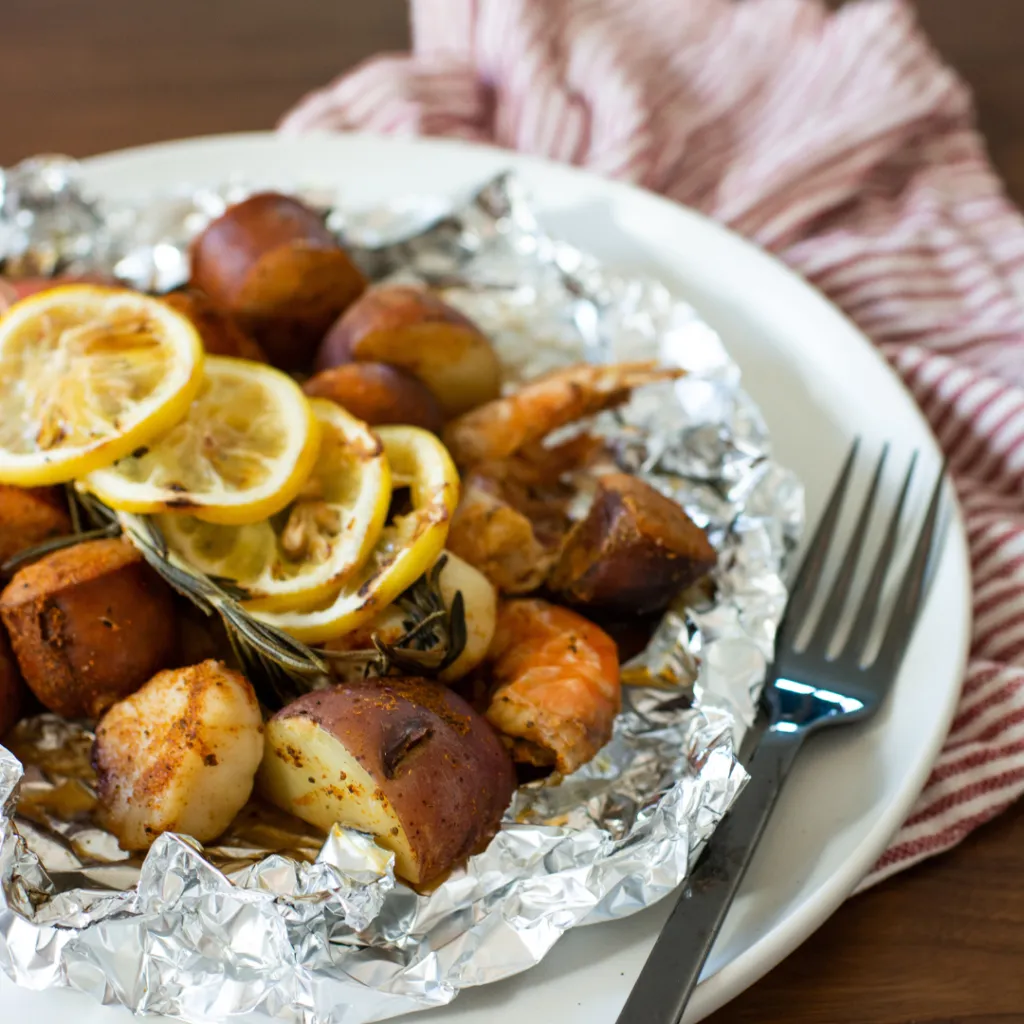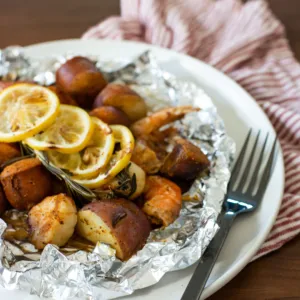 Simple Seafood Bake
Ingredients
1

lb

shrimp (peeled or unpeeled according to preference)

fresh or thawed

1

lb

scallops

fresh or thawed

1

package of Whole30 compatible sausage

1-2

lb

neww red potatoes, or other palm-sized or smaller potato

4-6

fresh lemons

Primal Palate New Bae seasoning, or another Whole30-compatible seafood seasoning

to taste

12

sprigs fresh rosemary or basel leaves
Instructions
Prep ahead – if needed
If using frozen seafood, let it thaw in the fridge for a few hours then drain before assembling. If you bake it frozen, too much liquid will escape while cooking and the mixture will be too soupy.
Bake
SLICE sausage into bite-sized pieces.

CUT potatoes in quarters. *Tip: if you are working with blood sugar issues, you might consider soaking your potatoes in water for at least 20 minutes before assembling the seafood bake.

SLICE lemons into medium-thin rounds (about 6-7 slices per lemon).

MAKE packets by using a baking sheet to lay out a piece of aluminum foil about 12" long and 6" wide for each person you're serving; everybody will get their own little "envelope."

PLACE a handful of shrimp, a handful of scallops, a handful of sausage, and a handful of potatoes in the middle of each aluminum foil sheet. This doesn't need to be precise! Basically, you just want to evenly distribute the protein and potatoes across each serving.

SPRINKLE your protein and potatoes generously with your Whole30 -compatible seafood seasoning. Again, this is to taste! Use as much or as little as you like.

COVER the protein and potatoes with lemon slices and rosemary or basil.

STARTING with the long sides of your tin foil first, join your packets at the top, then roll slightly to close. Close ends in a similar fashion until you have an "envelope" of tin foil with your seafood bake inside. Leave enough space and air at the top (over the seafood) so steam can gather.

BAKE for 30 minutes then plate OR eat right out of the packet for minimal clean-up!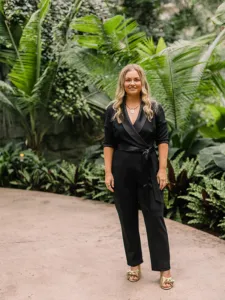 Melissa Schmidt
Director of Education
Melissa Schmidt is our Director of Education. She comes to Whole30 with nearly 20 years of experience in project and product management in medical research publications, and she holds a Master of Education degree with focus on adult education for health professionals. Melissa is a wife to Adam, a mom to Henry, and a daughter to Becki, all of whom reside with her currently in Florida. Melissa has a passion for developing efficient, streamlined programs that deliver meaningful content in an accessible format. She believes deeply in the human work of self knowledge and value alignment, both of which were a big part of her first journey through the Whole30 in 2013 – and she believes that work should be available to everyone. She's a voracious reader, a joyful writer, a big dreamer, an intersectional feminist, an empathic friend, and a recovering perfectionist.