Our @whole30recipes Instagram feed brings you delicious, Whole30 compatible recipes all day, every day. And, in our series, The Best of @Whole30Recipes, we bring our favorites to the blog.
We're betting you already have your favorite recipes for the traditional Thanksgiving meal, like your grandma's roast turkey or your father-in-law's classic mashed potatoes. (If you don't, there is a delicious Fancypants Holiday Meal menu, along with detailed preparation and cooking timetables, in The Whole30.)
So for this installment of the Best of Whole30Recipes series, we're bringing you some fresh appetizer, side dish, and salad recipes to inject a little Whole30 goodness into your menu.
Appetizers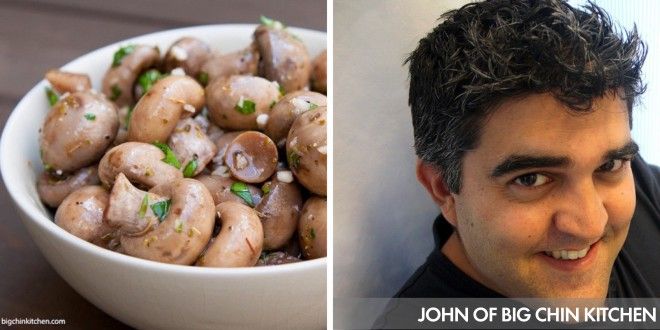 Marinated Mushrooms from @bigchinkitchen
INGREDIENTS
2 lbs whole fresh button mushrooms, small size
1/2 cup red wine vinegar
6 tbsp extra virgin olive oil
1 tsp Kosher salt or sea salt
1 tsp dried oregano
1/2 tsp freshly ground pepper
3 cloves of garlic, minced
2 tbsp fresh parsley, chopped
INSTRUCTIONS
CLEAN mushrooms and cook in a large amount of boiling salted water until slightly tender, approximately 10 minutes. Drain thoroughly and place in a bowl.
COMBINE all remaining ingredients except the parsley in a small bowl and whisk thoroughly. Pour over mushrooms. Toss to combine. Cover and marinate in the refrigerator for at least 2 hours but up to 24 hours.
JUST before plating, add chopped parsley, toss to combine and serve.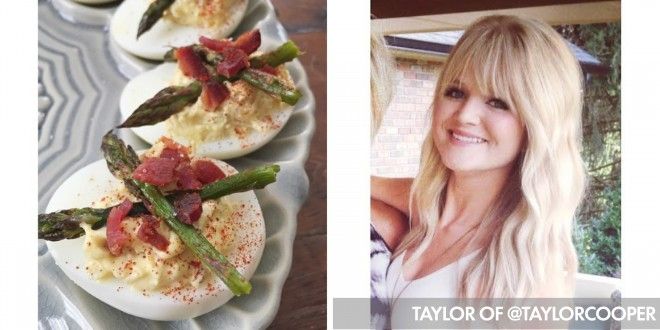 Not Your Granny's Deviled Eggs from @taylorcooper
INGREDIENTS
6 hard boiled eggs, peeled + cut in half, egg yolks removed to a medium-sized bowl
¼ cup Whole30-compatible mayo
3 tbsp Whole30-compatible fermented kraut
2 pieces of Whole30-compatible bacon, cooked and crumbled
6 pieces of asparagus, cut into 1-2" bites
smoked paprika, for garnish
INSTRUCTIONS
MASH egg yolks in bowl
ADD mayo and kraut and mix well. Cover bowl and transfer to the fridge.
SET a pan over medium heat. Add cooking oil of choice and sauté asparagus for 3 to 5 minutes.
TRANSFER asparagus to a paper towel lined plate to drain.
SPOON yolk into the corner of a sandwich size zip top bag. Snip the tip of the corner off to create an easy way to neatly squirt yolk mixture into the egg whites.
FILL egg whites generously
GARNISH with asparagus pieces, crumbled bacon and smoked paprika.
3)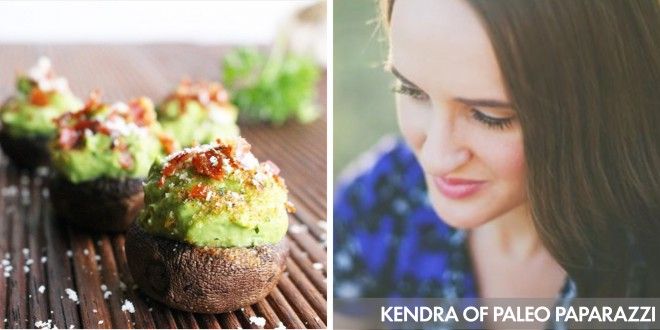 Avocado and Prosciutto Stuffed Mushrooms from @paleopaparazzi
INGREDIENTS
2 to 3 pieces of prosciutto
8 oz. pack of baby bella mushrooms, stems removed
1 tablespoon olive oil
1 large avocado
1/2 cup baby spinach
1 tablespoon fresh lemon juice
1 tablespoon fresh basil leaves
1 tablespoon fresh parsley leaves, plus some leaves for garnish
1/2 clove of garlic
2 teaspoons onion powder
1/8 teaspoon Himalayan or sea salt
1/4 teaspoon pepper
INSTRUCTIONS
LINE two baking sheets with foil or parchment paper and preheat your oven to 425 degrees.
FOLD pieces of prosciutto in half and bake on lined baking sheet for 5 minutes, flip and bake for another 5 minutes on the other side. If it still isn't crispy enough, set oven to broil and cook for an additional minute. Set aside to cool.
REMOVE mushroom stems. Gently rinse under cool water and pat dry with paper towel. Place mushrooms gill side up on lined baking sheet and use a basting brush to coat caps and sides of mushrooms with olive oil. Sprinkle salt on each mushroom if desired and put into 425 degree oven for about 5 to 6 minutes.
REMOVE mushrooms from oven and pour out moisture that collected inside while baking. Gently pat each one dry with a paper towel. Set aside to cool.
SLICE avocado and remove pit. Place avocado flesh into high speed blender or food processor along with baby spinach, lemon juice, basil leaves, parsley, garlic, onion powder, salt and pepper. Blend until smooth.Taste and adjust flavor as needed.
CRUMBLED cooled prosciutto into bite sized pieces sprinkle a bit inside each mushroom. Scoop avocado filling mixture into each mushroom and top with more crumbled prosciutto pieces. Garnish with parsley before serving.
Salads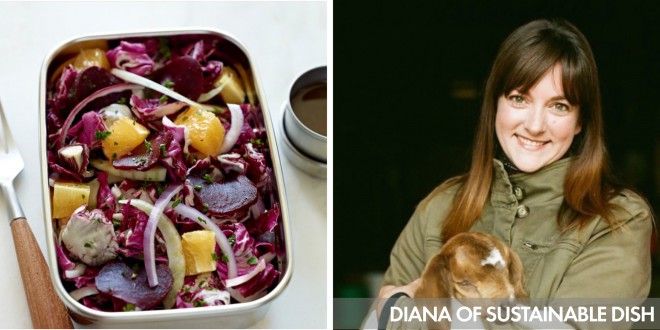 Salad of Beets, Orange and Fennel with Radicchio from @sustainabledish
INGREDIENTS
4 Beets, peeled and rinsed
2 tsp olive oil
3 oranges (blood oranges make it even prettier!)
1 fennel bulb
¼ red onion
1 head radicchio
½ cup parsley, chopped
1/3 cup cilantro, chopped
1 tsp blood orange vinegar
½ lemon
½ lime
1 TBS olive oil
Sea salt and pepper to taste
INSTRUCTIONS
PLACE each beat in the center of a square of tin foil. Coat lightly with oilve oil, fold in foil and roast for 45 minutes at 350. When finished you should be able to easily pierce beet with a fork. Remove from the oven and set aside for about ten minutes until they are cool enough to handle but still warm.
ONCE cooled, slice beets and place in bowl.
PEEL and roughly chop orange into bite-sized pieces. Add to bowl.
SLICE the fennel bulb thinly using a knife or mandoline. Add to bowl.
CHOP the radicchio and add to the bowl with the beets, orange, and fennel. Add the parsley and cilantro.
DRIZZLE vinegar, lemon juice, lime juice and olive oil into the bowl, tossing lightly to coat the salad. Add a dash of sea salt and cracked black pepper. Allow salad to sit for an hour before serving.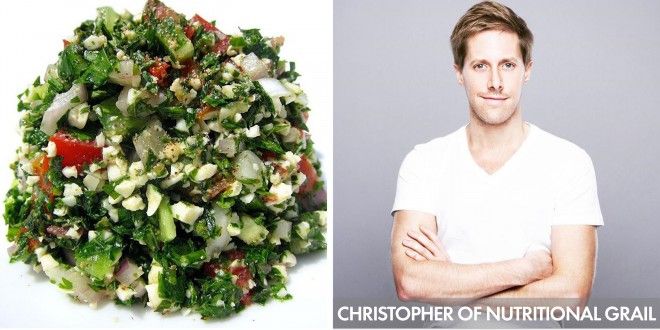 Herbed Almond Salad from @nutritionalgrail
INGREDIENTS
1 handful soaked almonds
1 bundle fresh mint, stems removed
2 bundles fresh parsley, stems removed
½ purple onion
2 medium tomatoes
2 small cucumbers, peeled
¼ cup olive oil
2 tablespoons lemon juice
Freshly milled black pepper
INSTRUCTIONS
PREPARE almonds by soaking for at least 8 hours in water. After soaking, blanch almonds in boiling water for 30 seconds. Transfer blanched almonds to a bowl of ice water. Once cooled (about a minute) remove the skins from almonds (they should slide off). Finally, pulse the almonds in a food processor until coarsely crumbled.
FINELY chop the onion, mint, parsley and tomatoes.
MIX olive oil and lemon juice until they have emulsified.
MIX the almonds with chopped onion, herbs, tomatoes, and cucumbers. Toss with the dressing and finish with freshly ground black pepper.
Side Dishes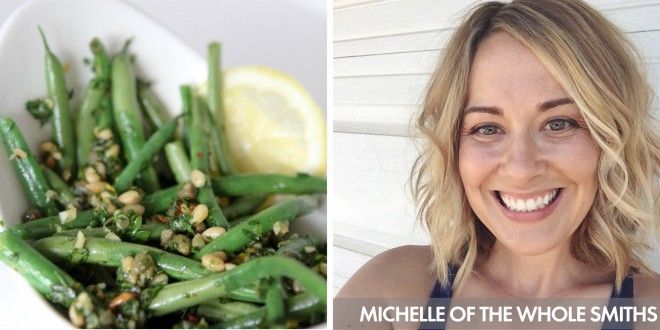 Gremolata from @thewholesmiths

INGREDIENTS
1/2 tbsp. lemon zest
1/2 tbsp. orange zest
3 tbsp. Italian parsley, finely chopped
3 tbsp. basil finely chopped
4 cloves of garlic
1 tbsp. capers
3 tbsp. pine nuts toasted
1 tsp. red pepper flakes
drizzle of favorite finishing oil i.e. olive, avocado
Steamed veggie of choice (green beans, broccoli, or asparagus all work well)
INSTRUCTIONS
MINCE garlic
TOAST pine nuts in pan until slightly golden
COMBINE all ingredients In a small bowl
DRIZZLE a small amount of olive oil over mixture and combine
TOSS gremolata with steamed veggie of choice and serve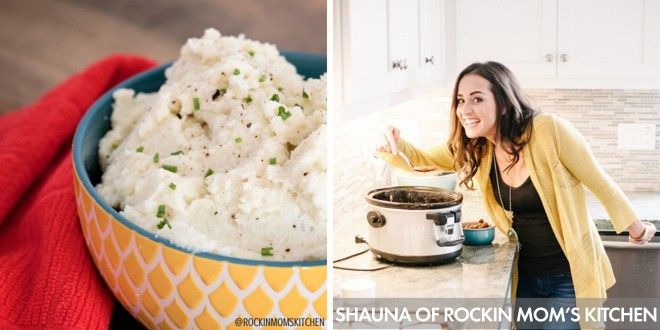 Slow-Cooker Cauliflower Mash from @rockinmomskitchen
INGREDIENTS
1 head cauliflower, chopped
2 cloves garlic, finely chopped
1/2 teaspoon salt (Himalayan pink salt shines in this recipe)
1/4 teaspoon fresh ground pepper
1 bay leaf
2 teaspoons extra virgin olive oil or ghee
2 tablespoons fresh herbs, chopped for garnish
2 tablespoons pepitas, optional
INSTRUCTIONS
PLACE all ingredients except olive oil or ghee, fresh herbs and pepitas into the slow cooker and fill with water to just cover cauliflower.
COVER and cook on low heat for about 6 hours or until soft.
STRAIN cauliflower and discard bay leaf. Place back into the slow cooker pot and add oil and an extra hit of salt and pepper.
MASH with a potato masher until it reaches desired consistency. Taste and add additional salt and pepper if needed. Garnish with top with fresh herbs and pepitas to serve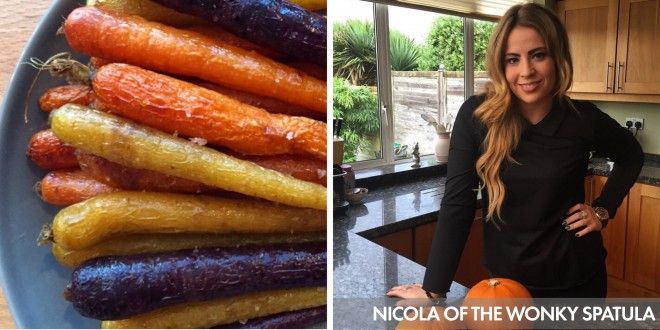 Roasted Rainbow Carrots from @thewonkyspatula
INGREDIENTS
1 bunch fresh rainbow carrots or carrots of your choice
3 tbsp Olive Oil
Generous pinch of Coarse Salt (Maldron salt is a favorite for this dish)
INSTRUCTIONS
PREHEAT your oven to 400 F
WASH your the carrots thoroughly (there is no need to peel them if they are young and sweet)
TOSS them in the olive oil and place on a large baking tray and sprinkle with as much coarse salt as you like
ROAST in the oven for 30-35 minutes until cooked through and beginning to brown in places
Shanna
Chief Content Officer
Shanna Keller, our Chief Content Officer, hails from Boise, Idaho, where she lives with her husband Alan and a poorly-behaved terrier named Olly. She has spent her career telling stories of life transformation on social, web, e-mail and print media platforms. In addition to celebrating Whole30 successes and stories online, Shanna loves to cook, read, and climb.