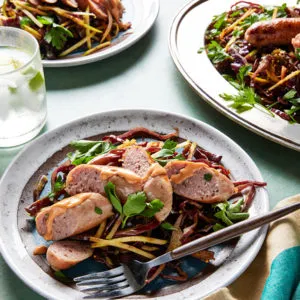 Warm Curried Cabbage and Apple Salad with Bratwurst
Ingredients
1/4

cup

extra-virgin olive oil

2

medium

shallots, finely chopped 

2

tbsp

mustard seeds

1/2

tsp

coarse salt

1/2

tsp

coarsely ground black pepper

2

tbsp

curry powder

6

cups

shredded red cabbage

1

small

tart apple, such as Granny Smith or Pippin, quartered, cored, and coarsely shredded 

1/2

cup

WHOLE30 Secret Sauce

1/4

cup

chopped fresh parsley

4

Whole30 compatible bratwursts
Instructions
IN a large skillet, heat 1 tablespoon of the oil over medium heat. Add the shallots; cook until shallots begins to soften, 3 to 4 minutes. Add the mustard seeds and cook until lightly toasted and fragrant, 1 to 2 minutes. Add the remaining oil, curry powder, salt, and pepper; stir until combined. Add the cabbage and apples; and stir to combine in the mustard seed mixture. Cook, stirring occasionally, until cabbage and apples are tender, about 10 minutes. 

MEANWHILE, preheat a grill or grill pan over medium-high heat. Grill bratwurst, turning once halfway through, until 165°F, 10 to 12 minutes. Let bratwurst rest for 5 minutes, then slice each diagonally into 1-inch pieces. 

DIVIDE the slaw between 4 serving plates. Top with bratwurst, drizzle with the sauce, and sprinkle with parsley.