This month, our long-time Whole30 Approved partner and #SeptemberWhole30 sponsor Tessemae's is serving up an entire month of Whole30 recipes on their blog. They have not one but TWO chefs cooking away in the Tessemae's test kitchen, demonstrating just how easy it is to add flavor to your Whole30 meals with their delicious dressings, sauces, and condiments.
[Tweet "Delicious #SeptemberWhole30 recipes from @tessemaes on the #Whole30 blog today! #ad"]
Tessemae's has a ton of Whole30 Approved meal ideas on their blog, so make sure you jump on over there when you're done here. To help you out, here are some of our favorites: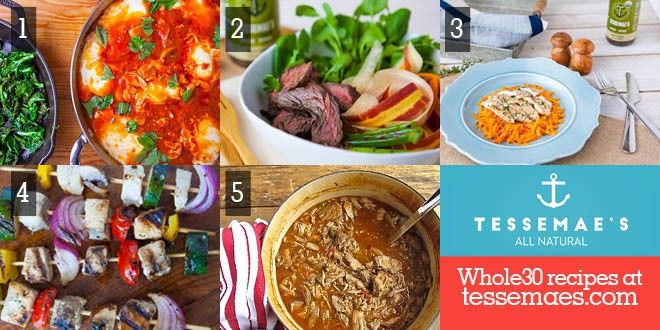 These recipes use fresh, simple ingredients; come together quickly; and are bursting with flavor. Check them out in the Whole30 section of the Tessemae's recipe blog, and remember to tag Tessemae's on Instagram (@tessemaes) to show off how you're using their dressings to add flavor to your #SeptemberWhole30.
Grilled Butterflied Lemon-Garlic Chicken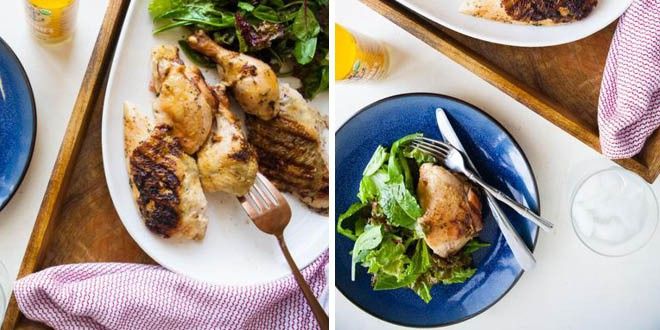 Ingredients
1 whole chicken (about 4 ½ pounds)
2 lemons, zested
coarse salt and freshly ground black pepper
1/2 cup Tessemae's Lemon Garlic
2 heads red leaf lettuce, chopped, washed and dried
Instructions
HEAT grill to medium. Using kitchen shears, cut out backbone of the chicken by cutting on either side of it. Place chicken, breast-side up on a cutting board and press down until you hear the breast bone crack.
LOOSEN chicken skin over breasts and legs. Stir together lemon zest, 1 teaspoon salt and 1/2 teaspoon black pepper and rub zest mixture under chicken skin.
PLACE chicken skin side down on grill, close cover and cook until skin is crisp and browned, about 10 minutes. Flip chicken over, close cover and grill until cooked through, about another 20 to 30 minutes.
REMOVE chicken from grill and place on a rimmed baking sheet, then tent loosely with foil and let rest for about 10 minutes. Cut chicken into pieces and place pieces on a serving platter; pour any accumulated juices into Lemon Garlic.
DRIZZLE chicken pieces with ¼ cup of Lemon Garlic. Toss lettuce with remaining ¼ cup of dressing.
Get Some Tessemae's Of Your Own
Want some Tessemae's? Click here to see their entire collection of Whole30 Approved options. (Note: not ALL Tessemae's products are Whole30 compatible – save the Honey Mustard or Green Goddess for your food freedom – but all the items on their Whole30 Approved page are). They also have a convenient Whole30 Starter Pack, and you can even design your own custom Tessemae's pack.
You can also find Tessemae's in your local health food or grocery store, including Whole Foods, Harris Teeter, SAM's Club, Fresh Market, and Kroger, to name a few. Use their store locator to find a Tessemae's retailer near you.
This evening (Wednesday, September 7th) we're giving away TWO Tessemae's Whole30 Packs on our @whole30 Instagram page. Be sure to follow along so you don't miss out!
[Tweet "Add flavor with @tessemaes, today on the #Whole30 blog #SeptemberWhole30! #ad"]
This featured post was sponsored by Tessemae's.
Save
Save
Save
Melissa Urban
Co-Founder / CEO
Melissa Urban is a 7x New York Times bestselling author (including the #1 bestselling The Whole30) who specializes in helping people establish healthy boundaries and successfully navigate habit change. She has been featured by the New York Times, People, the Wall Street Journal, Forbes, The Today Show, and Good Morning America, and is a prominent keynote speaker on boundaries, building community, health trends, and entrepreneurship. She lives in Salt Lake City, UT with her husband, son, and a poodle named Henry.