Today, we wanted to introduce you to our newest Whole30 Approved partner, Brooklyn Biltong, because most of you probably haven't heard of what they do, and we think you're really going to dig it.
What's biltong? Glad you asked.
A Biltong Primer
It originated in South Africa. Biltong is a South African technique for drying and curing meat that is quickly gaining popularity all over the world.
It's similar to jerky. Think of biltong as a high-protein, low-fat, all-natural bite of steak in a bag. It's similar to beef jerky, but more tender. And Brooklyn Biltong has the highest standards for their biltong. It's 100% grass-fed, and comes from a single ranch in Montana. Plus, They don't add any of the junk (like soy, sugar, or chemical preservatives) found in most grocery store dried meat to their products.
It's versatile. Biltong is a fantastic emergency food to keep on hand during your Whole30, but it's also a surprisingly useful pantry staple. Keep a few bags in your kitchen to add easy protein to salads, ingredient meals, and more.
Speaking of…
We asked Natalie of littlecoconutty.com to create a few recipes that demonstrate how to add Brooklyn Biltong to dinner, breakfast and side dishes. (And be sure to check out Brooklyn Biltong's website to learn more about their process, or to order a sample of their biltong.)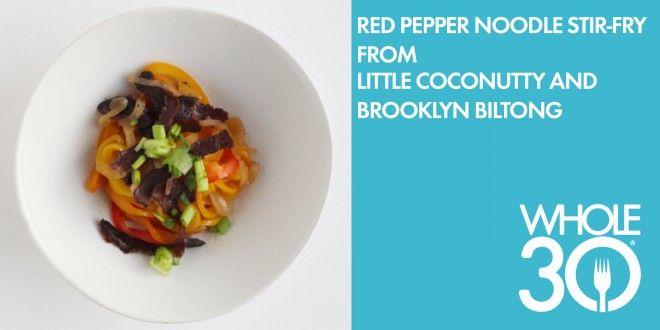 Red Pepper Noodle Stir-fry
Ingredients
3 red or yellow bell peppers (optional: any other stir-fry vegetable you would like to add)
1/2 yellow onion
1/2 cup coconut aminos
1/2 cup beef broth
2 dates
2 cloves garlic
1 tsp fresh grated ginger
1/4 tsp pepper
2 tbsp extra-virgin olive oil
Pepper
Instructions
SPIRALIZE
bell pepper, or cut into thin strips.
CHOP onion.
BLEND coconut aminos, beef broth, dates, garlic, ginger, and papper and until smooth.
SAUTEE onion and bell peppers in olive oil in a pan over medium-high heat until slightly tender (7-10 minutes or longer)
ADD the sauce mixture and the biltong, and cook for a few minutes until heated through.
Note: This dish is a great way to use up whatever stir-fry veggies you have on hand.

Biltong Baked Potatoes
Ingredients
2 yukon potatoes
1 tsp ghee
3-4 pieces of Brooklyn Bilton per potato, diced

Salt and pepper
Instructions
HEAT oven to 425 degrees. Wrap foil around potatoes and cook for 50-60 minutes. They are done when they are fork-tender.
SPLIT open potatoes and top with ghee, salt and pepper, and diced biltong.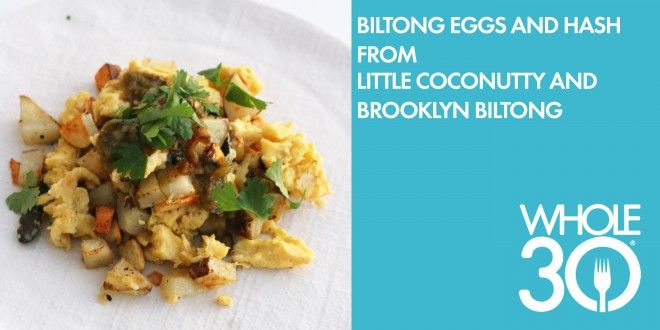 Biltong Eggs and Hash
Ingredients
3 white potatoes
salt and pepper to taste
1/2 Tbsp olive oil
8 eggs
1/2 yellow onion
1 cup Brooklyn Biltong, diced

cilantro
green salsa
Instructions
CHOP potatoes into a small dice, and season with salt, pepper, and olive oil. Spread potatoes on a baking sheet and bake in oven at 400 degrees for 25-35 minutes, until tender. (Note: Turn on the broiler for just a few minutes at the very end to make them crispy. Watch them carefully!)
IN a small bowl, whisk eggs with chopped onion and diced
biltong,
and season with salt and pepper. Scramble the eggs in a medium pan over medium heat.
ADD potatoes to the pan and cook for a few more minutes. Serve with cilantro and green salsa.
Article photos courtesy of Natalie Brown
---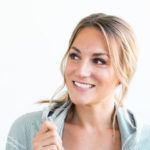 About Natalie Brown: I have been cooking Whole30 meals for a year and a half and have fallen in love with the healthy habits that I have picked up along the way. I want to share healthy recipes so that others can learn to fuel their bodies properly. I am married and have 2 little girls so it's always an experiment in the kitchen to see what my family is going to love, most times it's almost everything. I share my recipes and tricks and tips over at
littlecoconutty.com
and on my
Instagram
.
Melissa Urban
Co-Founder / CEO
Melissa Urban is a 7x New York Times bestselling author (including the #1 bestselling The Whole30) who specializes in helping people establish healthy boundaries and successfully navigate habit change. She has been featured by the New York Times, People, the Wall Street Journal, Forbes, The Today Show, and Good Morning America, and is a prominent keynote speaker on boundaries, building community, health trends, and entrepreneurship. She lives in Salt Lake City, UT with her husband, son, and a poodle named Henry.