What's not to love about this creamy and delicious Whole30 Chicken Alfredo that comes together in 30 minutes? An easy, family-friendly dish that is also gluten-free, dairy-free, and egg-free, with plant-based options.
This dish can be cooked on the stove or in your instant pot on sauté. It starts with browning the chicken. Or, for a plant-based option, you can skip this step and use a Whole30 compatible plant-based vegan chicken.
Then, we combine coconut cream, Kite Hill Plain Cream Cheese, garlic, Italian seasoning, nutritional yeast (optional), salt, and pepper to create a rich and flavorful sauce. The result is a rich nutritious sauce that your family will love!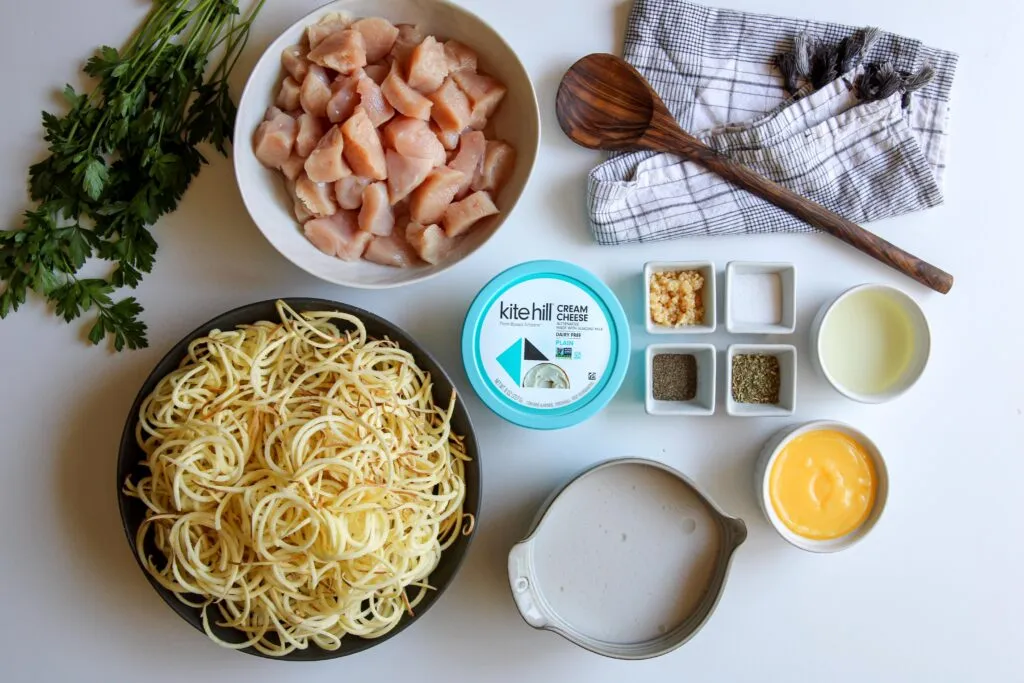 Why we love Kite Hill Cream Cheese
Kite Hill Cream Cheese is not only smooth and tasty, but it's also Whole30 Approved! We love that you can grab a container and know that all its ingredients support your Whole30 goals. Plus, it's one of our favorite secrets to making flavorful Alfredo sauce without a lot of time or ingredients.
Click here to get $2 off any in-store purchase of Kite Hil through 10/15/23, and find them on sale for 25% off at Whole Foods Market nationwide through 9/5/23. 
But what about those noodles?
Pasta recreations made with alternative flours are not allowed on Whole30, per the Pancake Rule. However, single-ingredient vegetables spiralized into "noodle" shapes are a great pasta swap. Spiralzed cooked zucchini, carrots, sweet potatoes, or spaghetti squash work as a perfect base for this Chicken Alfredo. Use whichever one you enjoy and is accessible to you!
We love cooking spiralized veggie noodles in a large saute pan over medium heat in 2-3 tablespoons of oil. Cook, stirring regularly, until just tender. Length of cooking time will vary depending on the density of the noodles. For example, spiralized white sweet potatoes (pictured) took about 8 minutes. But zucchini noodles cook very fast and only need 2-3 minutes. Keep an eye on them – no one wants soggy noodles!
A nutritious Alfredo sauce
The other secret to making this alfredo sauce flavorful and thick is blending in steamed veggies! Instead of thickening the sauce with starch or flour, we blend the sauce with steamed potato or cauliflower. This gives you a wonderfully thick sauce while adding extra nutrition. Blend until nice and smooth, and no one will guess there are vegetables in their Alfredo sauce!
Other Tips and Tricks:
The nutritional yeast in this recipe is optional but can help give your sauce a "cheesy" flavor without any parmesan cheese. We find it in the baking aisle. (Learn more about what nutritional yeast is here.)
This sauce is freezer-friendly! Once cooled, store it in a sealed container (such as a mason jar with a lid) for up to 3 months. A great way to meal prep that your future self will thank you for.
Canned full-fat coconut cream (not coconut milk) is the closest dairy-free alternative to heavy cream. It is ideal in this recipe. If needed, you can use 1.5 cups of another dairy-free milk, but the sauce will not be as thick or rich.
For the vegetables you blend into the sauce: you can use fresh or frozen whole or riced cauliflower, steamed after measuring. Or, you can use yellow or Russet potatoes (peeled if using Russets), steamed after measuring.
Whole30 Chicken Alfredo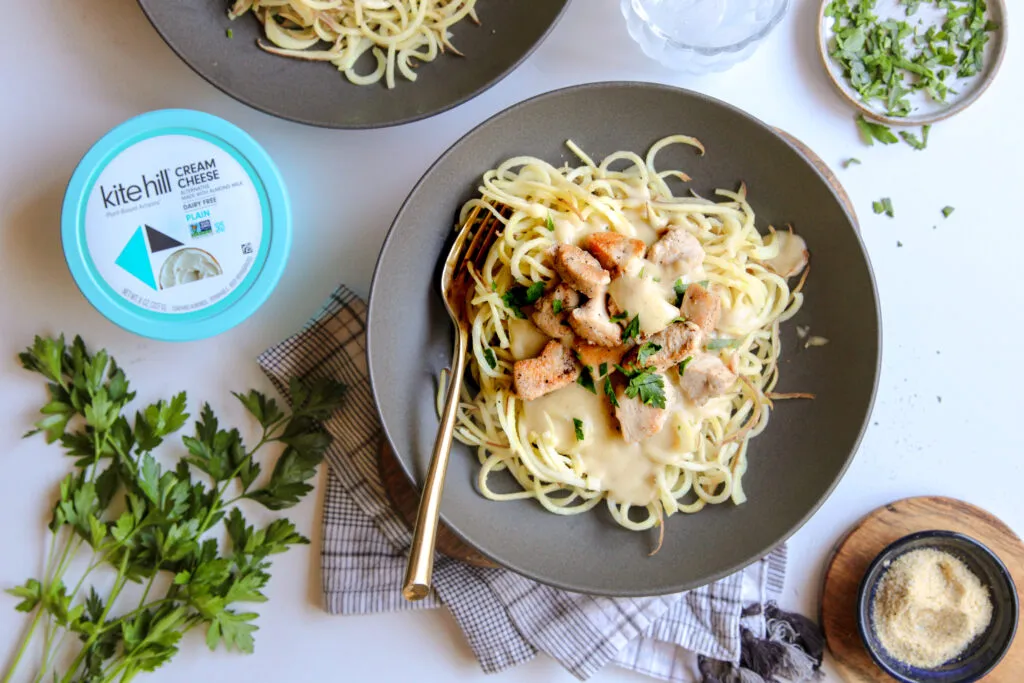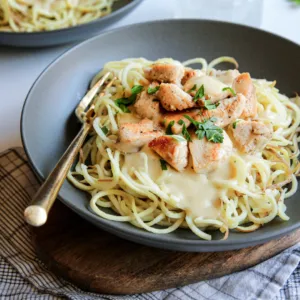 Whole30 Chicken Alfredo
Try this creamy Whole30 Chicken Alfredo that comes together in just 30 minutes. Gluten-free and dairy-free, with plant-based options!
Ingredients
2

tbsp

olive or avocado oil

1.5

1bs

boneless, skinless chicken breast (or plant-based, compatible alternative)

cubed

2

tsp

salt

divided

1

tsp

pepper

divided

1/2

cup

ghee or vegan butter

1

tbsp

minced garlic

1-13

oz

can coconut cream

8

oz

Kite Hill Plain Cream Cheese

2

tbsp

nutritional yeast

optional for a cheesy flavor

1

tsp

Italian seasoning

1/2

lb

potatoes or cauliflower

steamed

sauteed spiralized veggie "noodles" of choice

chopped fresh parsley, if desired, for garnish
Instructions
HEAT oil in a large saute pan over medium-high heat. Add chicken and season with 1 tsp salt and ½ tsp pepper. Cook until browned and cooked through, for about 10 minutes. Drain excess liquid from the pan halfway through if needed. Remove chicken from the pan once cooked.

ADD ghee to the pan and lower to medium heat. Add minced garlic and saute for a few minutes until lightly browned.

ADD remaining sauce ingredients – coconut cream, Kite Hill Cream Cheese, nutritional yeast (if using), Italian seasoning, and remaining salt (1 tsp) and pepper (½ tsp). Cook and whisk together until generally combined (doesn't need to be smooth yet), about 5 minutes.

BLEND steamed potatoes or cauliflower with sauce on high speed until very smooth.

SERVE sauce on top of chicken and vegetable "noodles." Garnish with chopped parsley, if desired.

STORE leftovers in a sealed container in the fridge for up to 1 week or in the freezer for up to 3 months.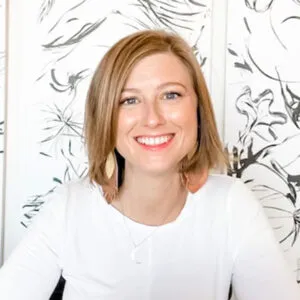 Liz Parrent
Senior Manager, Whole30 Recipes
Liz Parrent is Whole30's Senior Manager, for Whole30 Recipes content.She comes to Whole30 with over a decade of CPG and content marketing experience in the health and wellness space. Having been a part of Primal Kitchen's founding and pre-acquisition team, Liz holds a deep passion for the Whole30 community and the transformative power of a whole foods-focused lifestyle.