Chimichurri is a popular parsley-based sauce that originates in Argentina, and is used in a variety of dishes, and compliments most proteins. This recipe for Nona's Argentine Chicken Chimichurri (Pollo con Chimichurri) & Silvia's Argentine Carrot & Hard Boiled Egg Salad (Zanahorias y Huevos) comes to us from Whole30's Senior Communications Manager, Jackie Jorge.

From Jackie: "This meal is inspired by my Argentinian mom, Silvia (we call her Nona), who is one of the most amazing women I know and a fantastic cook. I grew up eating chicken with chimichurri and during the summer months, my mom would whip up a traditional salad of Zanahorias y Huevos (Carrots & Eggs). There is something about the vinegar, carrots and eggs that takes me back to a happy time when visiting Argentina as a little girl. This meal can be ordered at any Argentine restaurant and is certainly a staple in any Argentine home. The Chimichurri marinade can also be made separately as a sauce and used over anything… steak, chicken, pork, eggs, veggies. It's a must-have whether you're on a Whole30, or not."
Whole30 Argentine Chicken Chimichurri (Pollo con Chimichurri)
Recipe by Jackie Jorge
Photos by: Brian Kavanagh | The Sophisticated Caveman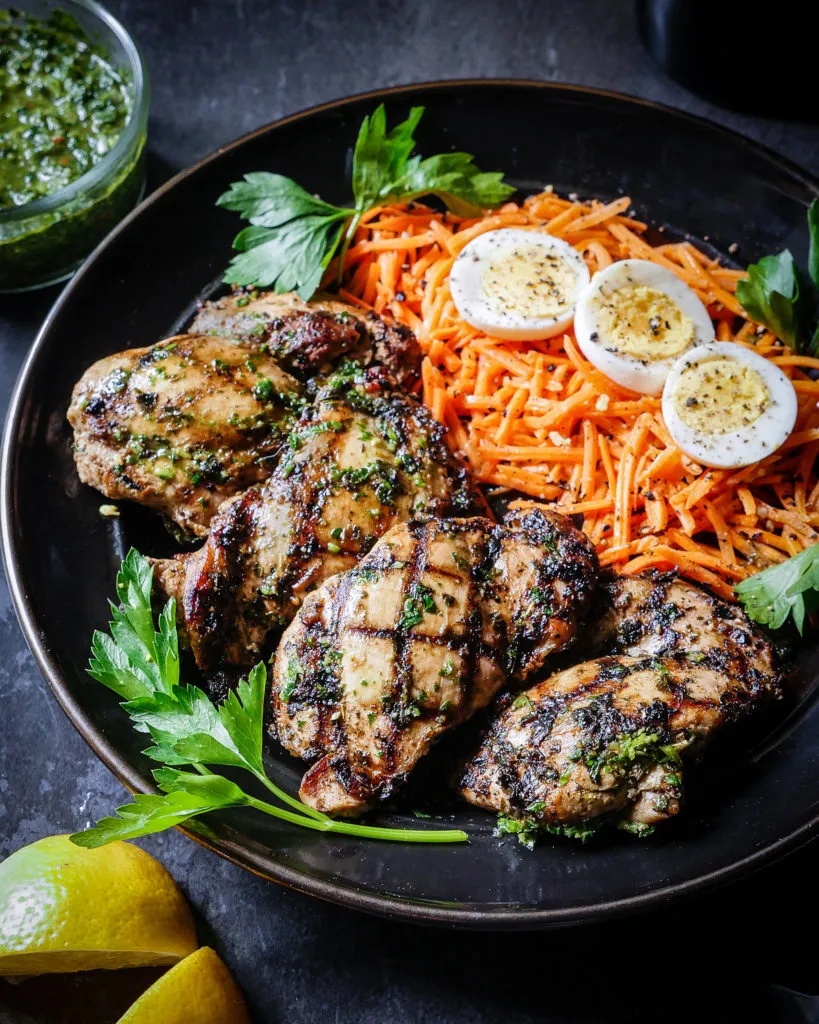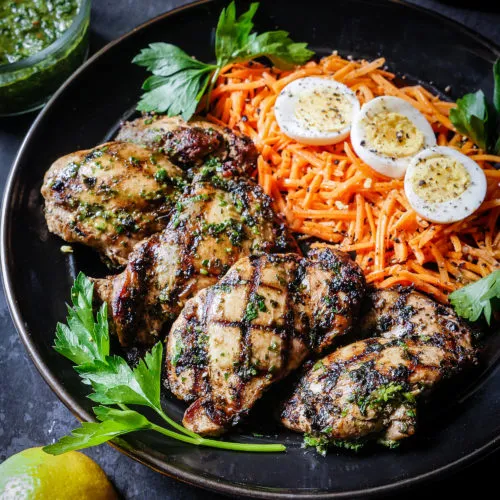 Nona's Argentine Chicken Chimichurri (Pollo con Chimichurri) and Silvia's Argentine Carrot & Hard Boiled Egg Salad (Zanahorias y Huevos)
Ingredients
Chimichurri Marinade
1/2 cup olive oil
2 tbsp red wine vinegar
1/2 cup finely chopped parsley
4 cloves garlic ,minced
1 red chili ,deseeded and finely chopped
3/4 tsp dried oregano
1/2-1 tsp salt
1/2 tsp pepper
Chicken
4 skinless boneless chicken thighs (or breasts)
Salt to season
Carrot and Egg Salad
4 carrots ,peeled and julienned or shredded with grater
2 hard boiled eggs ,sliced or chopped
2 tbsp extra-virgin olive oil
Juice of 1/2 lemon
3 small pieces salt or less to taste
Freshly ground black pepper
Instructions
Mix chimichurri ingredients together in a bowl and allow to marinade for 5-10 minutes. Season chicken with salt. Pour 4 tablespoons of marinade over chicken, combine and refrigerate for 20 minutes. Keep untouched marinade to serve later.

Heat a small amount of oil in a grill pan or skillet over medium-high heat and cook or barbeque chicken fillets on each side until golden, crispy and cooked throughly. Once chicken is done, set aside and allow to rest.

Spoon remaining chimichurri over chicken and serve with traditional salad.
Carrot and Egg Salad
Place the carrots and hard boiled eggs in a bowl and add the oil, lemon juice, and salt. Mix gently, season with a little pepper to taste, and serve immediately.
You Might Also Like…
---
Jackie Jorge
Senior Communications Manager
As Whole30's Senior Communications Manager, Jackie Jorge leads our Public Relations efforts. With more than two decades of PR experience within the health and wellness industry, her strong background in media relations and storytelling has led to multiple award-winning PR campaigns. Jackie considers herself an intuitive and mindful marketer and, through her comprehensive skills, she proudly shares her Whole30 passion to the world. A first generation American, Jackie was born and raised in sunny California but celebrates her Argentine-Portuguese heritage through her cooking, traveling and everyday life. In her free time, she gravitates towards outdoor and fitness activities like roller-skating, skiing, hiking and yoga. A mom to three amazing teenagers, she takes every opportunity to re-live her 80's teenage years with them.