If you've been craving a hearty bowl of soup this week, you're in luck. Today, we are sharing this delicious recipe for Whole30 Clam Chowder from our Whole30 Forum Moderator, Shannon Canaday.

From Shannon: "This soup recipe has been in our family since 1951! It was a winter staple for us growing up and when I make and serve it to my family now it warms my heart to bring that bit of comfort from childhood into the present. This clam chowder is a hybrid of Manhattan Clam Chowder (which doesn't normally have any sort of "cream") and Boston Clam Chowder (which doesn't generally have tomato). It's also a one pot meal that comes together quickly and with little to no mess. I hope you love it as much as we do! Oh – and if in doubt, err on the side of "the more clams the better!".
Whole30 Hybrid Clam Chowder
Recipe by Shannon Canaday
Photos by: Brian Kavanagh | The Sophisticated Caveman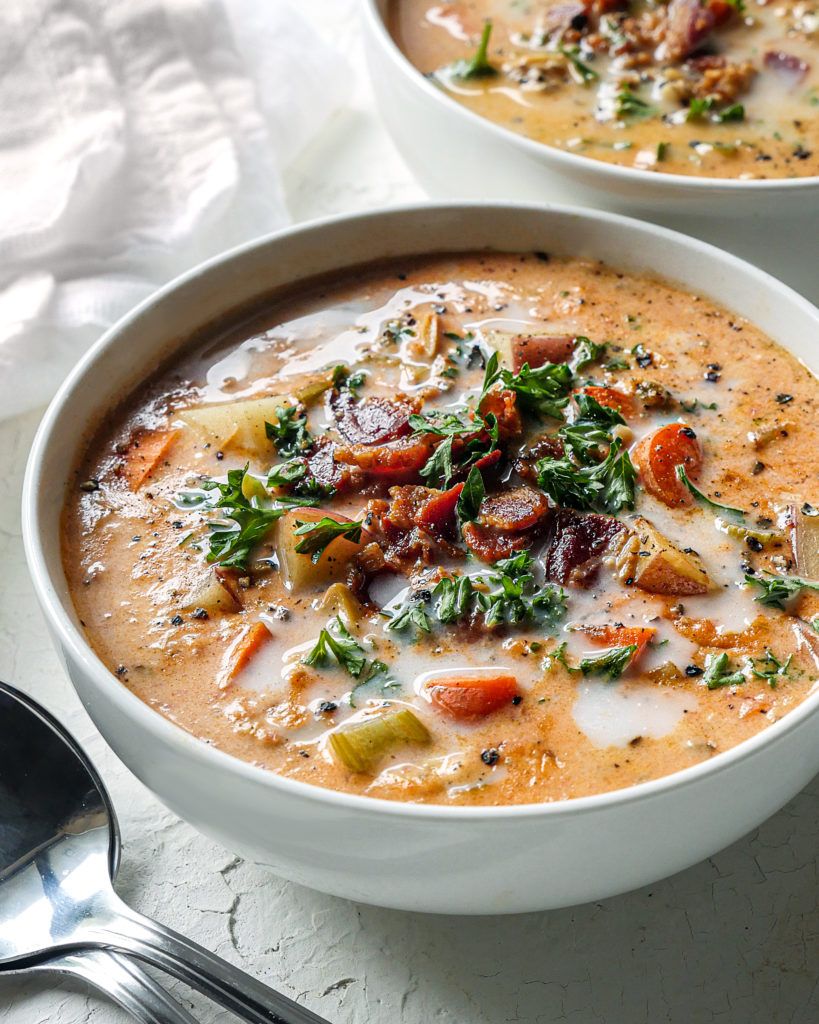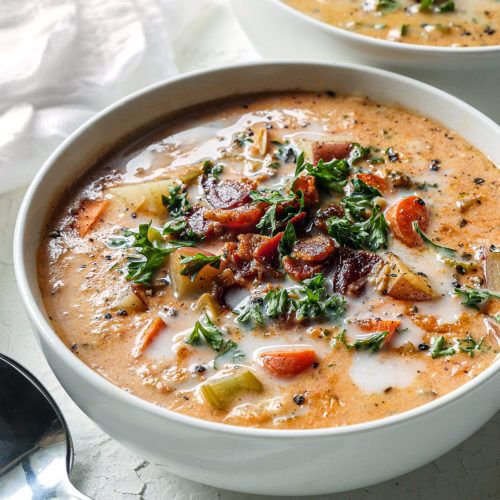 Hybrid Clam Chowder
Ingredients
5

slices bacon

1

tbsp

bacon drippings

3/4

cup

chopped onion

1/4

cup

chopped celery

1/2

tsp

salt

3

tbsp

arrowroot flour

1/4

tsp

pepper

2

large cans baby clams

,drained (reserve liquid)

2

medium red potatoes

,chopped

2-3

carrots

,chopped

1

large can of either crushed tomato or diced tomato that has been blended

2

cups

milk of choice

(see notes)
Instructions
In your large soup pot, fry bacon until crispy and set aside. In drippings, saute onions and celery until tender. Add potato and carrots. Measure blended tomato and then add enough clam juice to make up three cups. Add arrowroot, salt and pepper to pot and stir to distribute. Add bacon and clams. Cook over low heat until heated through.

Close to serving, add milk of choice or can omit if desired. I've used almond & coconut as well as nothing – all to great success. If using no milk, add extra clam juice to thin if it's too thick.
Notes
Freezes beautifully, just don't add the milk until you defrost it to serve. I rarely actually measure the veggies – it's a suggestion – and if a person wants it clammier (is that a word?!), use another can! It's very forgiving!
You Might Also Like…
---
Shannon Canaday
Whole30 Community Management
Shannon Canaday moderates the Whole30 forum and Facebook page. She lives in Chilliwack, British Columbia in Canada with her husband. Shannon comes to us from a 20-year career where she's acted as an Account Manager for major national brands, a Customer Service Representative and an Administrative Coordinator. She enjoys a mostly quiet life of cooking, reading and entertaining and loving on family. She can also be found most often on a sunny day riding her Harley Davidson around the absolute glory that is the Fraser Valley.