This recipe can easily be a light and bright summer "main" when paired with a salad or a warm, hearty dish when served with roasted butternut squash or root veggies in the winter.
It hits a few notes for me. First, I have a nut allergy, so I often miss the crunchy and nutty textures and flavors that are so common in Whole30 recipes. Second, I gravitated toward a pescatarian-forward menu because I love how it makes my body feel, and this provides some variety with fish and seafood flavors. Third, it's a HUGE crowd pleaser!
I was inspired to make it when a friend was visiting for lunch; I was doing a Whole30, but she wasn't. I was searching for something creative that would satisfy both of us and also "show off" Whole30 food as the delicious option we all know it can be. She loved it so much that she made it for her family the following week (including 2 teenage boys), and she said they all devoured it.
I love the versatility of this dish, and I love that it feels like a special treat with relatively little prep and cooking time.
Whole30 Coconut-Crusted Fish
Recipe by Melissa Schmidt
Photos by Brian Kavanagh | The Sophisticated Caveman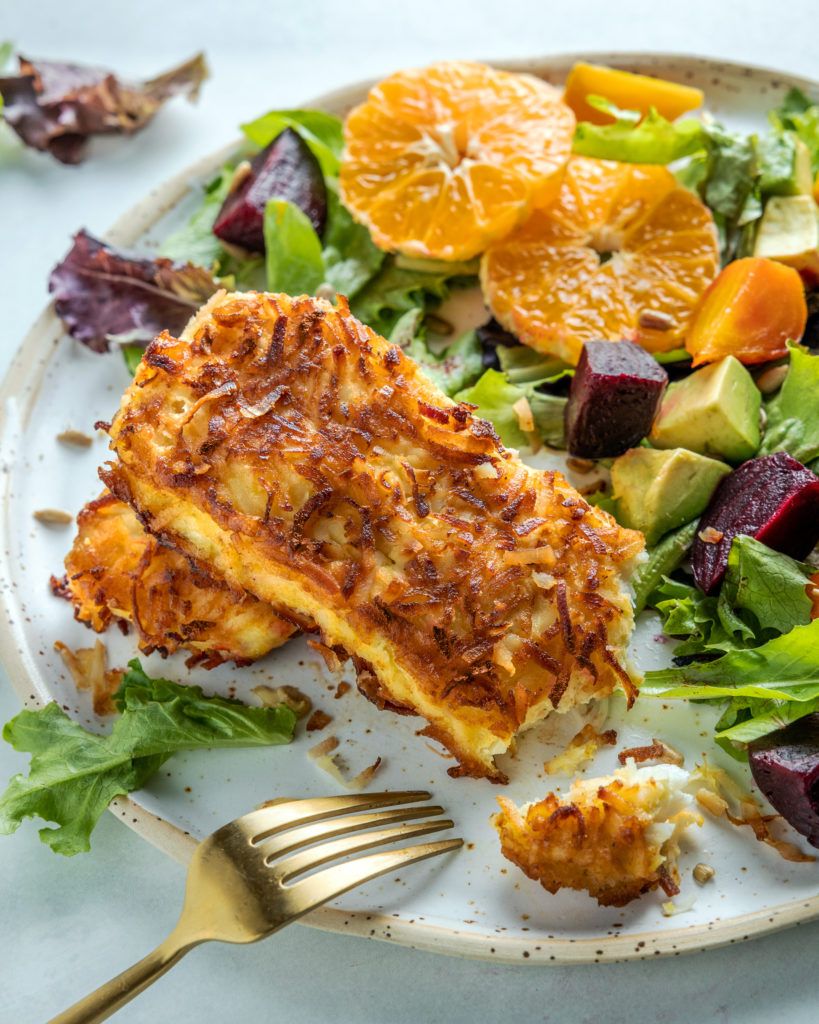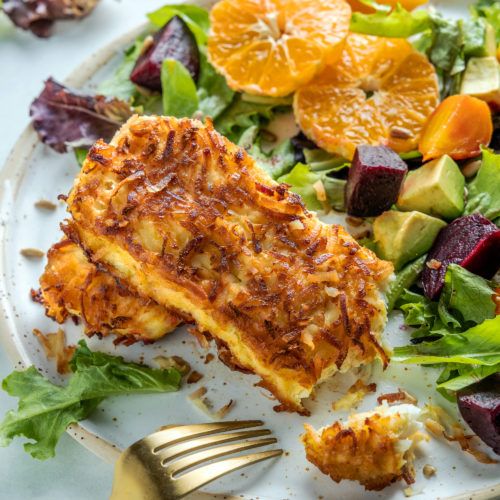 Whole30 Coconut-Crusted Fish
Ingredients
2 lbs grouper (or any white fish with a hearty texture), skinned
Whole30 compatible cooking oil (olive or coconut)
About 2 cups of coconut flour
About 2 cups of unsweetened shredded coconut
Salt to taste (1tsp to 1 tbsp) (I highly recommend Beautiful Briny Sea's Magic Unicorn Salt – not just for this recipe, but for everyday!)
Pepper if desired
Other seasonings as desired. This recipe is great combined with Herbs de Provence for a savory twist; don't be afraid to have fun! If you add other flavors here, use only plain salt (not flavored) above
3 eggs
Instructions
HEAT 1-2 tbsp of Whole30-compatible oil in a large skillet over medium-high heat. If you have a skillet big enough, I'd recommend cooking this fish in a single batch to keep the oil tasting "clean." I like olive oil with this recipe because it adds a savory tang, but you can use coconut oil as well!

As the oil is heating, remove your fish filets from the packaging and pat them dry with a paper towel. I usually cut them into smaller pieces of approximately 2-3 oz each (palm-sized or smaller), for a good coating-to-fish ratio.

On a separate plate, combine the coconut flour, shredded coconut, and desired seasonings until well integrated. If you want to avoid wasting the "breading," you can combine it in 1-cup increments, but keep in mind that your hands will be dirty after dredging the fish! Make sure you include at least some salt in the recipe for flavor. The rest is up to you! My combination includes about 1 tbsp of Beautiful Briny Sea's Magic Unicorn Salt.

In a bowl, crack 3 eggs and beat them with a fork or hand mixer until "scrambled."

Take one piece of fish, sink it into the bowl with the eggs, and ensure it's covered. When the entire filet is covered with egg, place it on the plate with the coconut flour mixture. Turn until coated on top, bottom, and all sides. Feel free to really press it into the mixture! Some will naturally drop off, but get it as well-coated as you can.

Drop filet into the skillet with hot oil.

Repeat dredging process with remainder of filets and put them in the skillet to cook.

Let each side of the fish cook for 4-5 minutes per side. The crust should be…well, crusty! And the fish should be cooked about halfway through (a lighter white) before you flip it.

Serve with your favorite seasonal sides! This fish is delicious over a mixed green salad with avocado, sliced beets, mandarin oranges, black olives, and and Whole30 dressing in the summer, or even with a sweet potato soup!
You Might Also Like…
---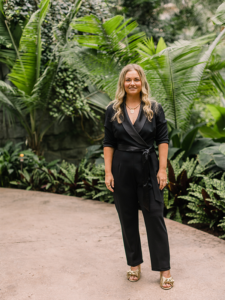 Melissa Schmidt
Director of Education
Melissa Schmidt is our Director of Education. She comes to Whole30 with nearly 20 years of experience in project and product management in medical research publications, and she holds a Master of Education degree with focus on adult education for health professionals. Melissa is a wife to Adam, a mom to Henry, and a daughter to Becki, all of whom reside with her currently in Florida. Melissa has a passion for developing efficient, streamlined programs that deliver meaningful content in an accessible format. She believes deeply in the human work of self knowledge and value alignment, both of which were a big part of her first journey through the Whole30 in 2013 – and she believes that work should be available to everyone. She's a voracious reader, a joyful writer, a big dreamer, an intersectional feminist, an empathic friend, and a recovering perfectionist.