Salmon is such a treat any time of year—and the summertime is certainly no exception. So, instead of baking yourself a cozy filet, throw your salmon on the grill and pair it with bright seasonal flavors to enjoy al fresco (or, okay, in the comfort of air conditioning).
This fun meal takes just 20 minutes from start to finish and features simply seasoned salmon served on top of a bed of crunchy alfalfa sprouts and topped with creamy, chunky bell pepper and avocado salsa and a garnish of delicate, nutty (and incredibly nutrient-packed) hemp seeds. With so many textures on your plate, every bite is interesting and exciting. Those few special touches really go a long way!
We love this recipe for dinners shared with family and friends because it looks and tastes so special. Since it's so simple to make, though, it's really a great go-to on any night of the week, whether that is after a day at work, or during a leisurely weekend at home.
There are so many ways to bring this meal to life, depending on your preferences and the ingredients you have available.
The salmon itself is easy to swap out for other varieties of fish, such as cod, halibut, or mahi-mahi. The same goes for the alfalfa sprouts; if you can't find them—or just don't care for them—you can serve your salmon over a bed of mixed greens, spinach, cauliflower rice, or with a side of roasted sweet potatoes.
To mix up the colors in your avocado salsa, try red, orange, or green bell pepper—or a combination of a few. And, finally, you can easily replace the hemp seeds with chopped macadamia nuts, toasted almonds, or walnuts. Mixing and matching the different elements can also keep this recipe feeling fresh as you return to it time and time again (which we're willing to bet you will). Try cauliflower rice, mahi-mahi, and chopped macadamia nuts one night and sweet potatoes, halibut, and toasted walnuts another.
Though prep time for this meal is pretty darn quick as it is, you can always speed up the process a bit by purchasing pre-made guacamole and simply stirring in the minced yellow bell pepper. Of course, just be sure your guacamole is made with Whole30-compliant ingredients.
Either way, this dish promises to impress whoever's at your table this summer. (And, might we recommend bookmarking this recipe for when you're craving the flavors of warmer days in the middle of the winter? The fish cooks up beautifully in a cast iron, too.)
Grilled Salmon with Bell Pepper & Avocado Salsa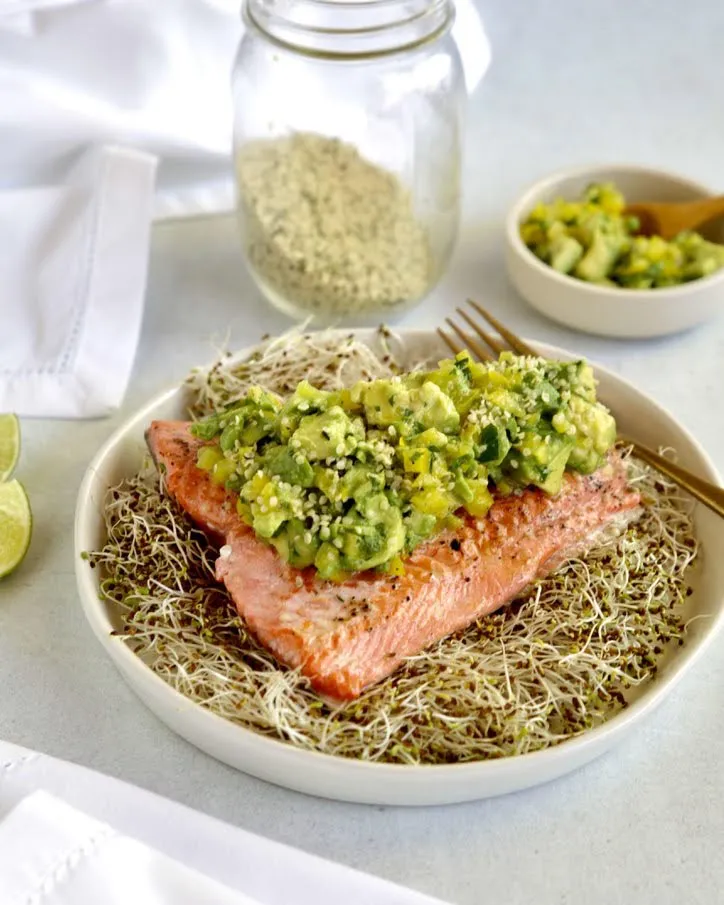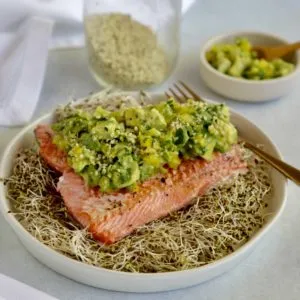 Grilled Salmon with Bell Pepper and Avocado Salsa
Ingredients
Yellow Bell Pepper and Avocado Salsa
1

medium avocado

peeled and diced

1

tsp

sea salt

1/2

tsp

black pepper

1/2

tsp

garlic powder

1/2

fresh lime

juiced

1

yellow bell pepper

seeded and minced

1/4

cup

fresh cilantro or parsley

minced
Salmon
1-1.5

lbs

wild-caught salmon filets, skin-on

2

tbsp

avocado oil

1

tsp

sea salt

1/2

tsp

black pepper

1/2

tsp

garlic powder

4

cups

alfalfa sprouts
Instructions
PREPARE the salsa by adding the diced avocado to a mixing bowl and seasoning it with sea salt, black pepper, dried garlic powder, and fresh lime juice. Gently mash it together, leaving some of the diced pieces intact for a chunky texture. Gently stir in the minced yellow bell pepper and minced cilantro or parsley. Set aside.

RUB salmon filets with avocado oil and season with sea salt, black pepper and dried garlic powder.

GRILL the salmon on a grill or in a cast-iron skillet set to medium-high heat for 2-3 minute per side, or until the salmon is light pink in color and flakes easily with a fork.

SERVE the salmon over a bed of alfalfa sprouts and top it with the yellow bell pepper and avocado salsa.

STORE any leftovers in the fridge for up to 2 days.
Sarah Steffens
Recipe Developer
Sarah Steffens, our Recipe Developer, has a B.A. in Business Administration, Public Relations from The Master's University in Southern California. After years of experimenting with nutrition and recipes in her own kitchen, she now works as a Personal Chef and Food Photographer in Sacramento, creating meals that support her client's intention to physically and mentally thrive. She has catered several independent film sets, making it her goal to optimize the energy and well-being of each creative crew. You can find many of Sarah's recipes in various Whole30, Paleo and Keto cookbooks. When Sarah is not cooking and styling recipes, you can find her enjoying a long walk, working on creative projects with loved ones or exploring beautiful Northern California.