Fire up that grill because you are going to love these Grilled Steak Skewers with Chimichurri sauce! They are easy, quick to make, and full of flavor. Perfect for a simple, delicious dinner yet nice enough to make for company. Plus, this entree comes together in under 30 minutes!
It starts with cutting the steak into thin strips. We used sirloin as it's relatively tender, lean, and more budget-friendly. You will thread the cut strips onto skewers. However, if you are using wooden skewers, make sure to soak them in water first for at least 30 minutes. Wooden skewers are easy to find and affordable, but also flammable. Soaking them in water will allow you to use them on the grill without them burning.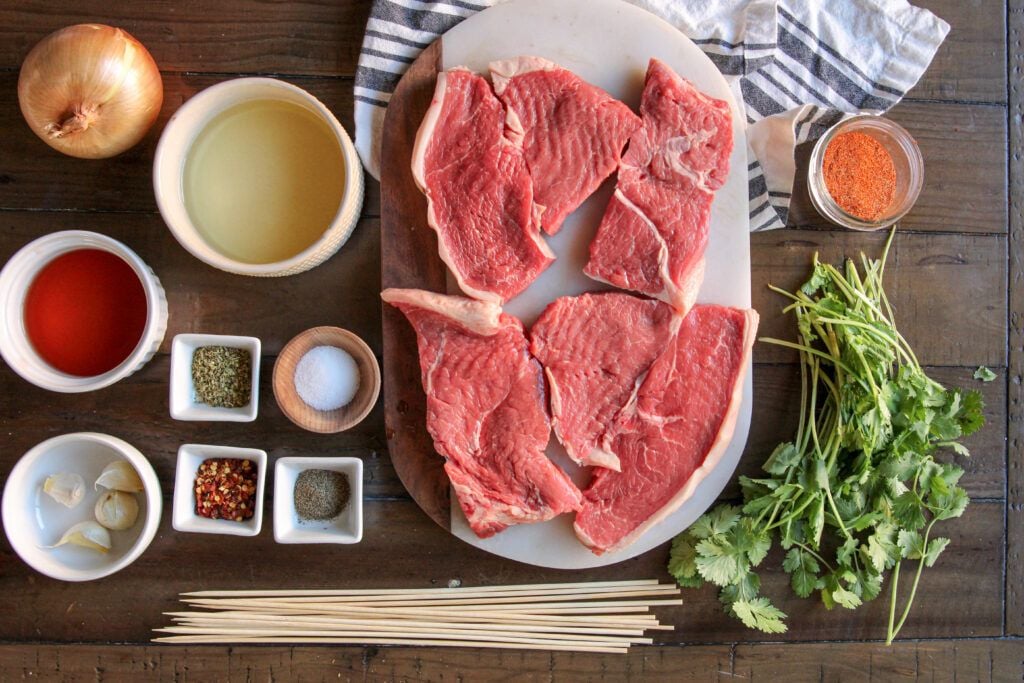 To season the steak, we prefer to use our homemade dry rub. It's easy to make and full of flavor – perfect for whatever meat you are grilling this season. However, use whatever compatible blend you prefer, or simply season with salt and pepper.
We cook the steak skewers on medium-high heat to create a nice sear. But we don't leave it on the grill for too long to ensure it stays tender and juicy.
The chimichurri sauce really makes this dish. It is full of fresh flavors and seasonings that bring the 'wow' to the meal. The chimichurri sauce uses parsley or cilantro, red wine vinegar, fresh garlic cloves, dried oregano, dried red pepper flakes, olive oil, onion, and salt and pepper. So many fantastic flavors in this sauce!
Chimichurri can be made with either cilantro or flat-leafed parsley – you choose the one you prefer or is more accessible to you. Keep in mind that parsley stems are bitter. If you are using parsley, you will want to try to use only the leaves. If you are using cilantro, you can include the stems, as cilantro stems have the same flavor as the leaves. Also, don't add the olive oil until after processing the rest of the ingredients. Whisking the oil in by hand at the end helps prevent oxidation, which can make it bitter.
Don't have a food processor? You can very finely chop the parsley or cilantro, onion, and garlic by hand and then stir in the remaining ingredients for the chimichurri sauce.
Be sure to bring this dish to all your BBQs this season!
Grilled Steak Skewers with Chimichurri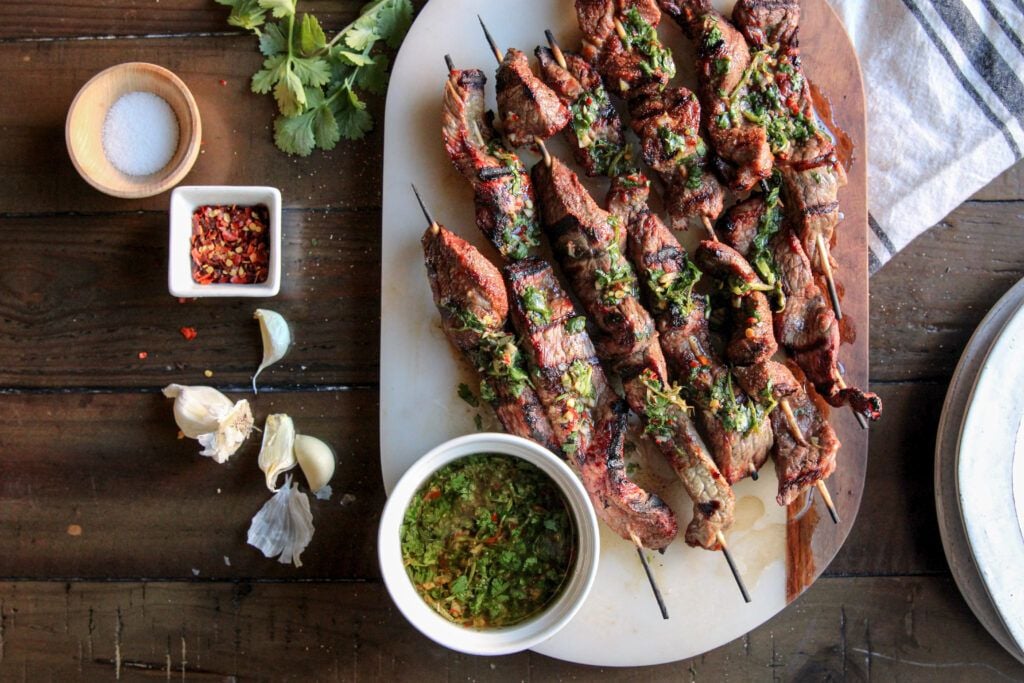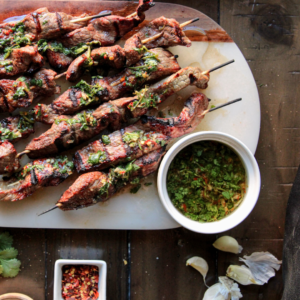 Whole30 Steak Skewers with Chimichurri
Seasoned sirloin is steak threaded onto skewers, grilled to perfection, and drizzled with homemade chimichurri sauce for a restaurant-worthy fast dinner.
Ingredients
Steak Skewers
2

lb

sirloin steak

cut into thin strips

1.5

tbsp

tablespoons dry rub

oil to brush on grill
Chimichurri Sauce
1/2

cup

packed cilantro or parsley leaves (if using parsley, leaves only, no stem)

1/4

cup

red wine vinegar

4

large garlic cloves

peeled

1/4

medium yellow onion

peeled

1-2

tsp

red pepper flakes

depending on desired heat

1

tsp

dried oregano

1

tsp

salt

1/2

tsp

black pepper

1/2

cup

olive oil
Instructions
HEAT your grill to medium high (about 400 degrees). If you are using bamboo skewers, soak them in water for at least 30 minutes to prevent burning.

PLACE cut steak onto skewers. Sprinkle with dry rub or seasoning of your choice.

GRILL for 4-5 minutes on each side, until you reach an internal temperature of 135 degrees (for medium-rare) or desired doneness. Remove from grill and let rest for at least 5 minutes to redistribute the juices.
To make the chimichurri sauce:
COMBINE all ingredients except the olive oil in a food processor until finely chopped and well combined.

POUR the mixture into a small bowl and then pour the olive oil on top. Gently whisk to combine. Ideally let the mixture sit for 15 minutes to let the flavor combine before serving. (Sauce is best served fresh but can be stored in the fridge for 3-4 days.)

SERVE grilled steak with a generous amount of chimichurri sauce and enjoy!
Autumn Michaelis
Recipe Creator | Whole Food for 7
Autumn Michaelis is an ACSM Certified Exercise Physiologist, with a B.S. in Exercise Science from BYU. Though exercise was her first love in the health world, nutrition has become her passion. She created the blog Wholefoodfor7, sharing easy and budget-friendly Whole30, Paleo, and gluten-free + dairy-free recipes for families. In August 2022, Autumn released the newest Whole30 Endorsed cookbook, Whole Food for Your Family. She is mom to 5 boys (yes 5!) and when not in the kitchen can be found adventuring, hiking, and tearing up the dance floor.