This Whole30 Dry Rub is a fool-proof, budget-friendly way to cook flavorful meat! A dry rub consists of dried spices combined into a rub that is added as a coating onto the outside of meat. Since this dry rub is Whole30, that means it's gluten-free, dairy-free, and sugar-free. It's also naturally egg-free and nut-free.
Dry rubs are quick and easy to make. Ours consists of combining 7 spices together. We use garlic powder, paprika, chili powder, onion powder, salt, pepper, and ground mustard. It only takes 5 minutes to put together. To use it, you sprinkle it on the outside of meat and, you might have guessed it, rub it gently into the outside of the meat until coated.
Using dried spices keeps this seasoning budget-friendly.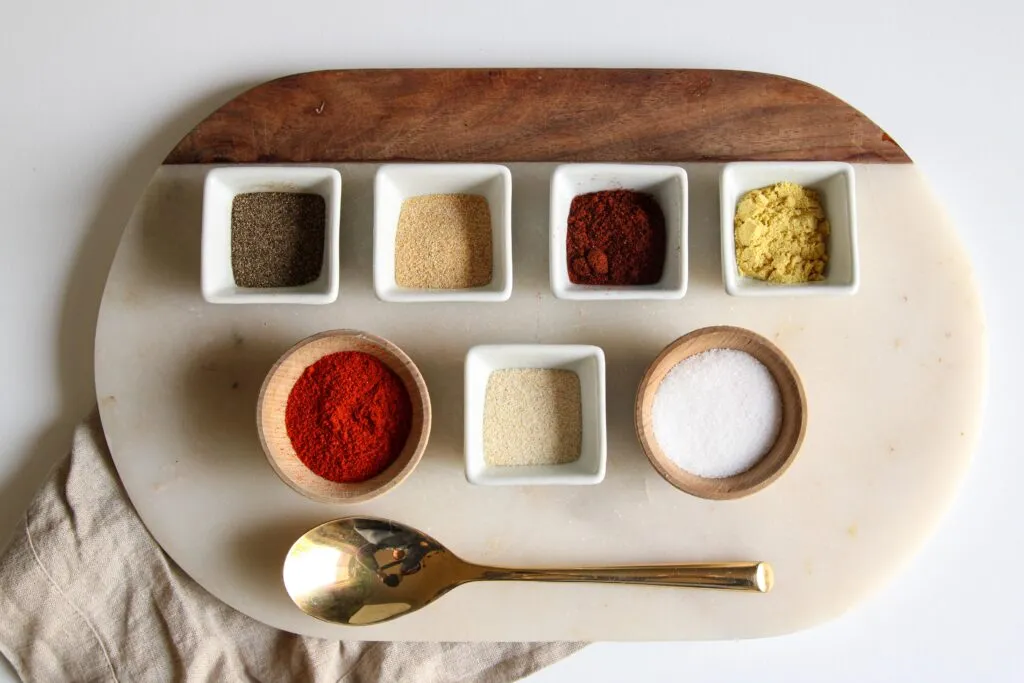 Plus, it's shelf stable and can be kept in your pantry for months. Most of these spices can be found at your local grocery store. Ground mustard may not be one you already have on hand. It is not the same as the liquid mustard you get in the condiment aisle. Ground mustard, also called dried mustard or mustard powder, is ground-up mustard seeds. We were able to find it in the spice aisle of our local Target and Walmart stores.
We love this Whole30 dry rub on chicken, tri-tip, ribs, burgers, wings, potatoes and veggie skewers! You can add the dry rub to the outside of a meat and cook immediately. Or, for more flavor, you can marinate the meat with the rub for up to 12 hours to allow the meat to really pull in all of those flavors.
You will find yourself using this again and again. This recipe makes about a 1/4 cup of rub, but feel free to double or triple it so you have it ready on your spice rack when you want to ramp up the flavor of all your grilled (or air-fried) goodies!
Whole30 Dry Rub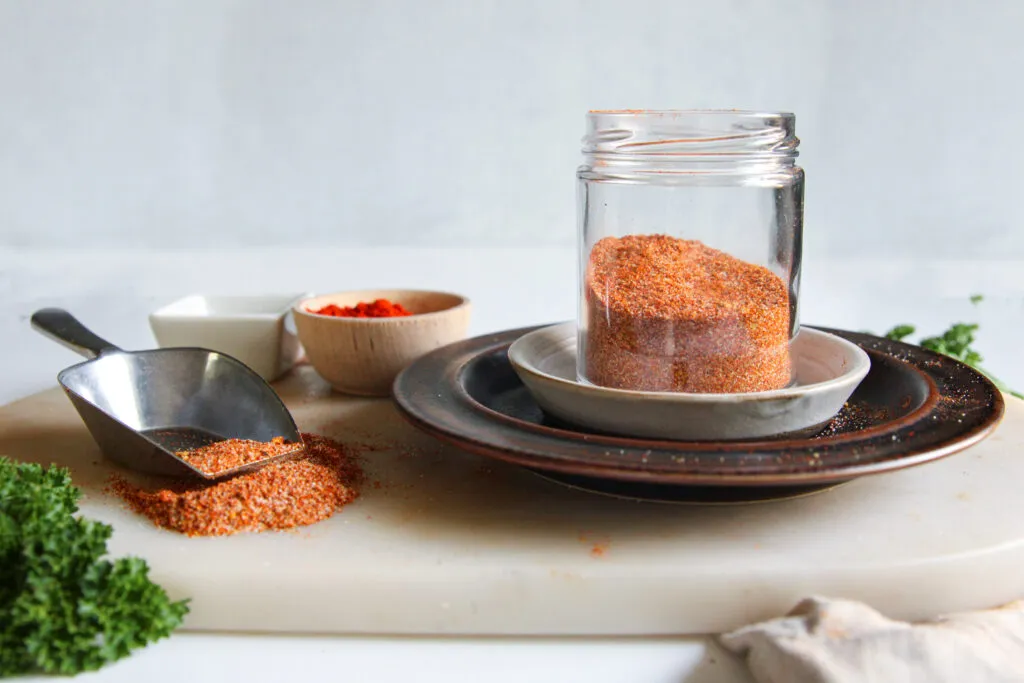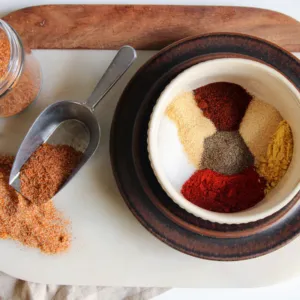 Whole30 Dry Rub
Want an easy budget-friendly seasoning to make flavorful meat? Try our Whole30 dry-rub! So quick and simple to make. Gluten and sugar-free and delicious on chicken, tri tip, wings, ribs and more!
This recipe Makes: 1/4 cup or 4 tablespoons of rub
Ingredients
1

tbsp

paprika

1

tbsp

salt

1.5

tsp

garlic powder or granulated garlic

1.5

tsp

onion powder or granulated onion

1.5

tsp

chili powder

1.5

tsp

ground mustard

1

tsp

ground black pepper
Instructions
COMBINE all ingredients in a small bowl or jar. Sprinkle and rub onto the outside of the meat directly prior to cooking, or let sit in the fridge overnight for maximum flavor absorption.

STORE extra rub in a sealed container in the pantry for up to 6 months.
Autumn Michaelis
Recipe Creator | Whole Food for 7
Autumn Michaelis is an ACSM Certified Exercise Physiologist, with a B.S. in Exercise Science from BYU. Though exercise was her first love in the health world, nutrition has become her passion. She created the blog Wholefoodfor7, sharing easy and budget-friendly Whole30, Paleo, and gluten-free + dairy-free recipes for families. In August 2022, Autumn released the newest Whole30 Endorsed cookbook, Whole Food for Your Family. She is mom to 5 boys (yes 5!) and when not in the kitchen can be found adventuring, hiking, and tearing up the dance floor.