Our @whole30recipes Instagram feed brings you delicious, Whole30 Approved recipes all day, every day. And, in our series,  The Best of @Whole30Recipes, we'll be bringing them to our blog! Each week, we'll feature a new mini-collection of our favorite recipes.  This week, we're bringing you tips and tricks from our Whole30 Recipes bloggers.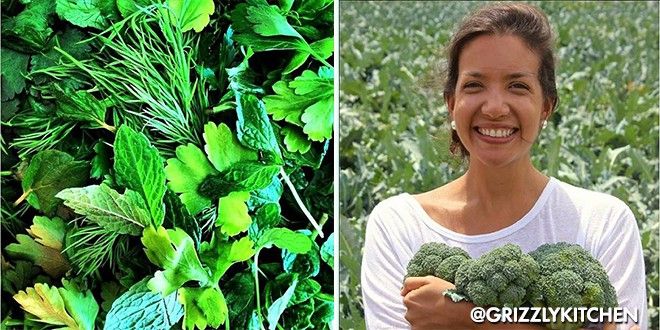 Using fresh herbs, @grizzlykitchen
Herbs are so underestimated because each has a unique, distinct flavor. They can be used in infinite ways, but it helps to think of them in 2 categories (of course, there are exceptions):
To be used before & during cooking (the sturdy herbs): rosemary, oregano, thyme, bay leaves, marjoram, lemongrass, etc.
To be used after cooking and for toppings (the fresher herbs): basil, tarragon, chives, cilantro, parsley, chervil, sorrel, dill, mint, etc.
Herb sauces are made up of primarily fresh herbs, an acid, a salt, and a fat. Tons of them exist. You've heard of them. You've eaten them happily on your steak. These are amazing on grilled proteins, salads, roasted vegetables, or as a marinade.
Chimichurri = Fresh herbs (usually parsley) + garlic + oregano + red pepper flakes + white wine vinegar + olive oil + S&P
Salsa verde = Fresh herbs (usually parsley, basil, tarragon) + lemon zest + garlic + lemon juice + capers + anchovies (optional) + red pepper flakes + olive oil + S&P
Pesto = Fresh herbs(usually basil) + walnuts + pine nuts + garlic + lemon + olive oil + S&P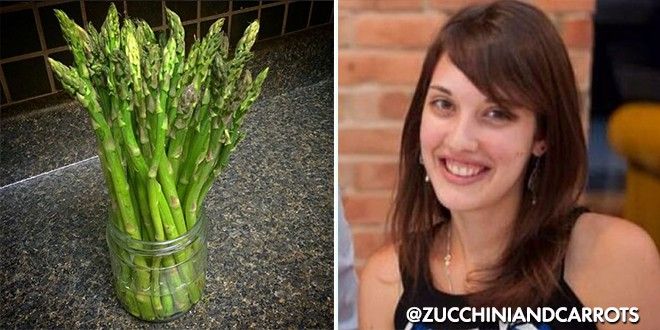 Storing asparagus, @zucchiniandcarrots
All you have to do is take a clean jar (it can even be a leftover jar from some #Whole30 compatible sauce or mayo), put a little water at the bottom, and put your asparagus in it standing up. Store this jar uncovered in your fridge!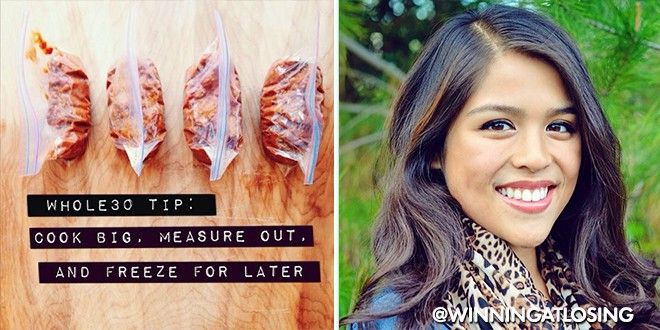 Cooking big, @winningatlosing
Whenever I make a protein dish like carnitas or chili, I like to double or even triple the batch!
I then bag individual meal-sized portions, and freeze them for later. They keep well for weeks, and when I'm in a pinch and the last thing I want to do is cook, I can easily reach into the freezer, grab some protein and zap it in the microwave! Simply add some veggies, and I've got a complete meal!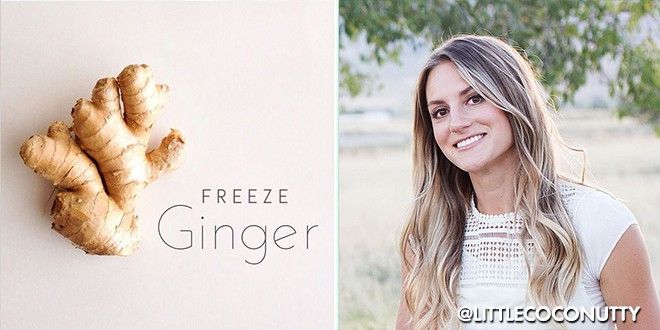 Freeze ginger, @littlecoconutty
Ginger is one of those things that I use randomly so it's so nice to have it in the freezer to use whenever I want. I just wash it really good and give it a good scrub, pat dry and put in a plastic bag in the freezer. When I am ready to use it, I just take it out and grate it (you can eat the skin) and put it back in the freezer.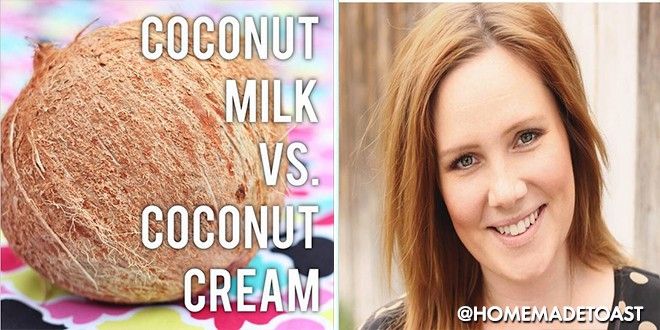 Coconut Milk vs Coconut Cream, @homemadetoast
Both coconut milk and cream are made from coconut flesh. If you have opened a can of coconut milk (not the lite kind) you may have noticed a thicker cream along the rim – that's the coconut cream! To completely separate the cream from the milk, refrigerate your can of coconut milk upside down for at least 24 hours. The cream will float to the top and slightly harden. Turn the can back right-side up and open. The cream will then be on the bottom and the milk/water (depending on how fully your coconut milk separates) on the top. Pour the milk/water out into one container then scoop out the cream from the bottom into another!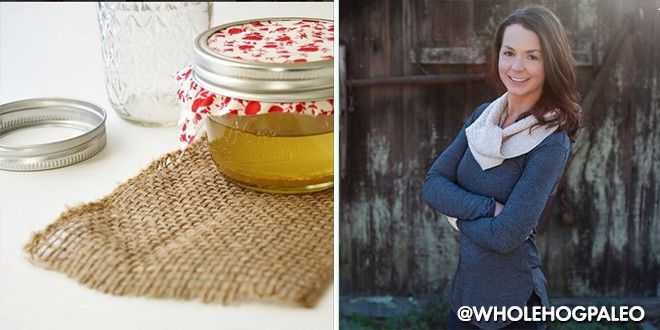 Storing bacon grease, @wholehogpaleo
After baking a batch of (compatible – no sugar in the cure or in the coating, and no sulfates) bacon, do you ever wonder what to do with all that extra bacon grease? Don't throw it away! At the beginning of the week, I cook a pound of bacon in the oven at 400 degrees for 18-20 minutes, and use it in dishes throughout the week. After the bacon is cooked up, I pour the grease in a glass container to store. You can use it as an alternate cooking fat for roasting veggies, like Brussels sprouts or broccoli.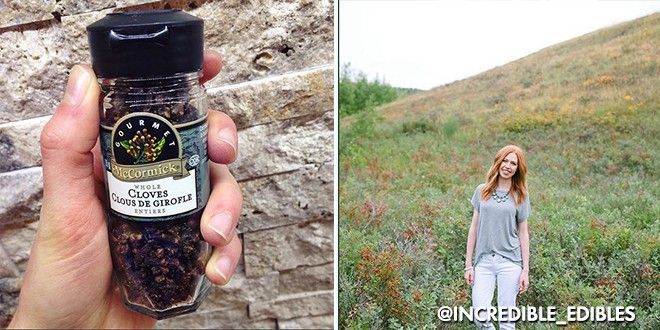 Cloves instead of gum, @incredible_edibles
Who misses chewing gum during the Whole30? If you do, try this instead: suck on cloves instead of chewing gum. Just pop off the top bulb, then pop the rest of the clove in your mouth and enjoy! Not only is it a good gum replacement, cloves are so good for you! They can help with indigestion, with inflammation from root canals and temporary fillings (because of the component called eugenol), bad breath, headaches, or a sore throat. They are also an excellent source of manganese.
Have a favorite from the @whole30recipes feed?  Is there a collection you'd like to see? Let us know in comments!
Melissa Urban
Co-Founder / CEO
Melissa Urban is a 7x New York Times bestselling author (including the #1 bestselling The Whole30) who specializes in helping people establish healthy boundaries and successfully navigate habit change. She has been featured by the New York Times, People, the Wall Street Journal, Forbes, The Today Show, and Good Morning America, and is a prominent keynote speaker on boundaries, building community, health trends, and entrepreneurship. She lives in Salt Lake City, UT with her husband, son, and a poodle named Henry.