Roulade is the French term for a thin piece of meat rolled around a savory filling, usually some combination of vegetables, bread crumbs, and cheese. This recipe for Mushroom-Stuffed Beef Roulade is a special sneak peek recipe from Cooking Whole30 by Melissa Urban, and it features a yummy stuffing of sautéed cremini mushrooms, onions, and red bell pepper flavored with garlic, oregano, basil, and lemon zest.
Whole30 Mushroom-Stuffed Beef Roulade with Garlicky Green Beans
Photos by: Brian Kavanagh | The Sophisticated Caveman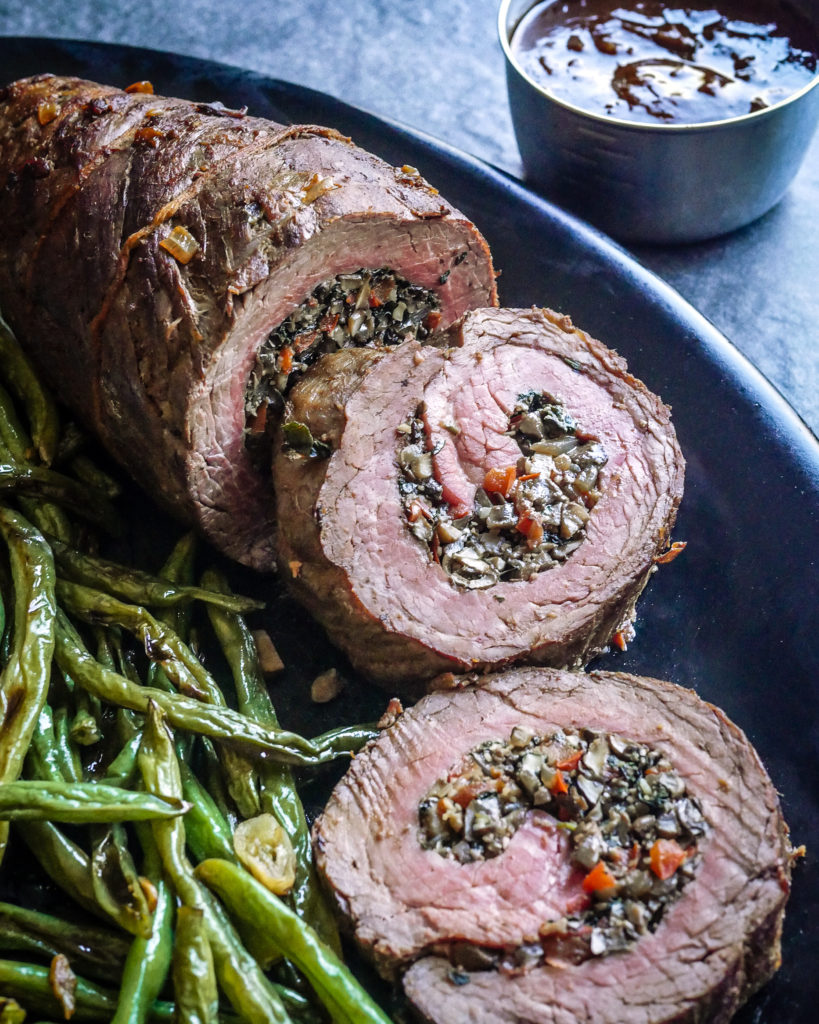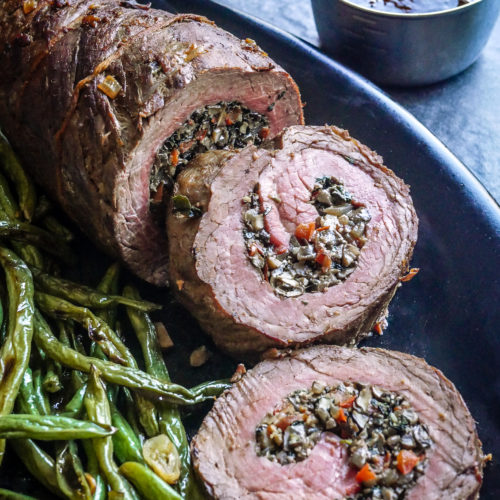 Whole30 Mushroom-Stuffed Beef Roulade with Garlicky Green Beans
Ingredients
5

tablespoons

extra virgin olive oil

8

ounces

cremini mushrooms, finely chopped

1

cup

finely chopped red onion

1/2

cup

finely chopped red bell pepper

4

cloves garlic, minced

1

tablespoon

chopped fresh oregano

3/4

cup

chopped fresh basil

1

tablespoon

almond flour

1

teaspoon

grated lemon zest

1

teaspoon

salt

1

pound

green beans, trimmed

1/2

teaspoon

red pepper flakes

1

beef sirloin or round steak (1 1/4 to 1 1/2 pounds)

2

tablespoons

Whole30-compatible tomato paste

1

cup

beef bone broth
Instructions
PREHEAT the oven to 400°F.

HEAT 1 tablespoon of the olive oil in a large skillet over medium-high heat.

ADD the mushrooms and cook, stirring occasionally, until lightly browned, about 3 minutes.

ADD 1/2 cup of the onion and the bell pepper.

COOK, stirring occasionally, until the onion is tender, 3 minutes.

ADD half the garlic and the oregano.

COOK, stirring, for 1 minute more.

REMOVE from the heat and stir in 1/2 cup of the basil, the almond flour, lemon zest, and 1/2 teaspoon of the salt.

TRANSFER the mushroom mixture to a bowl and set aside to cool slightly.

RINSE and dry the skillet.

TRIM away any excess fat from the edges of the steak.

PLACE the steak on a work surface.

With the notched edge of a meat mallet, POUND the steak to about 1/4 inch thick.

SPREAD the mushroom mixture over the steak to within 1/2 inch of the edges.

Starting on a long side, ROLL up the meat and tie it with 100% cotton kitchen string.

In a medium bowl, COMBINE the green beans, 2 tablespoons of the oil, the remaining garlic, and the remaining 1/2 teaspoon salt and toss.

SPREAD the beans evenly on a large baking sheet. Roast for 18 to 20 minutes, until the beans are lightly browned and crisp-tender.

In the same skillet, HEAT the remaining 2 tablespoons olive oil over medium-high heat.

SEAR the meat in the hot oil and cook, turning occasionally, to sear evenly on all sides.

REMOVE the meat from the skillet.

ADD the remaining 1/2 cup onion to the skillet.

COOK, stirring, until softened, about 5 minutes

STIR in the tomato paste, then whisk in the broth.

BRING the broth to a boil.

RETURN the meat to the skillet and spoon some of the sauce over the meat.

COVER and reduce the heat to medium-low.

SIMMER gently, turning once, until the internal temperature of the roulade is 160°F, 8 to 10 minutes.

SPRINKLE with the remaining 1/4 cup basil.

TRANSFER the roulade to a cutting board and let rest for 5 to 10 minutes.

REMOVE the string and cut into 1/2-inch-thick slices.

SERVE the meat and sauce with the green beans.
Cooking Whole30
Over 150 Recipes for the Whole30 and Beyond
Previously published as The Whole30 Cookbook, this bestseller is revised, updated, and available in paperback for the first time.
The groundbreaking Whole30 program has helped millions of people transform their lives by bringing them better sleep, more energy, fewer cravings, and improved digestion, creating a foundation of good habits and restoring a healthy relationship with food. In this cookbook (previously published as The Whole30 Cookbook) best-selling author and Whole30 co-creator Melissa Urban delivers over 150 recipes to help readers prepare delicious, healthy meals for their Whole30 and beyond.
Cooking Whole30 has been completely revised and updated to be in line with Whole30's diversity, inclusion, equity, representation, and accessibility efforts.
Say good-bye to mundane meals with Cooking Whole30. These mouth-watering recipes will help you reset your health while filling your life with delicious good food." — DANIELLE WALKER, New York Times best-selling author, Against All Grain and Meals Made Simple
DETAILS
Purchase: Amazon , B&N , Indie Bound , Powell's , BAM , Hudson , Indigo , Amazon.ca , iBooks , Google Play
You Might Also Like…
Melissa Urban
Co-Founder / CEO
Melissa Urban is a six-time New York Times best-selling author who specializes in helping people establish healthy boundaries and successfully navigate habit change. She has been featured by the New York Times, People, the Wall Street Journal, Forbes, The Today Show, and Good Morning America, and ranks #19 on Greatists Top 100 Most Influential People in Health and Fitness. Melissa has presented more than 150 health and nutrition seminars worldwide, and is a prominent keynote speaker on boundaries, building community, health trends, and entrepreneurship. She lives in Salt Lake City, UT.