Last December, we announced Applegate® as our newest Whole30 Approved® partner. The community response on social media was overwhelmingly positive. Like: "Loving it! I'm a no fuss cook and these products are TASTY and QUICK!" and "SO happy about this!!!!" and "I bought their turkey burgers last night and can't wait to try them!"
You love their hot dogs, no-sugar bacon, and dinner sausages. You use Applegate products in your Whole30 breakfasts, lunches, and dinners. But you had just one question…
Could they ALSO make their line of organic deli meats Whole30-compatible? Please? Pretty please?
Behind the scenes at Whole30 HQ, we were doing a carrageenan-free happy dance, because we knew Applegate was hard at work doing exactly that. From Whole30 CEO Melissa Hartwig: "You asked, and they listened! THIS is why we love having Applegate as a Whole30 Approved partner. They are relentlessly committed to creating products that have clean, simple ingredient lists made from ethically and humanely raised meat, AND they are pasionate about serving our Whole30 community."
Today, we're proud to announce that the Applegate Organics® pre-sliced deli meat line is now carrageenan-free and available at a grocery store near you, just in time for quick and delicious September Whole30 meals. In fact, today we're sharing the recipe for Turkey, Bacon, and Avocado Wraps, perfect for packing up for a tasty and compatible workday lunch.
Turkey Collard Wraps with Bacon featuring Applegate Organics®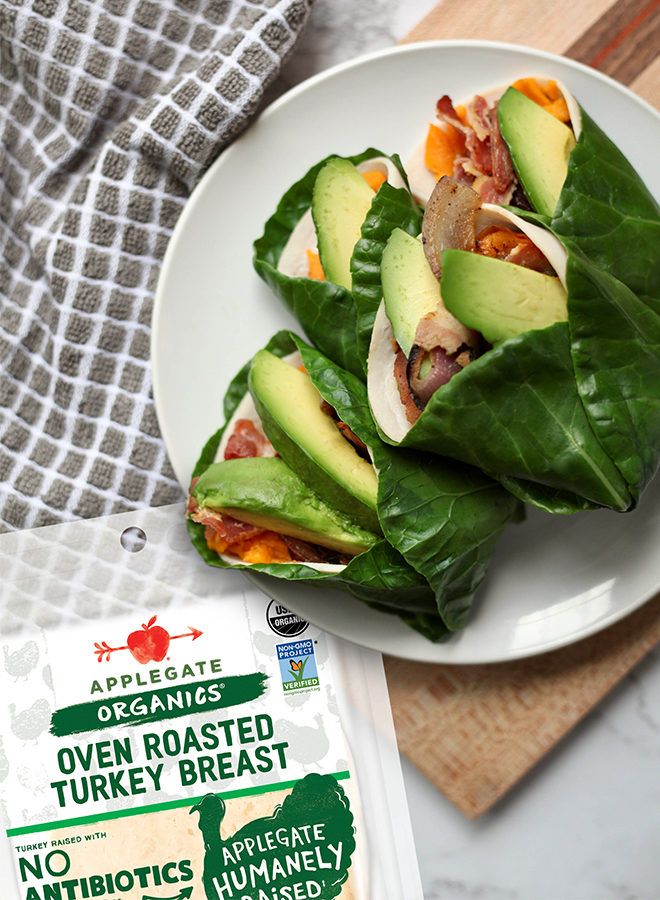 Ingredients
8 collard green leaves
1 medium sweet potato, baked until soft, peeled, and sliced in ½' discs
1 package of Applegate Organics® Oven Roasted Turkey Breast
4 slices Applegate Bacon
½ red onion, peeled and thinly sliced
1 avocado
Instructions
BRING a large pot of water to a boil and prepare a large bowl with cold water and ice. Carefully dip each collard green leaf in the water for about 15 seconds, or until the entire leaf is softened and bright green.
TRANSFER to the ice bath for 5-10 seconds, then drape over a colander.
COOK your bacon and set aside on a plate lined with a paper towel. Do not drain the bacon grease. Add the sliced red onion to the pan with the bacon grease and cook, stirring frequently, until soft and slightly caramelized. Set aside.
CAREFULLY dry each leaf with a paper towel. With a knife, remove each stem from the collard leaves and discard. Arrange each leaf so that both sides of the leaves touch and there is no gap where the stem would have been.
PLACE 2 slices of turkey on each collard leaf, followed by 2 sweet potato discs, ½ slice of cooked bacon, grilled red onion and 1-2 thick slices of avocado.
CAREFULLY form wraps by pulling up each side of the collard leaves and securing at the bottom as if you were wrapping and twisting like a burrito.
ARRANGE on a platter to serve.
Photo and recipe by Sarah Steffens
Melissa Urban
Co-Founder / CEO
Melissa Urban is a 7x New York Times bestselling author (including the #1 bestselling The Whole30) who specializes in helping people establish healthy boundaries and successfully navigate habit change. She has been featured by the New York Times, People, the Wall Street Journal, Forbes, The Today Show, and Good Morning America, and is a prominent keynote speaker on boundaries, building community, health trends, and entrepreneurship. She lives in Salt Lake City, UT with her husband, son, and a poodle named Henry.