Chicken teriyaki is a takeout classic—and for good reason. Its iconic sweet, spicy, salty, tangy flavor is truly unlike any other dish out there. And, believe it or not, creating a tasty iteration of this beloved dish that's Whole30 compatible is a whole lot easier than you might think.
It all starts with chicken thighs, which are famous for being affordable, flavorful, and quick to cook up. Everyone knows that good chicken teriyaki is super juicy, so thighs are the perfect cut to use when making it at home.
As for that staple teriyaki sauce, many restaurant takes, of course, use ingredients like sugar and soy sauce that aren't Whole30 compatible—but a few simple swaps get you the same delicious result that's 100 percent Whole30-friendly. You'll simply simmer coconut aminos, fresh orange juice, garlic, ginger, and red pepper flakes—and thicken it all up with a bit of tapioca starch—to achieve all of the savory, umami flavor your heart desires (and that your chicken thighs will soak up big time).
Herbed cauliflower rice makes for the perfect base for this meal, soaking up any extra sauce with ease. You'll top everything off with a garnish of minced scallion and sesame seeds for a pop of extra flavor and texture. Serve the dish with fresh lime wedges, which offer a spritz of freshness and zing. In all, it's a creative way to mix up your grilling routine with bright, bold taste.
Recipe tips and tricks:
Need to speed things up a bit to get a meal on the table, stat? You've got a few options. One major time-saver Purchase premade Whole30-compatible teriyaki sauce. (We love The New Primal's Soy-Free Teriyaki or Primal Kitchen's Organi No Soy Teriyaki.) And while you can always make your own cauliflower rice in the food processor, purchasing ready-to-go cauliflower rice is an easy move here. Look for it alongside the pre-cut veggies in the produce section or bagged in the vegetable section of the freezer aisle.
Of course, you can also make a few tweaks depending on what ingredients you have handy. Any cut of chicken—from breasts and drumsticks to wings—gets the job done; just be sure to adjust cooking times for leaner meats. You can also swap in another vegetable—like grilled broccoli, eggplant, or zucchini—for the cauliflower rice. And, finally, if you don't have sesame seeds, hemp seeds or finely chopped macadamia nuts taste great in this chicken teriyaki bowl, too!
Grilled Chicken Teriyaki over Cauliflower Rice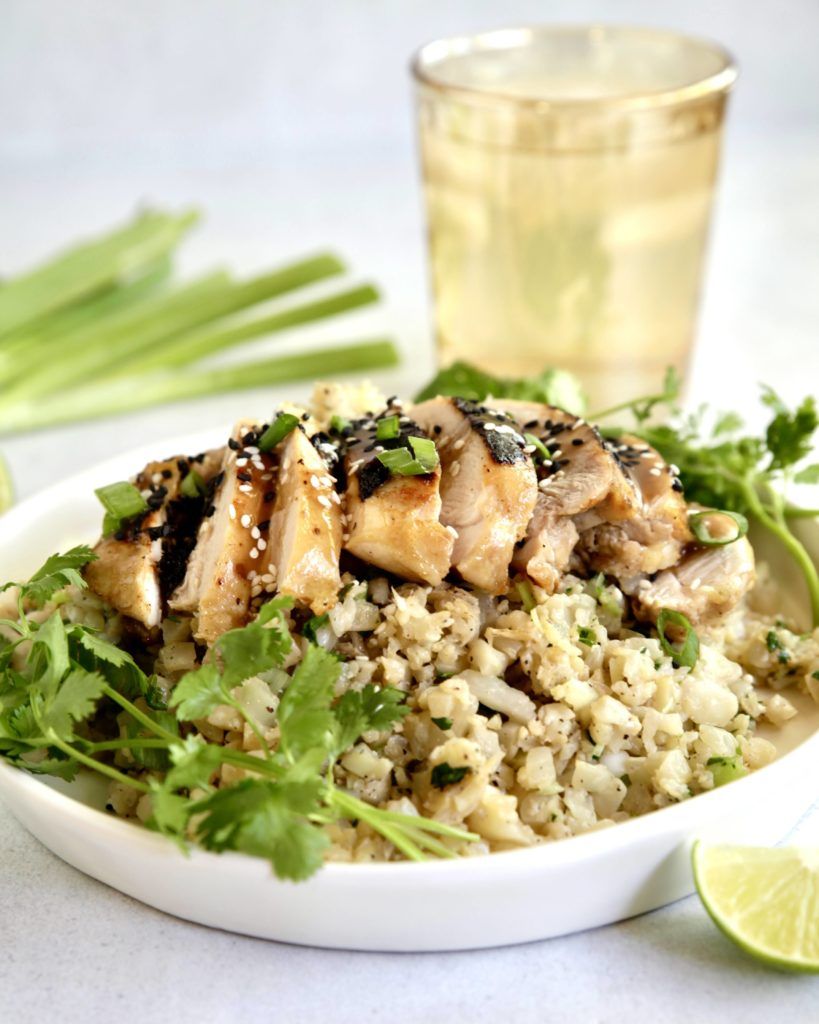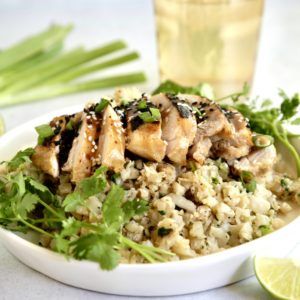 Grilled Chicken Teriyaki with Cauliflower Rice
Ingredients
Teriyaki Sauce
1/4

cup

avocado oil

1/4

cup

coconut aminos

2

tbsp

fresh orange juice

2

tsp

sea salt

1

tsp

black pepper

2

medium garlic cloves, peeled & minced

1

tsp

fresh ginger, peeled & minced

1/2

tsp

dried red pepper flakes

1

tsp

tapioca starch

1

tbsp

water
Chicken
1.5

lbs

boneless, skinless chicken thighs
Cauliflower Rice
1

tbsp

ghee

4

cups

cauliflower rice

1

tsp

sea salt

1/2

tsp

black pepper

1

whole scallion

1/4

cup

fresh cilantro

minced
Garnish
Minced scallion

1

tbsp

black or white sesame seeds

Fresh lime wedges
Instructions
HEAT teriyaki sauce ingredients – except tapioca starch and water – in a saucepan on the stove set to medium heat. Simmer for 4-5 minutes. Add the tapioca starch and water and whisk vigorously for 3-4 minutes, or until it has thickened. Set aside to cool.

ADD cooled teriyaki sauce to a large bowl and place chicken thighs in the bowl. Toss well so that the chicken is coated in the sauce and let marinate for 20 minutes (or up to overnight).

ADD ghee to a large pot on the stove, set to medium heat. Add the cauliflower rice, and season with sea salt and black pepper. Saute for 4-5 minutes, or until soft. Turn off the heat and stir in the minced scallion and cilantro.

GRILL the marinated chicken thighs on a hot grill or in a cast-iron skillet set to medium-high heat for 5-8 minutes per side.

SERVE chicken over cauliflower rice and garnish with minced scallion, sesame seeds, and fresh lime wedges.

STORE any leftovers in the fridge for up to 3 days.