Our @whole30recipes Instagram feed brings you delicious, Whole30 compatible recipes all day, every day. And, in our series, The Best of @Whole30Recipes, we bring our favorites to the blog.
Feeling a little "egg-hausted"? You're not alone. In fact, egg-less breakfast recipes are maybe the most commonly-requested resource on the Whole30 Facebook and Instagram pages.  So, we've decided to make this into a mini-series. Every so often, we'll round up some of our favorite egg-free breakfast dishes from the Whole30 Recipes feed and collect them here on the blog. Hopefully, you'll find some new favorites to rotate in with your fritattas and scrambles.
If you're new to the Whole30, don't miss the first Egg-less Breakfasts post, where we share three strategies for combating egg boredom.
[Tweet "EVEN MORE egg-free breakfast ideas on the #Whole30 blog today (because we love you)."]
Apple, Sausage and Butternut Squash Hash with Kale from Stacie Hassing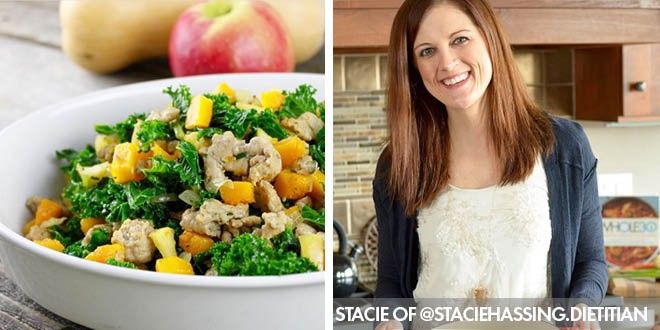 Whole30 says: This would be extra-delicious with—wait for it—a fried egg on top. Just kidding. If you want to jazz up this hash a bit more, try topping it with a bit of diced avocado.
Ingredients
1 Tbsp. coconut oil, divided
1 medium onion, diced
1 small butternut squash (1 ½ lbs.), peeled and cut into ¼-inch dice (about 3 cups) or pre-cubed squash
1 medium apple, cored and diced
12 ounces ground turkey or chicken
½ tsp. dried sage
¼ tsp. dried thyme
¼ tsp. garlic powder
½ tsp. sea salt
Pinch of nutmeg and/or red pepper flakes (optional)
3 cups kale, chard or spinach, washed and torn
Instructions
COMBINE ground turkey, sage, thyme, garlic powder, salt and nutmeg or red pepper flakes in small bowl. Stir with spoon or use your hands to combine. Set aside.
PLACE a large skillet over medium-high heat. Add 2 tsp. coconut oil and heat just until oil starts to shimmer. Add onion and butternut squash. Saute for 8-10 minutes (or until slightly soft), stirring occasionally.
ADD 3 Tbsp. water and diced apple. Cook an additional 5 minutes, stirring occasionally. Move vegetable mixture to one side of the pan (or use a separate pan). Add 1 tsp. coconut oil and turkey mixture. Allow turkey to cook a few minutes before breaking it up with a spatula or spoon.
CONTAIN to cook 5-6 minutes or until turkey is cooked through and no longer pink. Stir to combine vegetables and sausage. Place kale on top of hash and cover with a lid. Allow greens to wilt, about 1-2 minutes. Stir, season with additional salt and pepper and serve.
Creamy Cauliflower Soup with Pancetta Garnish from Sodium Girl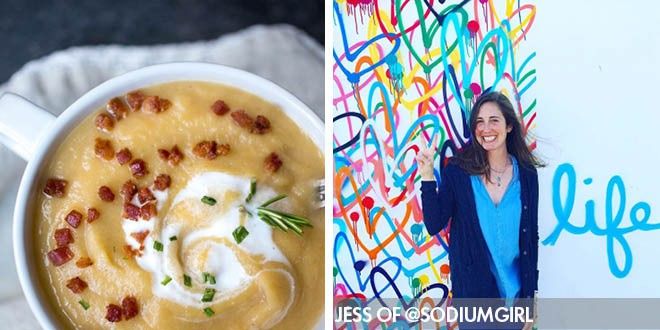 Whole30 says: Yes, we're still trying to make breakfast soup a thing. Think about it: it's warm, comforting, and filling. If you make a big batch a head of time, it's super-quick to heat up early in the morning when basic kitchen tasks like chopping and sauteing can seem overwhelming (or is that just us?). While the panchetta garnish adds nice flavor to this soup, it's not quite enough protien to make a meal. Have some chicken or meatballs prepared so that you can quickly reheat everything and go.
Ingredients
2 tablespoons ghee or avocado oil
½ large yellow onion, thinly sliced
4 garlic cloves, thinly sliced
1 head of cauliflower, washed, dried & cut into florets
32 ounces chicken or vegetable broth
1 sprig fresh rosemary
2 teaspoons sea salt, split in two
¾ teaspoon dried chives
1 teaspoon onion powder
½ teaspoon smoked paprika
2 ounces pancetta, cubed, for garnish
Splash of coconut milk, for garnish
Instructions
PLACE a large saucepan over medium-high heat. Add the butter, onion and garlic cloves and sauté for about 1 minute until fragrant.
ADD cauliflower florets, broth, fresh rosemary and half of the salt. Cover the pot, reduce the heat to medium and let cook for another 25 minutes, or until the cauliflower feels fork tender.
WHILE the cauliflower is cooking, add the pancetta to a small sauté pan over medium heat. Stirring frequently, cook until the pancetta looks crispy, about 3-4 minutes. Transfer to a paper towel-lined plate and set aside.
ONCE the cauliflower feels fork tender, remove the rosemary and add the rest of the spices & herbs and salt. Stir to combine.
TRANSFER the soup mixture into the Vitamix. Blend on medium-high until smooth, about 30 seconds or by simply using the soup setting. Pour the soup into serving bowls and garnish.
Morning Sage Apple Patties from Holly Marshall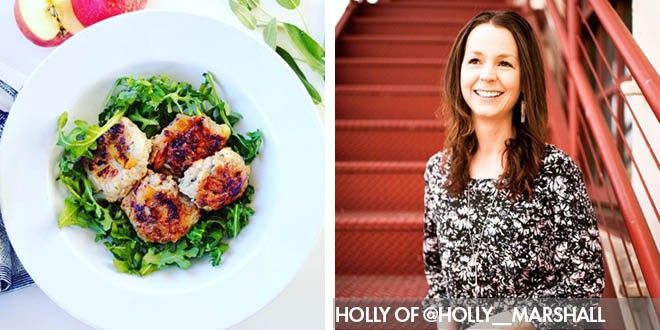 Whole30 says: Make a big batch of these that you can reheat and toss over greens, as show in the photo. A sweet and savory sausage patty is one of the most delicious Whole30 breakfasts around.
Ingredients
1 Tbsp. ghee
1/2 large onion, finely diced
1 medium sweet apple, cored, and finely diced
1 garlic clove, minced
1 pound ground chicken or ground pork
1/2 tsp. sea salt
1/4 tsp. ground black pepper
2 tsp. fresh sage, minced
1 tsp. dried thyme
1 Tbsp. ghee for frying
Instructions
HEAT a large skillet over medium-high heat. Add ghee, then add diced onion and apple. Cook for 2-3 minutes, stirring occasionally. Add garlic, cook for 1 more minute, then turn off heat and allow to cool for a few minutes.
PLACE the cooled mixture of apple, onion and garlic into a large bowl. Add ground meat, sea salt, ground black pepper, fresh sage and dried thyme. Mix until all ingredients are well combined.
HEAT a large skillet over medium heat with additional ghee. Form into 2-3 inch diameter circular patties and place on skillet. Cook for 3-4 minutes per side. Don't press down on the patties—the juices will escape and the patties will be less moist.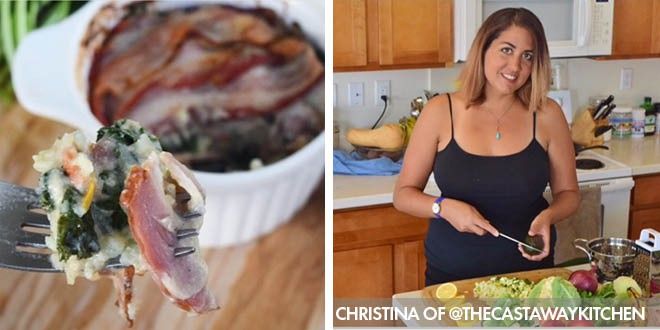 Whole30 says: This recipe calls for a lot of ingredients and prep, so it's best to make ahead of time or keep on file for a special brunch occasion.
Ingredients
2-3 Japanese sweet potato
4 cups chopped kale
8 slices Whole30 compatible bacon (click here to see our Whole30 Approved bacon options)
4 cups cauli-fredo (ingredients to follow)
Cauli-fredo:
4 garlic cloves
4 cremini mushrooms
1 small onion
1 small head cauliflower
1 cup coconut milk, I use organic Thai Kitchen
1/2 cup bone broth (If store bought read labels, sugar free)
1/2 tbsp pepper (for an AIP-friendly recipe, sub pinch horseradish)
1 tsp salt, more to taste
Pinch nutmeg (for an AIP-friendly recipe, sub cinnamon)
1 lemon squeezed
1 tbsp garlic powder
1 tsp Italian herb blend (oregano, thyme, basil, rosemary).
Instructions
For the cauli-fredo:
IN a large pot, heat 1 tbsp cooking fat. Rough chop onion, garlic, mushroom & cauliflower. Add onion, then mushrooms to pot & cook on medium high until tender. Add in garlic & cauliflower. Stir well.
AFTER 5 minutes, add in coconut milk, broth and seasoning. Stir well. Bring to a boil & cover.
LOWER heat to a simmer. Simmer until cauliflower is tender, about 20 minutes.
CAREFULLY transfer to a blender, add in lemon juice and blend until smooth. Taste, add salt & pepper as needed. Separate 2 cups for your pot pies, store the rest in air tight containers in the fridge.
For the Breakfast Pot Pies:
PEEL sweet potato, then grate or spiralize. Set aside.
BRING a large pot of water to a boil. Add sweet potato to boiling water and stir well. Let sweet potato boil for 5-8 minutes until tender, and then carefully drain.
IN 4, medium sized, oven safe, ramekins build your Pot Pies:
1st layer: 1/2 cup cooked sweet potato
2nd layer: 1 cup chopped kale
3rd layer: 1 cup cauli-fredo, be sure to get it on top and on the sides of the kale
4th layer: Arrange 2 slices of bacon, cut in half, to 4 short slices across the top & tuck in the sides.
BAKE at 350F for 15-20 minutes, until bacon is at desired crispiness.
Creamy Parsnip and Apple Soup with Toasted Almonds from Buck Naked Kitchen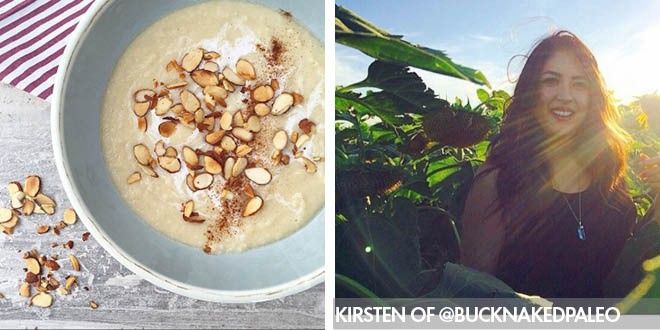 Whole30 says: Another option for breakfast soup, and this one utilizes parsnips, which are fun to experiment with. As with the first soup recipe, you'll want to add some protein here. Either serve it on the side, or add shredded pork, chicken or beef to your bowl.
Ingredients
1.5 lbs parsnips (about 6 medium sized), peeled and chopped
2 small apples, peeled, cored and chopped. (any sweet apple variety works)
1 tbsp olive oil
1 medium yellow onion, chopped
3 cloves garlic, chopped
4 cups compatible vegetable stock
1/2 tsp cinnamon
1 can compatible coconut milk (check for sulphites)
Salt and pepper to taste
1/8 cup toasted almond flakes (optional)
Note: To toast the almonds, put them in a frying pan on medium heat and shuffle until golden. Just keep them moving so they don't burn!
Instructions
HEAT olive oil in a large pot on medium heat. Add parsnips, Apple, onion and garlic. Sautée until onions are translucent (about 7 mins).
ADD compatible vegetable stock & cinnamon. Simmer until parsnips are fork tender. Add coconut milk and transfer to blender. Blend until smooth.
SEASON with salt and pepper to your desired taste. Top with toasted almond flakes.
[Tweet "Helping you recover from "egg-haustion" one egg-free recipe at a time. #Whole30 #Whole30Recipes"]
Shanna
Chief Content Officer
Shanna Keller, our Chief Content Officer, hails from Boise, Idaho, where she lives with her husband Alan and a poorly-behaved terrier named Olly. She has spent her career telling stories of life transformation on social, web, e-mail and print media platforms. In addition to celebrating Whole30 successes and stories online, Shanna loves to cook, read, and climb.