These quick and easy Whole30 Plantain Wraps filled with eggs, bacon, and avocado are an incredible way to start your day!
In fact, these single-ingredient plantain wraps are perfect for all your wrap needs. They are easy to make — just boiled green plantains, crushed and shaped into wraps. That's it! They are pliable, bendable, and have a mild starchy flavor that works with all toppings. Use these as a Whole30-compatible tortilla or taco shell replacement. Or, layer them between protein and veggies with some avocadoes or nut cheese for a balanced plate. You just cannot go wrong with these. The possibilities are endless.
Choosing the right plantains for your wraps:
For these wraps, you will want to choose plantains that are green but starting to turn yellow. The skin should have a pale, yellowish hue. Too green plantains will be very starchy and not as pliable and will crack when you try to fold them. Plantains that are entirely yellow and soft will result in a wrap that is sweet and a bit gummy.
Boiling plantains with the skin on:
Boiling plantains with the skin on prevents them from overcooking and becoming too mushy. It also eliminates the need to peel the green plantains, which can be tricky and stain your hands. Score the plantains down the natural lines in the skin, then cut each plantain into 4-6 pieces. Boil until tender, and the skin will easily peel away from the flesh.
Shaping the crushed plantain into wraps:
It is best to blend your cooked plantains while they are still hot. After blending, separate the plantains into 6 balls (before pressing into wraps). I use a 1/3 cup measuring cup to scoop out equal amounts of crushed plantains so that all my wraps are the same. Then add a tiny bit of oil to the palm of your hands and roll the crushed plantains into a ball. You can then place each ball, one at a time, in a tortilla press lined with parchment paper and press until you have a thin, round plantain wrap. If you don't have a tortilla press, place each plantain ball between two sheets of parchment paper and roll it into a thin disk using a rolling pin.
Toasting the plantain wraps:
You can use these wraps without toasting, but I highly recommend either toasting them in ghee or on a hot, dry skillet. Sometimes cooked green plantains may oxidize and turn black. The last thing you want is for your wraps to turn black. Cooking the plantain wraps in ghee or simply toasting it in a skillet immediately after pressing it into shape will prevent the plantains from oxidizing. Cooking the wraps also prevents the plantain from drying out and keeps the wraps flexible.
Whole30 Plantain Wraps with Bacon and Eggs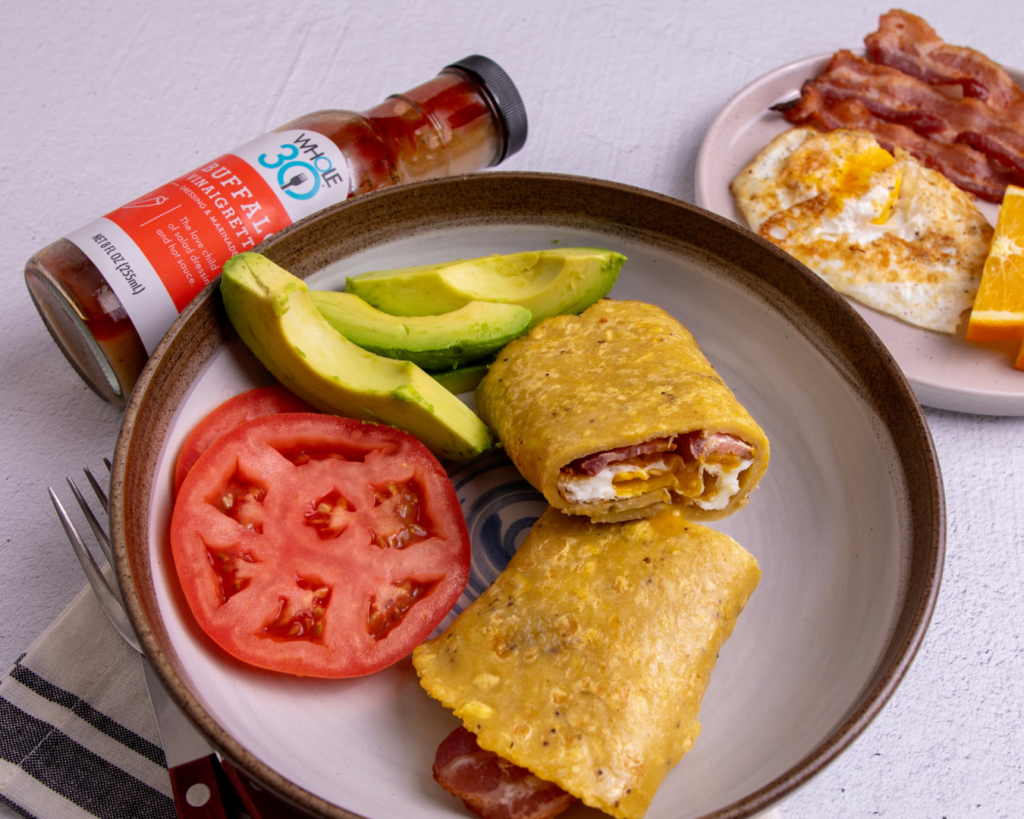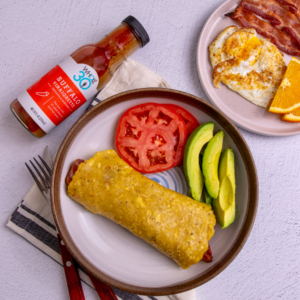 Whole30 Plantain Wraps with Bacon and Eggs
Ingredients
Plantain Wraps
4

green plantains that are starting to turn yellow

6

cups

water

1

tsp

kosher salt

1

tsp

ghee
Toppings
6

fried eggs

12

slices cooked bacon

avocado slices

tomato slices

Whole30 Buffalo Vinaigrette

optional
Instructions
MAKE three to four lengthwise slits along each plantain. Then cut each plantain into 4 pieces.

ADD the plantain pieces to a saucepan with enough water to completely submerge all of the pieces (about 6 cups), then add the salt, give it a quick stir, and cover. Add the saucepan to medium heat and bring to a boil. Boil until the plantains are fork-tender (about 10 minutes).

REMOVE the hot plantains from the skins (tongs are perfect for this step), then add to a food processor.

PROCESS on high until the plantains are smooth (about 1 minute) and come together to form a "dough" ball.

SEPARATE the processed plantains into 6 balls (about 1/3 cup of crushed plantains per ball).

PRESS each ball between a medium-sized tortilla wrap.

ADD ghee to a hot skillet on medium heat. Then add the plantain wraps, one at a time). Cook for 30 seconds on each side, then remove the wraps and let rest on a few sheets of paper towel to remove any excess ghee.

FILL your wraps with your preferred breakfast or anytime toppings. I love adding Whole30 compatible bacon, topped with a fried egg and some made by Whole30 Buffalo Vinaigrette.
Althea Brown
Masters in Public Administration
Althea Brown is a recipe developer and food blogger specializing in Guyanese and Caribbean food. She has a Masters in Public Administration and spent many years in Corporate Human Resources roles before taking time off to spend with her family. She spends most of her days recreating traditional Guyanese and Caribbean recipes into Whole30 recipes. She believes that culture and food traditions are important parts of your food journey. When she is not cooking up delicious meals for family and friends, she is caring for her three children and enjoying life in colorful Colorado.