This is the fourth and final post in our Whole30 Taco recipe series. Maria Barton of Maria Makes shares some of her favorite taco-fied recipes to spice up your week.
Here we are, the final post in the Whole30 taco recipe series. And, I've saved the BEST for last!
I make no claim of authenticity for this recipe. As with all of the recipes in this series, this barbacoa dish was inspired by Mexican flavors, but is not a traditionally Mexican dish. In fact, while doing research for this recipe, I discovered that real barbacoa is made using all of the meat from a cow's head. (For my version, I picked up a rump roast from the grocery store.) I also made a shortcut adobo sauce (real-deal adobo recipes call for reconstituting and pureeing dried chili peppers … my method is much quicker).
So no, this isn't a recipe for traditional barbacoa, but it is the best thing I've ever made in my Instant Pot (and I don't say that lightly), and it's super easy.
[Tweet "A tasty #Whole30 spin on traditional Barbacoa, quick & easy in the @instantpot. #Whole30Recipes."]
Enjoy this beef in Barbacoa Bowls with cauliflower rice and your favorite toppings, or in lettuce or collard green wraps. I whipped up a batch of super simple fresh salsa (recipe below) with a couple of dashes of Yai's Thai Ginger Lime Hot Sauce, and it was the perfect complement. And yes, the recipe is written for use with an Instant Pot, but I've also included slow cooker instructions below. Enjoy!– Maria
Instant Pot Beef Barbacoa from Maria Makes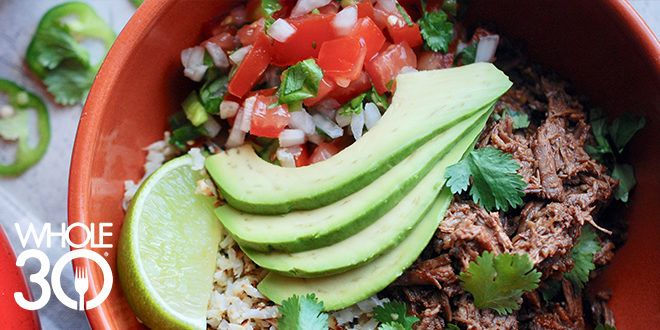 Ingredients
3 lb beef rump roast, chuck roast, or brisket
6 cloves garlic
1 cup broth (beef broth, bone broth, or chicken broth will all work)
3 Tbsp tomato paste
1 Tbsp chipotle powder
1 tsp smoked paprika
1 tsp cumin
2 Tbsp apple cider vinegar
1 tsp salt
1/2 tsp cinnamon
1/8 tsp cloves
1/8 tsp ground allspice
Juice of 1 lime, reserving the spent lime halves
1 medium onion, minced
2 bay leaves
1 | Make the Adobo
COMBINE tomato paste, chipotle powder, smoked paprika, cumin, apple cider vinegar, salt, cinnamon, cloves, allspice, and lime juice in a small bowl. If you don't have chipotle chili powder, feel free to sub a combination of smoked paprika and cayenne pepper (we're going for a smoky heat).
2 | Season and Brown the Beef
HEAT a drizzle of olive oil in your Instant Pot on Saute mode. While the Instant Pot pre-heats…
CUT beef roast into 4 equally sized pieces. Cut small slits into the meat using a paring knife and insert garlic cloves. If some of the cloves are really big, cut them in half before inserting.
SEASON the beef with salt, then brown on all sides, allowing each piece to cook undisturbed for about 2-3 minutes before turning to sear the next side.
REMOVE beef to a large bowl, and while the Instant Pot is still very hot, add in the broth to deglaze the pot. Scrape up any browned bits on the bottom with a metal spoon or spatula.
Slow Cooker Instructions
If you plan to make this in a slow cooker instead of an instant pot, brown the beef in a skillet on the stove before adding to the crock pot.
3 | Combine and Cook
ADD the metal trivet to your Instant Pot (over top of the broth) and place the browned beef on top of it in an even layer if possible (it's fine to stack a bit if you need to).
SPREAD the shortcut adobo sauce over the meat, trying to keep as much of it on top of the beef as possible.
TOP the meat and sauce with the diced onion, and toss in 2 bay leaves and the spend lime halves.
SEAL your Instant Pot and set to cook for high pressure for 60 minutes on the manual setting.
ALLOW to naturally release for 10 minutes, then throw a dish towel over the vent and quick release the remaining pressure.
Slow Cooker Instructions
Follow all instructions as written, but cook in your slow cooker instead: 8-9 hours on low, or 6 hours on high.
4 | Shred, Season, and Serve
REMOVE the beef to a large bowl, and set Instant Pot to saute to start to reduce the cooking juices that are left over.
SHRED the beef with two forks. At this point, it should fall apart really easily! Season the shredded beef to taste with the juices from the Instant Pot.
SERVE in burrito bowls, lettuce tacos, pepper-shell tacos, or however you'd like!
Super Simple Fresh Salsa

Ingredients
4 vine-ripened tomatoes
1-2 jalapeños
½ of a small onion (white or red)
1 Tbsp of Yai's Thai Ginger Garlic Hot Sauce (or your favorite hot sauce)
1 handful of fresh cilantro, roughly chopped
Juice of 1 lime
Salt
Instructions
CHOP the tomatoes, jalapeños, and onion. Do a pretty small dice on the tomato (you can remove the seeds if they bother you), a fine dice on the jalapeños (leaving the seeds in if you don't mind a little heat), and a fine dice on the onion.
COMBINE the veggies in a medium bowl along with the hot sauce, fresh cilantro, lime juice, and a sprinkle of salt. Adjust seasonings to taste.
SET aside to let the flavors come together, then put it on EVERYTHING.
ENJOY!
---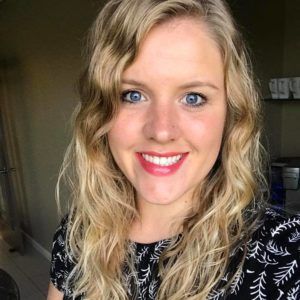 Maria Barton is a home chef, blogger, DIY-er, gardener, wife, and dog mom who is working on finding balance in her life after Whole30. You can find more delicious recipes at MariaMakes.com and connect with her at @mariamakesstuff on Instagram or on Facebook.
Melissa Urban
Co-Founder / CEO
Melissa Urban is a 7x New York Times bestselling author (including the #1 bestselling The Whole30) who specializes in helping people establish healthy boundaries and successfully navigate habit change. She has been featured by the New York Times, People, the Wall Street Journal, Forbes, The Today Show, and Good Morning America, and is a prominent keynote speaker on boundaries, building community, health trends, and entrepreneurship. She lives in Salt Lake City, UT with her husband, son, and a poodle named Henry.