Recipe and photos by Sarah Steffens
One of my favorite holiday memories is a cozy and delicious breakfast my mom would prepare each year for our family to enjoy before we opened our stockings: a big breakfast casserole, cut fruit, sausage, coffee. This year, you're likely limiting your holiday gatherings to immediate-household only, and forgoing many of your favorite traditions and celebrations. A leisurely and tasty breakfast with your household is something you can do, so we've created this Whole30 veggie breakfast casserole recipe with that in mind.
This casserole is packed with texture and flavor—creamy roasted butternut squash, steamed broccoli and diced red bell pepper. It's sure to satisfy and nourish, and we hope it becomes a favorite recipe that you serve for years to come. – Shanna, Director of Digital Content
Whole30 Veggie Breakfast Casserole, Perfect for the Holidays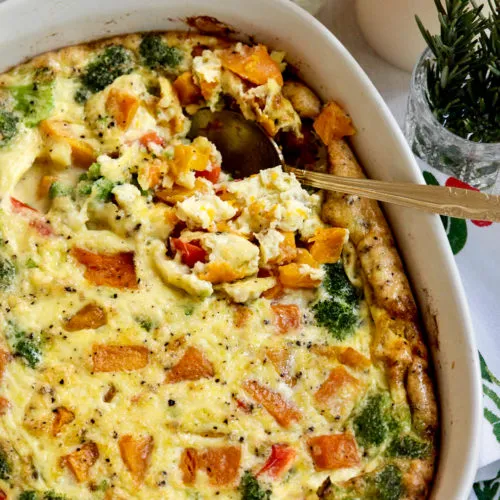 Whole30 Breakfast Casserole
Ingredients
4

cups

peeled & cubbed butternut squash

2

tablespoons

ghee, coconut oil, or avocado oil

2

teaspoons

sea salt

1

teaspoons

black pepper

2

cups

broccoli florets

1

medium red bell pepper

,seeded and diced

12

large eggs

1

cup

plain and unsweetened almond milk
Instructions
Preheat your oven to 400 degrees Fahrenheit.

Arrange butternut squash on a large baking tray lined with parchment paper.  Dollop ghee, coconut oil or avocado oil on the squash and season with sea salt and black pepper.

Roast in the oven until soft and beginning to brown, about 20-25 minutes.

While butternut is roasting, steam your broccoli until tender, about 5 minutes.

While broccoli is steaming, whisk all of the eggs and almond milk in a large bowl and season with additional sea salt and black pepper if you like.

Arrange steamed broccoli in an oven-safe casserole dish greased with ghee, coconut oil or avocado oil.

Add diced bell pepper to the casserole dish, followed by the roasted butternut squash, and then the egg mixture.

Bake in the oven for 25-30 minutes.

Remove from the oven and allow to cool for a few minutes before serving between 4-5.

Enjoy!
You Might Also Like…
Sarah Steffens
Recipe Developer
Sarah Steffens, our Recipe Developer, has a B.A. in Business Administration, Public Relations from The Master's University in Southern California. After years of experimenting with nutrition and recipes in her own kitchen, she now works as a Personal Chef and Food Photographer in Sacramento, creating meals that support her client's intention to physically and mentally thrive. She has catered several independent film sets, making it her goal to optimize the energy and well-being of each creative crew. You can find many of Sarah's recipes in various Whole30, Paleo and Keto cookbooks. When Sarah is not cooking and styling recipes, you can find her enjoying a long walk, working on creative projects with loved ones or exploring beautiful Northern California.