This post is Sponsored by Thrive Market
Winter is here, and it's chilly (pun intended)! Cozy up with Thrive Market, your go-to online shop for affordable Whole30 Approved staples to use all #JanuaryWhole30 long. Today, we're teaming up with Thrive Market to share a sneak-peek recipe from Melissa Urban's newest book, The Whole30 Slow Cooker, featuring more than 150 recipes for your slow cooker and Instant Pot. Prediction: It's your new favorite recipe to enjoy on a chilly evening, made easy when you shop Thrive Market's digital aisles to gather the ingredients you need.
Before you start cooking, click here to shop Melissa's Thrive Market favorites and get an additional 25% off your first order!
---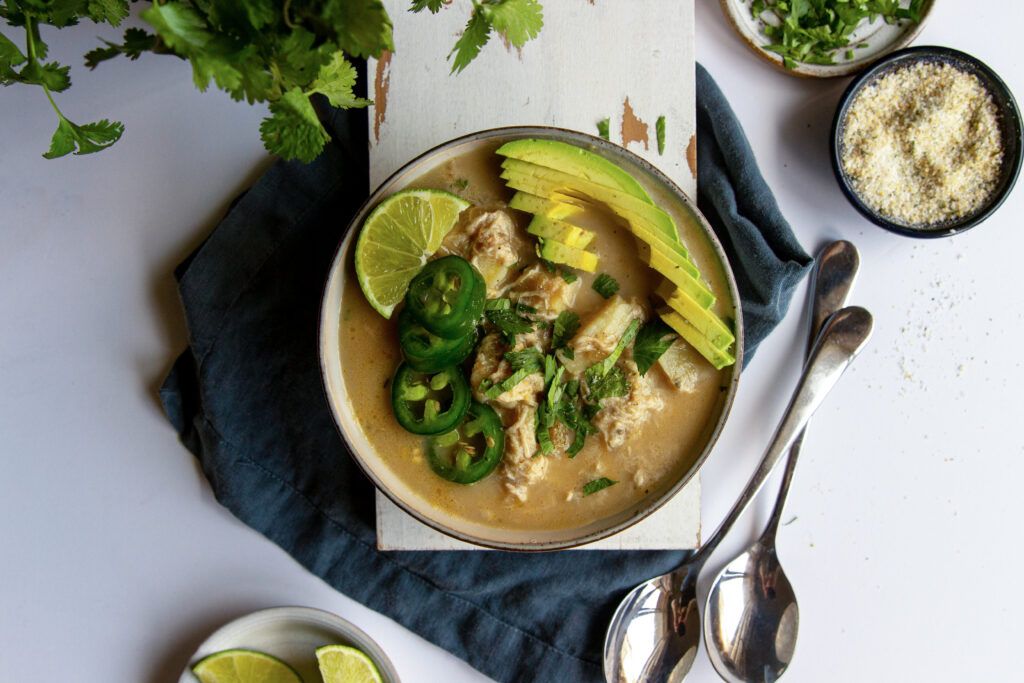 Cozy up with this fan favorite Whole30 White Chicken Chili! Easy to make, filling, and made in the slow cooker or the instant pot. It combines simple ingredients like chicken breast, potatoes, diced chilis and jalapenos, spices, and broth to create a flavorful gluten-free and dairy-free soup everyone will love.
We love that the prep is simple, putting the ingredients in a slow cooker or Instant Pot and letting it do most of the work with minimal prep and dishes. Furthermore, this White Chicken Chili freezes well, so you can make it ahead for meal prep and freeze any leftovers!
Coconut Milk vs. Coconut Cream
The ingredients are basic and can be found at most grocery stores. However, canned coconut cream might be new to you. Coconut cream is not the same as coconut milk. Though coconut cream is derived from coconut milk, it has a different fat concentration and consistency. Coconut milk at room temperature has a liquid consistency similar to any milk, while coconut cream is four times the amount of coconut than coconut milk, yielding a thicker, creamier consistency. Coconut cream is often used as a swap for dairy cream due to its thickness. 
Can't find coconut cream? Put a can of coconut milk in the fridge overnight and use just the white solid part of the coconut milk as a swap!
New to "nutritional yeast?"
Nutritional yeast is not used the same way as baker's yeast, as this yeast is inactive and used as a flavoring. It usually comes as thin yellow flakes, enhances flavor, and is typically found in the condiment or spice section of the grocery store. It is optional in this Whole30 White Chicken Chili for a more full flavor.
Whole30 White Chicken Chili With Sweet Potatoes
SERVES 4 | PREP: 15 minutes | SLOW COOK: 5.5 hours (low) or 2 ½ hours (high) or 35 minutes in the Instant Pot | TOTAL: 1 hour to 5.5 hours, depending on cooking method
Recipe contributed to The Whole30 Slow Cooker by Michele Rosen of Paleo Running Momma
Ingredients
Instructions
PLACE the chicken in a 4-quart slow cooker. Add the broth, sweet potato, onion, green chiles, jalapeño, garlic, cumin, oregano, chili powder, cayenne, salt, and pepper. Stir to combine.
COOK on low for 5 to 6 hours or on high for 2 1/2 to 3 hours.
TRANSFER the chicken to a plate; cover to keep warm. Turn the slow cooker to high if using the low setting. Add the coconut cream, butter, lime juice, and nutritional yeast (if using) to the slow cooker; stir to combine. Cover and cook for 20 minutes.
USE two forks to shred the chicken. Return the chicken to the slow cooker. Cover and cook for 10 minutes. Stir in the 1 tablespoon minced cilantro.
SERVE with avocado and more cilantro.
To make this in the Instant Pot, follow the directions as written, then seal and cook it on the Soup or Stew setting for 30 minutes. After shredding the chicken, turn the Instant Pot to Saute until the coconut cream is well combined with the soup.
Ready to get cooking? Click here to get an extra 25% off your first Thrive Market order.
---
This post is sponsored by Thrive Market; thank you for supporting our Whole30 partners.
Melissa Urban
Co-Founder / CEO
Melissa Urban is a 7x New York Times bestselling author (including the #1 bestselling The Whole30) who specializes in helping people establish healthy boundaries and successfully navigate habit change. She has been featured by the New York Times, People, the Wall Street Journal, Forbes, The Today Show, and Good Morning America, and is a prominent keynote speaker on boundaries, building community, health trends, and entrepreneurship. She lives in Salt Lake City, UT with her husband, son, and a poodle named Henry.