from Whole30 Headmistress Melissa Urban, who JUST CAN'T STOP writing books for you
You know how I keep saying every good idea I have comes from YOU, my Whole30 community? The Whole30 Slow Cooker cookbook is no exception. The DMs, emails, and comments have been flooding in since last year, when Instant Pot cookbooks were consistently in the Amazon Top Ten. "You should do a Whole30 Instant Pot book!" you wrote excitedly. "How about an entire cookbook for my slow cooker? It would make my life so much easier," you claimed. Little did you know we were ALREADY hard at work on The Whole30 Slow Cooker, featuring 150 ALL-NEW recipes to make in your slow cooker and Instant Pot.
It's almost like I know you guys. Introducing…
The Whole30 Slow Cooker
Looking for a way to make your Whole30 and Food Freedom habits easier and more sustainable? The Whole30 Slow Cooker is packed with delicious slow cooker and Instant Pot recipes that turn ingredients into nourishing, hearty meals while you're out and about. The book features 150 ALL-NEW recipes designed to see you through your Whole30 and beyond, getting you out of the kitchen fast and enjoying all the benefits of your Whole30-inspired lifestyle.
In The Whole30 Slow Cooker, you'll find delicious no-fuss dinners that cook while you work; roasts that transform into tacos, salads, and soups for easy meals throughout the week; and satisfying one-pot dishes that make prep and clean-up a breeze. These creative meals use whole-food ingredients found in any supermarket, and as an added bonus, feature recipes and directions for making your Whole30 meals Instant Pot-friendly!
And today, we're sharing ONE sneak peek recipe with you: Classic BBQ Ribs with Crispy Brussels Sprouts.
Classic BBQ Ribs with Brussels Sprouts
SERVES 4 | PREP: 25 minutes | SLOW COOK: 6 hours (low) or 3 hours (high) | TOTAL: 6 hours 25 minutes
Ingredients
1 teaspoon salt
1⁄4 teaspoon black pepper
1 teaspoon onion powder
3 1⁄2 pounds baby back ribs, membrane removed (see Tip), cut into 4 portions
1 bottle (10 ounces) Whole30-compatible barbecue sauce
1 medium red onion, minced 4 cloves garlic, minced
1⁄4 cup pitted dates, finely chopped
1 package (10 ounces) frozen roasted Brussels sprouts or 12 ounces fresh Brussels sprouts
Instructions
IN a small bowl, combine the salt, pepper, and onion powder. Rub the ribs with the seasoning. Lay the ribs, bone sides down, in a 6 -quart slow cooker. Pour the barbecue sauce over the ribs. Add the onion, garlic, and dates.
COVER and cook on for low 6 to 7 hours or on high for 3 to 31⁄2 hours. Transfer the ribs to a platter, or to a large foil-lined baking sheet if broiling. Skim fat from the cooking liquid. Spoon some of the cooking liquid over the ribs.
MEANWHILE, prepare frozen Brussels sprouts according to the package directions, or roast fresh sprouts (see Tip).
BROIL the ribs, if desired: Place an oven rack 4 inches from the broiler and preheat the broiler. Broil the ribs for 3 to 5 minutes, or until the sauce begins to bubble.
SERVE the ribs with the Brussels sprouts alongside.
Recipe Note: It's not absolutely necessary to broil the ribs after they come out of the slow cooker, but it does give them a nice caramelized brown crust.
Tip To remove the membrane (silver skin) from the back of the ribs, start at one end of the rack and slide a table knife under the membrane. Lift and loosen the membrane. Use a paper towel to grab the edge of the membrane and pull it off. Or you can ask the butcher to do this for you.
Tip To roast fresh Brussels sprouts, place trimmed and halved Brussels sprouts on a rimmed baking sheet. Drizzle with olive oil and sprinkle with salt and pepper. Roast in a 400°F oven until tender, about 20 minutes.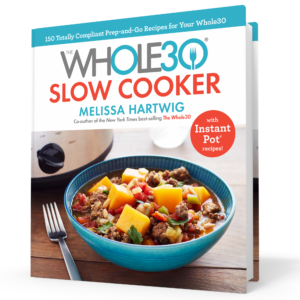 Save
Pre-Order The Whole30 Slow Cooker

Excerpted from The Whole30 Slow Cooker. Copyright © 2018 by Melissa Urban. Used by permission of Houghton Mifflin Harcourt. All rights reserved. Photography by Ghazalle Badiozamani. Whole30 is the legally registered trademark of Thirty & Co. LLC.