The Whole30 Slow Cooker is now available at your favorite bookstore. Don't have your copy yet? Here's a special sneak peek recipe from the book: Rich and Saucy Beef Tacos, created especially for your Instant Pot.
By the way … about half of the recipes in The Whole30 Slow Cooker are Instant Pot friendly, including an entire chapter devoted entirely to Instant Pot recipes.
As is our tradition, The Whole30 Slow Cooker celebrates the Whole30 community by featuring original recipes from some of Melissa Urban's favorite recipe creatives. Charlotte Smythe of Confessions of a Clean Foodie contributed this Rich and Saucy Beef Taco recipe. You'll love how versatile the beef mixture is; it's satisfying when paired with crisp butter lettuce as called for in the original recipe, but you can also serve it over steamed veggies, a baked sweet potato, or on top of spaghetti squash "noodles."
Rich and Saucy Beef Tacos By Charlotte Smythe of Confessions of a Clean Foodie
SERVES 4 | PREP: 30 minutes | CLOSED POT: 25 minutes | TOTAL: 55 minutes
Generously seasoned with garlic, chiles, and warm spices, this versatile beef mixture can be used in a variety of ways. In addition to wrapping it in a lettuce leaf for tacos, you can spoon it over a baked potato or serve it alongside a crunchy slaw.
Ingredients
1 tablespoon Clarified Butter or ghee
1 pound lean ground beef
1⁄2 teaspoon salt
1⁄2 teaspoon black pepper
1 large onion, diced (about 1 cup) 1 medium red bell pepper, diced 2 cloves garlic, minced
1 jalapeño, diced
1 teaspoon smoked paprika
1 teaspoon chili powder
1⁄2 teaspoon Korean pepper flakes (optional)
1⁄2 teaspoon ground coriander
1⁄4 teaspoon ground cumin
1 tablespoon coconut aminos
1 cup Whole30-compatible canned crushed tomatoes
12 Boston or Bibb lettuce leaves
1 avocado, halved, pitted, peeled, and sliced
Chopped fresh cilantro
Instructions
ON a 6-quart Instant Pot, select Sauté and adjust to More/High. Add the butter to the pot. When it's hot, add the beef and cook, stirring to break up with a wooden spoon, until browned, about 5 minutes. Season with the salt and pepper.
ADD the onion, bell pepper, garlic, and jalapeño. Cook, stirring occasionally, until the vegetables are tender, about 5 minutes. Stir in the paprika, chili powder, Korean pepper flakes, coriander, and cumin. Add the coconut aminos and crushed tomatoes. Stir, scraping the browned bits on the bottom of the pot. Lock the lid in place.
SELECT Meat/Stew and cook for 10 minutes. Use natural release for 10 minutes, then use quick release.
SERVE the meat mixture in the lettuce leaves. Top with avocado slices and cilantro.
ButcherBox is a Whole30 affiliate partner, meaning we make a small commission on items purchased via our link. Thank you for supporting our Whole30 partners!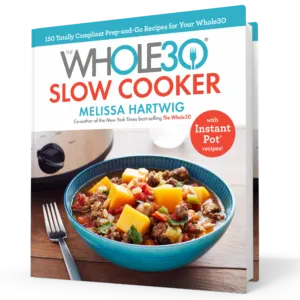 Save
Order The Whole30 Slow Cooker

Excerpted from The Whole30 Slow Cooker. Copyright © 2018 by Melissa Urban. Used by permission of Houghton Mifflin Harcourt. All rights reserved. Photography by Ghazalle Badiozamani. Whole30 is the legally registered trademark of Thirty & Co. LLC.