This is the first post in our Summer on a Stick recipe series, in which Maria Barton of Maria Makes shares some of her favorite grilled kabob recipes to heat up your summer.
The last thing I want to do in the summer is turn on my oven! We probably grill out at least twice a week once the weather warms up, and we eat the leftovers on the other days! There's just something so fun about food on a stick, amiright?
[Tweet "#Whole30 Summer grilling w/ Maria Barton: Steak & Veggie Kabobs #Whole30Recipes"]
The first recipe in the Summer on a Stick series is what I would call a classic steak kabob. I used top round (often labeled London broil) since it was on sale, but you can use whatever cut of steak you like. And since these kabobs are loaded up with veggies, it's pretty much an entire Whole30 meal on a stick. You can also strip the skewers and add everything to a huge, fresh salad.
I'm all about getting the hard work out of the way early, so I always chop my veggies into bite-sized pieces, cube up the steak and get it into the marinade, and soak the bamboo skewers the day before I plan to grill the kabobs. Then, when I'm ready to cook them, I fire up the grill, thread all of the ingredients onto the skewers… and we're ready to GRILL!
Steak & Veggie Kabobs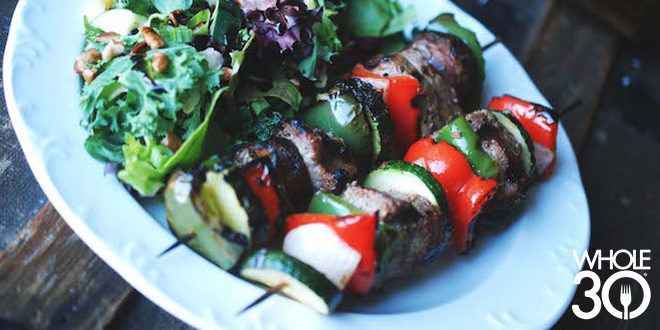 Ingredients
For the Steak Marinade
2 Tbsp coconut aminos
2 Tbsp spicy brown mustard or deli mustard (check your labels!)
2 Tbsp olive oil
1-2 cloves garlic, minced
1/2 tsp sea salt
1/2 tsp black pepper
Kabobs
1.5 lb steak of your choice
1 red bell pepper
1 green bell pepper
1 zucchini
1 sweet onion
1 package baby bella mushrooms
Olive oil, salt, pepper
Instructions
SOAK bamboo skewers in water for a couple of hours so they don't burn on the grill.
IN a medium bowl or zip top bag, combine marinade ingredients.
CUT steak into about 1.5" pieces, then add it to the marinade and move things around to coat the meat. Allow the steak to marinate for as much time as you have! I'd recommend at least 2 hours (overnight is fine too!).
CHOP the veggies into similarly sized pieces. You want everything to cook at about the same rate. Cut the peppers and onions into squares, the zucchini into 1/4 – 1/2" rounds, and leave the mushrooms whole.
ADD all veggies to a bowl, drizzle with olive oil, and season with salt and pepper. Combine to coat the veggies evenly.
ASSEMBLE the kabobs by threading the steak and veggies onto the skewers, alternating meat and veggies in whatever pattern strikes your fancy.
PREHEAT the grill to medium-high heat. Grease the grates using grill tongs and a paper towel that is bunched up and saturated with olive oil.
GRILL the kabobs for a total of about 10 minutes, turning every couple of minutes until the veggies and steak are cooked to your liking.
REMOVE from the grill and enjoy!
Some links in this post are affiliate links, which means Whole30 makes a small commission on items purchased via these links. Thank you for supporting our Whole30 Approved partners.
---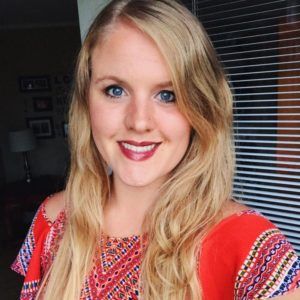 Maria Barton is a home chef, blogger, DIY-er, gardener, wife, and dog mom who is working on finding balance in her life after Whole30. You can find more delicious recipes at MariaMakes.com and connect with her at @mariamakesstuff on Instagram or on Facebook.
Save
Save
Save
Save
Save
Save
Save
Save
Melissa Urban
Co-Founder / CEO
Melissa Urban is a 7x New York Times bestselling author (including the #1 bestselling The Whole30) who specializes in helping people establish healthy boundaries and successfully navigate habit change. She has been featured by the New York Times, People, the Wall Street Journal, Forbes, The Today Show, and Good Morning America, and is a prominent keynote speaker on boundaries, building community, health trends, and entrepreneurship. She lives in Salt Lake City, UT with her husband, son, and a poodle named Henry.