From Whole30 headmistress Melissa Urban, who has known for years that eggs + blueberries are a surprisingly delicious combination
The last half of your Whole30 has its ups and downs. You're excited about the changes you're seeing and loving all the delicious food you've been eating, but you're also getting bored with your routine and complacent in your meals, and on the Whole30, food boredom spells trouble.
This is where our #Whole30WholeFoods partnership comes in! In just one trip to your local Whole Foods Market, you can reenergize your Whole30, discover some fresh new flavors, and save yourself time in the kitchen.
Here are four ways (from my kitchen to yours) to make over your breakfast, lunch, and dinner to help you stay motivated, keep your taste buds happy, and finish your Whole30 just as strong as you started.
Meal 1: More than just eggs
You've been eating scrambled eggs, sweet potatoes with peppers and onions, and a side of berries for breakfast almost every day, and if you see another egg, you might throw it across the room. It's time to mix it up, while keeping your morning prep time minimal.
Skip the eggs and sub Applegate's Chicken Apple dinner sausage or roasted salmon instead in that meal instead. There's no rule that breakfast has to include eggs!
Instead of diced sweet potato, buy sweet potato, beet, or butternut squash noodles (pre-spiralized in the produce section) and roast them the night before in ghee or olive oil. They'll cook faster and form a crispy base for those eggs. Speaking of…
If you're not totally over eggs, try them over-easy, poached, or even hard-boiled instead of scrambled. Changing the cooking technique can make them taste new again.
Vary your produce! Pan-fry a non-traditional breakfast "hash" with pre-roasted butternut squash, diced red bell peppers, arugula, and chopped walnuts—and toss in some blueberries for an unexpected twist.
Recipe inspiration: Roasted Sausages with Potatoes and Cabbage (page 139 in The Whole30 Fast and Easy Cookbook)—a sheet-pan egg-free breakfast.
Recipe inspiration: Melissa's Chicken Hash, another egg-free breakfast straight from my own kitchen. (Tastes just as delicious with a fried egg on top.)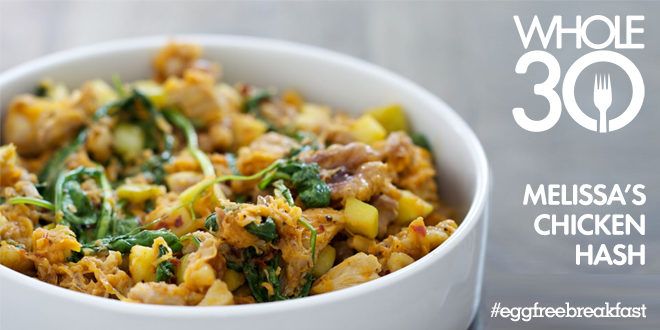 Meal 2: Remix and refresh for fast and easy lunches
Stuck in a rut of the same old dinner leftovers or grilled chicken salads? Let's make lunch exciting again!
Remix your dinner leftovers by putting them on top of greens, adding new veggies, and/or topping with different dressings or sauces.
Two words: Protein. Salad. Use three cans of salmon, chicken, or tuna. Mix in Whole30 Approved Primal Kitchen mayo. Add some lemon juice or apple cider vinegar. Sprinkle in diced veggies, fruit, nuts, seeds, herbs, and spices. That's three days of lunches at the ready—and by varying your protein and add-ins, you'll never get bored!
Skip the salads and make soup your main course. Soup can be prepared ahead of time and reheated at the office or kept hot in a double-walled, vacuum-insulated bottle. Choose a soup with protein and you've got a hearty, complete meal at the ready in two minutes flat.
Reinvent the lettuce wrap. Romaine isn't the only thing for wrapping protein, veggies, fruit, and healthy fats. Try filling a hollowed-out bell pepper, placing your "sandwich" between two thick slices of apple or roasted sweet potatoes, or using sturdy collard greens to hold it all together.
Recipe inspiration: Basic Protein Salad (page 161-162 in The Whole30)—we give you the base recipe, plus variations to keep your salads fresh and exciting.
Recipe inspiration: Sausage, Potato, and Kale Soup from The Whole30 Cookbook—feel free to sub your own protein source here, as it would be equally delicious with chicken, turkey, or hard-boiled eggs.
Meal 3: Small effort, big flavors
Dinner is the meal to which we can generally dedicate the most time, and a little extra effort here goes a long way towards heading off Whole30 boredom.
Take your meals around the world with different herbs, spices, and sauces. Your same-old Italian zoodles with meat sauce takes on a whole new flavor if you add Yai's Thai Curry Sauce instead of tomato sauce to the dish, and serve over riced cauliflower instead of veggie noodles.
Find new recipe inspiration. Make a conscious effort to find a few new recipes your family will love, and roll out one or two a week. Pop a copy of the new Whole30 Fast and Easy Cookbook in your Whole Foods cart, or check out @whole30recipes on Instagram.
Try breakfast for dinner. Eggs may be unappealing in the morning, but an easy sheet pan dinner with roasted potatoes, toasted kale, and over-easy eggs may be just the change-up you need.
Recruit a time-saving kitchen tool, like a slow cooker or Instant pot, to buy you more time in the evening. These tools make meal prep easy, getting you out of the kitchen faster and reenergizing your Whole30.
Recipe inspiration: Roasted Potato and Kale Hash with Eggs (page 121 in The Whole30 Fast and Easy Cookbook). Bonus: this entire meal cooks on one sheet pan, making clean-up a breeze.
Recipe inspiration: Use these Whole30 Instant Pot hacks for hard-boiled eggs, steamed veggies, shredded pork and chicken, spaghetti squash, and mashed potatoes in a hurry.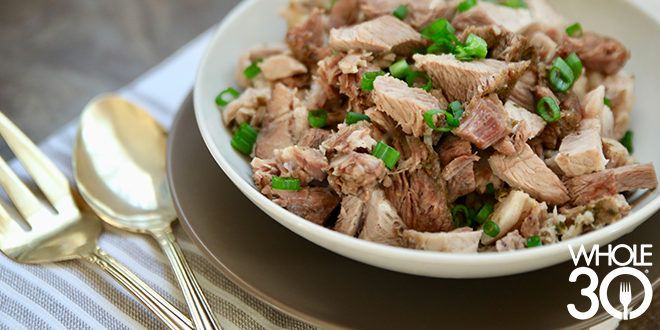 Tiger Blood and Tasty Meals
With just a tiny bit of effort and some effortless swaps, you can shake your Whole30 meals out of their rut and give your taste buds something to get excited about again. Before you know it, you and your Tiger Blood will be cruising into Day 30 happier and healthier than ever!
---
This post sponsored by Whole Foods Market. Thank you for supporting our Whole30 partners. Posts may contain affiliate links, where we make a small commission if you purchase.