Enjoy this exclusive preview recipe for Grilled Steak and Charred Onion Salad from The Whole30 Fast & Easy. It's the perfect light yet satisfying summer recipe, and you don't even have to heat up your kitchen in order to get dinner on the table. Add it to your menu this week.
Looking for more salad recipes? Try these 6 summery salad recipes.
Try This: Whole30 Grilled Steak and Charred Onion Salad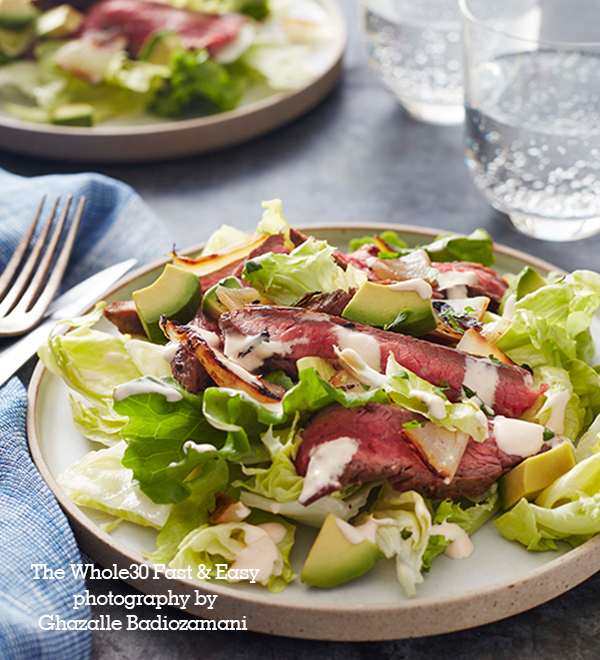 SERVES 4 | PREP: 15 min | GRILL: 15 min
Ingredients
FOR THE STEAK AND ONIONS
1 flank steak or skirt steak (16 to 20 ounces)
1 tablespoon cumin seeds, lightly crushed
1 teaspoon salt
1 teaspoon black pepper
1 large onion
2 tablespoons extra-virgin olive oil
FOR THE DRESSING
3/4 cup Whole30-compliant mayonnaise
Grated zest and juice of 1 lime
2 teaspoons Whole30-compliant hot sauce
8 cups chopped butterhead or iceberg lettuce
2 avocados, halved, pitted, peeled, and diced
Chopped fresh cilantro
Directions
PREHEAT a grill to medium-high heat (375°F) or a grill pan over medium-high heat.
GRILL THE STEAK AND ONIONS: Season the steak with the cumin seeds, salt, and pepper. Cut the onion into ½-inch-thick slices. Drizzle the steak and onions with the olive oil.

GRILL the steak and onion slices over direct heat, turning once, until the onion is lightly charred, 5 to 6 minutes, and the steak is cooked to desired doneness, 15 to 20 minutes for medium (160°F). Remove the steak and onion and let rest for 5 minutes.

MAKE THE DRESSING: Meanwhile, in a small bowl, combine the mayonnaise, lime zest and juice, and hot sauce.
THINLY slice the steak against the grain and coarsely chop the onions. Place the lettuce in a serving bowl and top with the steak and onions. Drizzle the dressing over the salad. Top with the avocado and cilantro.
---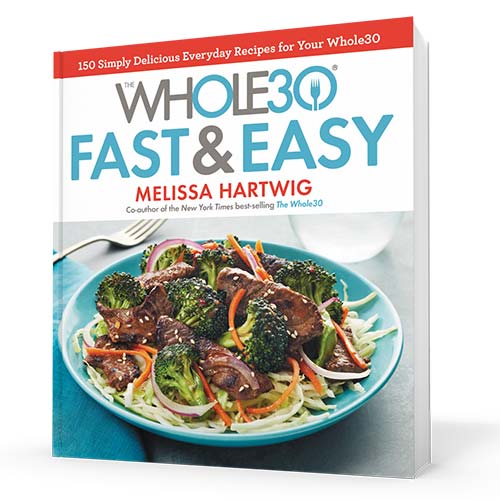 THE WHOLE30 FAST AND EASY
150 Simply Delicious Everyday Recipes for Your Whole30
The Whole30: Fast & Easy is packed with 150 delicious, brand new Whole30 recipes, perfect for weeknight cooking, lunches in a hurry, and hearty breakfasts that still get you out the door on time. It also features nearly effortless skillet meals, stir-fries, sheet-pan suppers, and slow-cook and no-cook meals, most of which can be made in 30 minutes or less using widely-available ingredients found in any supermarket.
Details
Purchase: Amazon , B&N , Indie Bound , Powell's , BAM , Hudson , Indigo , Amazon.ca , Amazon.uk , iBooks , Google Play
You Might Also Like…