Skin conditions like acne aren't exclusive to teenagers – and despite the numerous treatments (both over the counter and prescribed) designed to treat acne, many adults still suffer with dry skin, irritated skin, and disrupted skin on a daily basis. What if smooth, healthy, vibrant skin were as simple as changing the food you put in your mouth? Today, we're thrilled to feature Judy's Whole30 success story.
But first, they say a picture is worth a thousand words, right? So let's start with the photo equivalent of a blockbuster novel: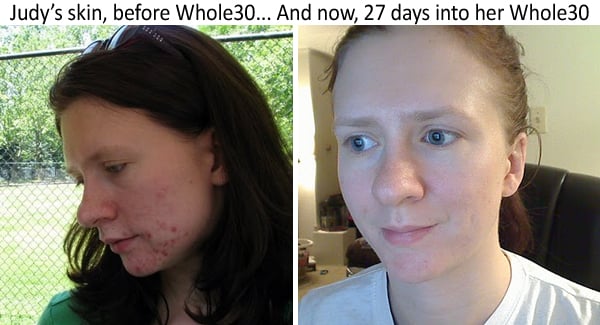 Judy wrote to us on Day 27 of her Whole30, to share her experience. Judy wrote, "Kev (my fiancé) and I are on day 27 of the Whole30, and I feel AWESOME. The only thing we had to cut out of our diet was dairy, but we also had to slim down our Primal Blueprint "20% cheats" to 0%. The biggest change for me: my acne! I'm going to give you a series of before pictures so you can really understand what I've been combating."
You can see Judy's before and after photos on her blog, One Sekzi Mama. And when you're done, click on back over to our Whole30 Success Guide and start your journey towards clear skin (and feeling awesome!) today. Thanks to Judy for sharing, and congratulations on her Whole30 success!
Melissa Urban
Co-Founder / CEO
Melissa Urban is a 7x New York Times bestselling author (including the # bestselling The Whole30) who specializes in helping people establish healthy boundaries and successfully navigate habit change. She has been featured by the New York Times, People, the Wall Street Journal, Forbes, The Today Show, and Good Morning America, and is a prominent keynote speaker on boundaries, building community, health trends, and entrepreneurship. She lives in Salt Lake City, UT with her husband, son, and a poodle named Henry.