Looking for a stuffed acorn squash recipe? We love this Whole30 Curried Beef Stuffed Acorn Squash dish from The Defined Dish: Healthy And Wholesome Weeknight Recipes. It's hearty, with layers of complex flavor, but it comes together quickly enough for a weeknight dinner. The spiced curried beef combined with the sweet acorn squash is a delightful flavor match.
The Defined Dish is a peek into how author Alex Snodgrass feeds her family. It's filled with 100 fabulous weeknight recipes that all levels of cooks can enjoy. As a Whole30 Endorsed cookbook, 60 of the recipes are Whole30 compatible, and the rest use healthful ingredients perfect for your Food Freedom. Each recipe is clearly marked to show if it is Whole30 compatible, paleo, gluten-free, dairy-free, and more.
Find The Defined Dish on the shelf now at your favorite bookstore, and give this recipe a try for dinner tonight.
Whole30 Acorn Squash Stuffed with Curried Beef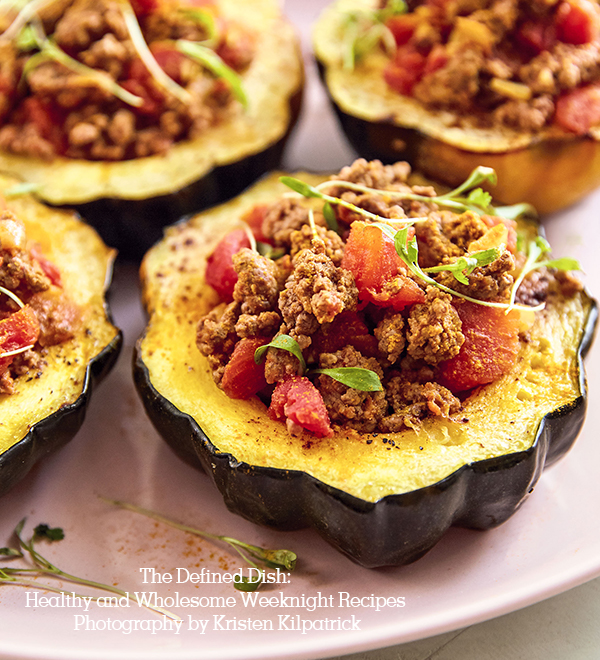 Serves 4
INGREDIENTS
For the Acorn Squash
2 medium-size acorn squash
2 tablespoons extra virgin olive oil
1/2 teaspoon kosher salt
1/4 teaspoon freshly ground black pepper
1/4 teaspoon ground cinnamon
For the Curried Beef
1 tablespoon extra virgin olive oil
1 pound ground beef (95 percent lean)
1/2 finely diced yellow onion (1 cup)
1/2 teaspoon kosher salt
1/4 teaspoon freshly ground black pepper
1 ( 1/2 -inch) piece fresh ginger, finely grated
2 garlic cloves, minced
1 (14.5–ounce) can diced tomatoes, drained
1 tablespoon curry powder
1/2 teaspoon ground cumin
1/4 teaspoon cayenne pepper
1/4 cup low-sodium vegetable or beef broth
2 tablespoons fresh cilantro micro greens, for serving
INSTRUCTIONS
Make the Squash PREHEAT the oven to 375°F and line a large baking sheet with parchment paper.
TRIM the ends of the squash, halve them crosswise, and scoop out the seeds. Place the squash cut-side up on the baking sheet and brush the flesh with olive oil to evenly coat. Sprinkle with salt, pepper, and cinnamon. Bake until the flesh of the squash is fork-tender, 30 to 35 minutes.
Make the Curried Beef HEAT the olive oil in a large skillet over medium-high heat until it shimmers. Add the ground beef, onion, salt, and pepper and cook, breaking up the meat with the back of a spoon, until it is no longer pink, 6 to 7 minutes. Drain off any excess fat.
REDUCE the heat to medium and add the ginger and garlic. Cook until the garlic is fragrant, 1 to 2 minutes. Add the drained diced tomatoes, curry powder, cumin, and cayenne pepper and stir to combine. Pour in the broth and cook until it reduces, about 3 minutes. Taste and add more salt and/or cayenne, if desired. Remove the pan from the heat, cover, and keep warm until the squash are ready.
DIVIDE the meat mixture between the squash, stuffing the meat in each cavity. Top each with the cilantro and serve.
Curried Beef-Stuffed Acorn Squash is excerpted from The Defined Dish: Healthy and Wholesome Weeknight Recipes © 2019 by Alex Snodgrass. Photography ©2019 by Kristen Kilpatrick. Reproduced by permission of Houghton Mifflin Harcourt. All rights reserved.
Some links used in this post are affiliate links, meaning Whole30 makes a small commission off of purchases made via our link. Thank you for supporting our Whole30 partners.