Want a crowd-pleasing easy dinner that can be made in 30 minutes? Our Whole30 Steak Sheet Pan Fajitas are it! Not only are they Whole30, but they are also naturally gluten-free, dairy-free, nut-free, and egg-free.
Why We Love Them
Sheet pan dinners are fantastic for minimal prep and easy clean-up. It's a one-dish dinner solution and is perfect for busy weeknight dinners. Want to learn more about how to create amazing sheet pan dinners? See our Sheet Pan Cooking Tips blog and video here!
This dinner uses basic ingredients you can find at most grocery stores. The prep consists of a bit of chopping, tossing, and then letting the oven do most of the work! No need to stand over and stir these fajitas.
Plus, steak sheet pan fajitas freeze beautifully. Perfect for meal prep or to make and save extras for another night! Just store the cooked leftovers in a sealed container for up to three months.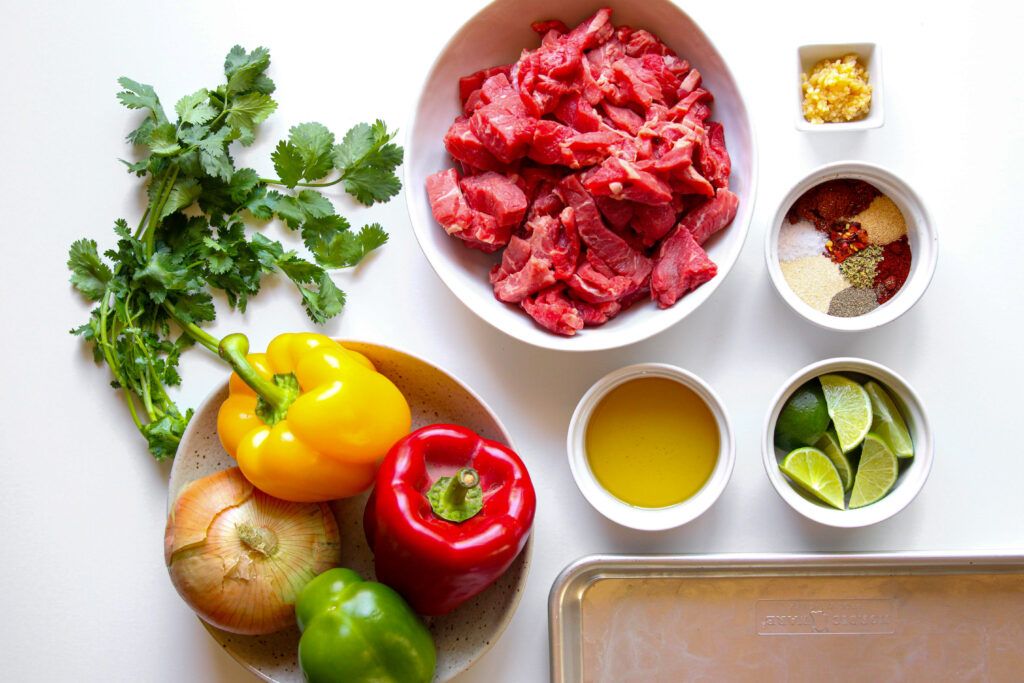 DIY Seasoning?
Keep the seasoning for these fajitas easy by using our Homemade Taco Seasoning, which also works as a fajita seasoning. It's made with basic spices and is often more cost-friendly than store-bought seasoning. Plus, many fajita seasonings are not Whole30 compatible due to added sweeteners or additives. Making the seasoning yourself is an easy way to make sure it's Whole30 compatible.
Ways to Serve This Dish
While you won't be eating corn or flour tortillas during your Whole30 elimination, there are a number of ways you can wrap your fajitas:
Make lettuce-wrapped tacos. Grab some lettuce and use that as your "shell"! This is easy to do and boosts your veggie intake. We love using butter lettuce, as the leaves are large and more flexible than romaine or iceberg lettuce.
Serve inside of thin slices of jicama. Jicama "wraps" are becoming more and more popular and available at grocery stores (such as Trader Joe's and Whole Foods). They add a nice crunch to your dish, and pair nicely with your hot ingredients.
Serve with plantain tostones. These single-ingredient tostones form a delicious base for your fajita ingredients. Serve open-faced like a tostada.
Build a burrito bowl. Skip the shell all together and build a compatible burrito bowl. Load it up with your favorites like cauliflower rice, pico de gallo or salsa, guacamole, ranch or chipotle ranch, and cilantro.
Whole30 Sheet Pan Steak Fajitas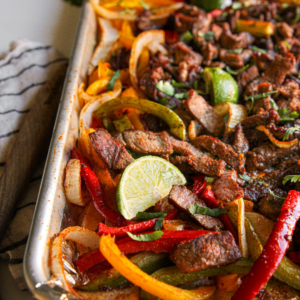 Whole30 Sheet Pan Steak Fajitas
Need a crowd-pleasing one-dish dinner that can be made in 30 minutes? Our easy Whole30 Sheet Pan Steak Fajitas are it!
Ingredients
3 bell peppers stemmed, seeded and chopped into thin slices
1 red or yellow onion halved and cut into thin slices
1/4 cup olive or avocado oil divided
2.5 tbsp taco or fajita seasoning divided
1.5 lbs sirloin or flank steak cut into thin ½ inch strips
1 lime cut into wedges
Optional to serve
butter lettuce, guacamole, salsa or pico de gallo, chopped cilantro
Instructions
PREHEAT the oven to 400 °F. Line a large-rimmed baking sheet with foil.

ADD peppers and onion to the baking sheet. Drizzle with 2 tablespoons of oil and toss. Sprinkle with 1 tablespoon taco or fajita seasoning and toss again.

MOVE peppers and onions to the outer rim of the roasting pan, creating a space in the center for the steak. Cooking the steak in the middle of the sheet pan will help it from overcooking. Place steak in the center of the sheet pan.

TOSS steak with remaining 2 tablespoons of oil. Then sprinkle with remaining 2 tablespoons of seasoning and toss again. Double check steak and veggies are in as much of a single layer as possible (pan will be full). Squeeze half a lime worth of lime juice over the steak.

BAKE at 400 °F for 10 minutes. Stir the steak, especially any areas that are overlapping.

BROIL on high for 5-10 minutes, checking regularly for desired doneness of the steak. The broil adds a nice little bit of char to the steak and helps the veggies finish getting tender.

REMOVE from the oven and drain any juices from the pan. Serve with desired toppings and enjoy!
Autumn Michaelis
Recipe Creator | Whole Food for 7
Autumn Michaelis is an ACSM Certified Exercise Physiologist, with a B.S. in Exercise Science from BYU. Though exercise was her first love in the health world, nutrition has become her passion. She created the blog Wholefoodfor7, sharing easy and budget-friendly Whole30, Paleo, and gluten-free + dairy-free recipes for families. In August 2022, Autumn released the newest Whole30 Endorsed cookbook, Whole Food for Your Family. She is mom to 5 boys (yes 5!) and when not in the kitchen can be found adventuring, hiking, and tearing up the dance floor.