This Whole30 Breakfast Bowl has a little bit of everything we love: eggs, crispy, golden potatoes, avocado, and tender bacon. How can you go wrong? We love the simplicity and versatility of this meal, and it's sure to make your busy mornings a breeze.
Golden and Crispy Whole30 Breakfast Bowl
Recipe by: Chelsea Long
Photos by: Brian Kavanagh | The Sophisticated Caveman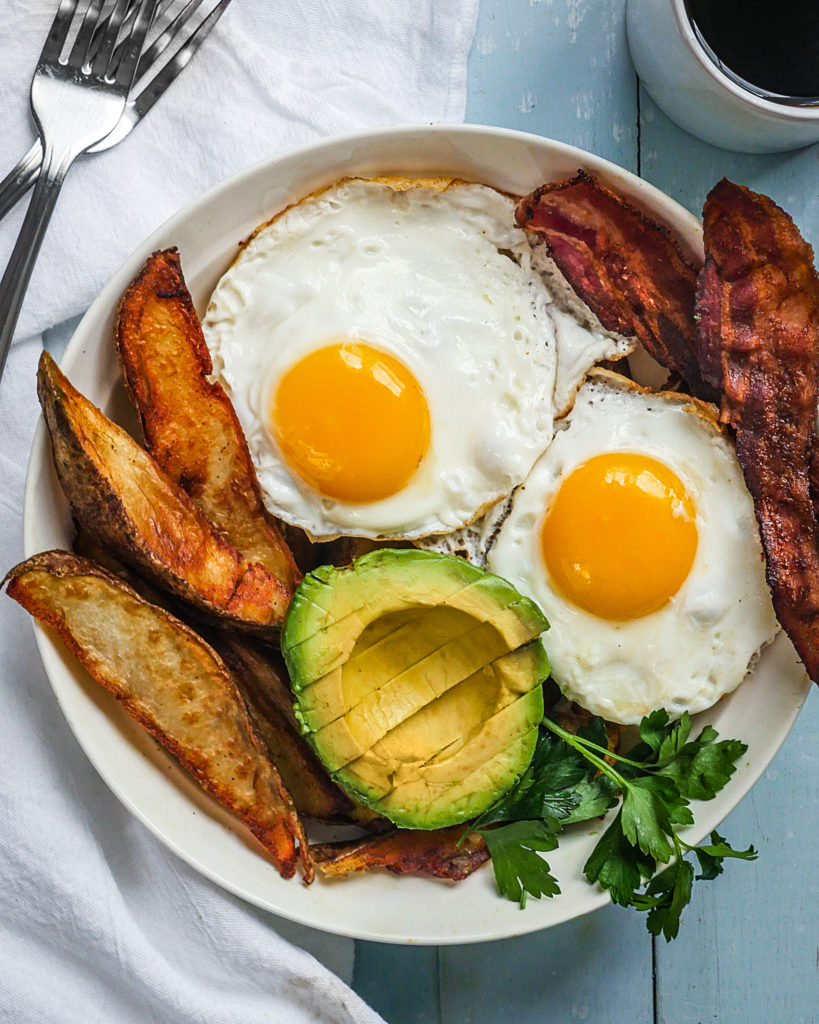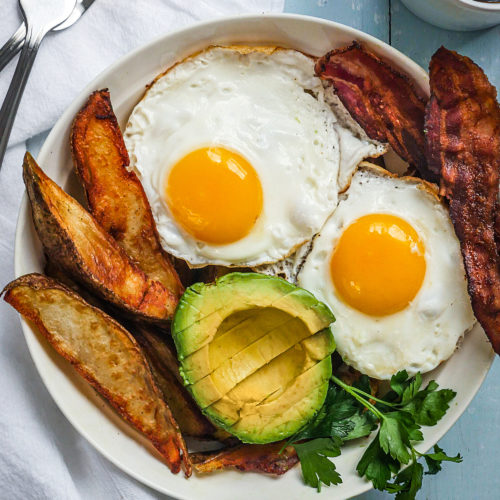 Whole30 Golden, Crispy Potato Breakfast Bowl
Ingredients
4

slices compatible bacon

2

potatoes

(white or sweet)

1

tablespoon

cook oil of choice

(if needed)

1/2

teaspoon

each of salt, white pepper, garlic powder, and onion powder

2

eggs

1

avocado

Franks hot sauce

,optional
Instructions
In a 8-in skillet, COOK bacon over medium heat to desired doneness.

Meanwhile, PIERCE potatoes with a knife and microwave on high for 1 minute, flip to the opposite side, and one more minute. You want your potato soft enough to slice easily, but not too soft that it will fall apart when you cut into it (this step is optional, but saves time and helps create a soft inner potato with the crunchy outer).

CUT potatoes lengthwise into 6-8 wedges

REMOVE bacon from pan, leaving the rendered fat, and turn heat to high. If needed, add additional cooking oil so bottom of pan is lightly coated.

GENTLY place potato wedges into the pan in a single layer. Turn heat down to medium if using a cast iron skillet.

LEAVE potatoes alone for about 4 minutes. This is how you get the golden brown color! You'll know it's time to flip when you start to see the color around the bottom edges.

SPRINKLE salt, white pepper, garlic powder, and onion powder evenly over potatoes.Flip potatoes one by one with a fork or tongs. Turn heat to medium, if you haven't already.

LEAVE potatoes alone again for about 4 more minutes or until you start to hear the potatoes "sing." At this point, potatoes should be fork tender and golden brown on two sides.

PUSH potatoes to one side to make room and crack your eggs into the pan. Cook over easy or to desired level of doneness.

DIVIDE potatoes and eggs into two bowls and add 2 slices of bacon per bowl.

CUT avocado in half and add half to each bowl. Top with a few dashes of Frank's hot sauce.

ENJOY!
You Might Also Like…
---
Chelsea Long, our Content Manager, lives in San Diego with her husband and three kids. Formerly an English as a Second Language instructor at the University level, Chelsea shifted her interest to holistic health after giving birth to her son. Her degrees in Communications and Education serve her well as she works with the Whole30 team to support content and branded content projects. Chelsea is a registered yoga teacher (RYT 200) and is passionate about helping others find healing through yoga, meditation, and nutrition.