Today, as a special treat, we're sharing this sneak peek recipe from the New York Times bestselling The Whole30 Cookbook. These grilled lamb chops are perfect for a holiday meal, they're well suited for feeding a crowd.
Whole30 Lamb Chops and Fingerlings with Arugula Pesto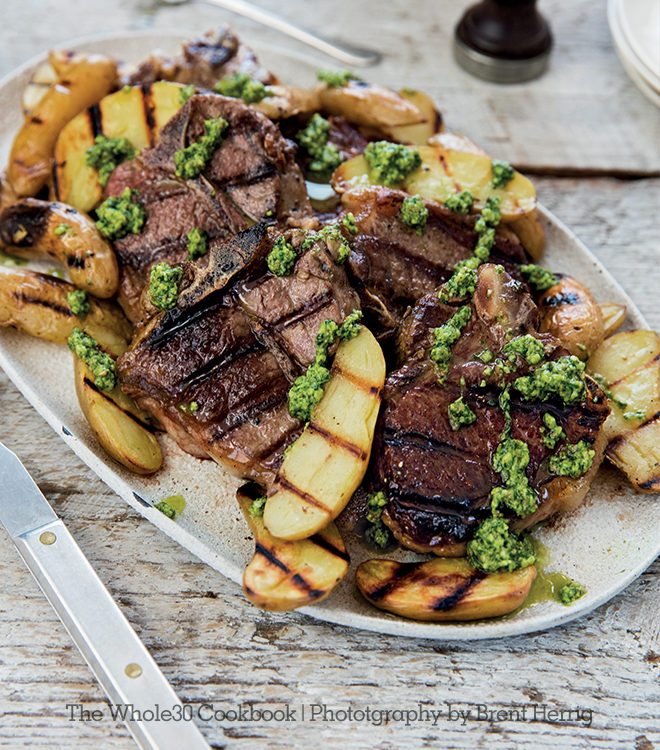 Lamb chops are super juicy and loaded with meaty flavor. Here they get a simple seasoning of garlic and thyme and a topping of peppery arugula pesto. Boiling the potatoes and then grilling them yields a creamy interior and wonderfully crisp exterior.
FOR THE CHOPS
Ingredients
4 lamb loin or rib chops (about 1 pound)
1 clove garlic, halved
2 teaspoons snipped fresh thyme
Coarse salt and black pepper
FOR THE POTATOES
Ingredients
6 fingerling potatoes
Coarse salt
1 tablespoon extra-virgin olive oil
Black pepper
FOR THE PESTO
Ingredients
2 cups packed arugula
1/2 cup almonds, toasted
1/2 cup walnut oil or extra-virgin olive oil
1 teaspoon grated lemon zest
1 tablespoon fresh lemon juice
1 clove garlic, minced
1/4 teaspoon coarse salt
1/8 teaspoon cayenne pepper
Instructions
PREHEAT a grill to medium (350 to 375 F)
MAKE THE CHOPS: Trim the fat from the chops. Rub both sides of the chops with the garlic. Lightly season the chops with the thyme and salt and black pepper to taste, rubbing in the seasoning with your fingers. Let stand at room temperature while you prepare the potatoes and pesto.
MAKE THE POTATOES: Put the potatoes in a large saucepan with enough water to cover. Lightly salt the water. Bring to a boil and cook until the potatoes can be pierced with the tip of a knife but are not completely tender, 9 to 10 minutes. Drain. When cool enough to handle, cut the potatoes in half lengthwise and toss with the olive oil and salt and black pepper to taste.
MAKE THE PESTO: In a food processor, combine the arugula, almonds, walnut oil, lemon zest and juice, garlic, salt, and cayenne. Process until smooth.
Grease the grill rack. Place the chops and potatoes on the greased rack over direct heat. Cover and grill the chops, turning once, for 12 to 14 minutes for medium-rare (145°F) or 15 to 17 minutes for medium (160°F). Grill the potatoes, turning once, for 10 minutes, or until they are tender and have grill marks.
Serve the lamb chops with the pesto and grilled potatoes.
Excerpted from The Whole30 Cookbook. Copyright © 2016 by Melissa Hartwig. Used by permission of Houghton Mifflin Harcourt. Photography by Brent Herrig. All rights reserved.