Today we're introducing you to our newest Whole30 Approved partner, Safe Catch. Their canned tuna offerings are delicious, portable, and has the lowest mercury levels of any canned tuna on the market… meaning it's safe even for pregnant women and children! That's why Safe Catch tuna is the very first Whole30 Approved canned tuna. Keep a stash of Safe Catch in your Whole30 pantry for a convenient on-the-go protein; quick, nourishing lunches; and creating delicious dinners. (Scroll to the end of this post to see exclusive Whole30 recipes using Safe Catch tuna.)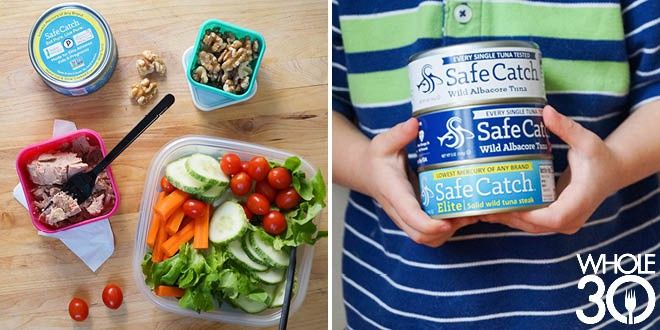 We are impressed by the attention to sustainability and safety that goes into every can of Safe Catch tuna. Through their breakthrough Catch-to-Can process, they test the mercury levels of every single fish they can, resulting in the lowest mercury levels of any canned tuna on the market. This practice has earned Safe Catch numerous certifications (including the Monterey Bay Aquarium Seafood Watch) and it why is their tuna is safe for:
Pregnant mamas: Safe Catch is a safe option for growing families, because pregnant women and children can eat their tuna and receive all of the nutritional benefits (like iodine, potassium and omega-3 fatty acids) without concern for mercury. They are certified by the American Pregnancy Association and the Healthy Child, Healthy World environmental working group.
Athletes: Because Safe Catch tuna is so portable, athletes of all types use their tuna as a source of protein on the go. It's great for gym athletes (just toss a can in your gym bag!) but it's also beloved by runners, cyclists, rock climbers, and more. Each can of tuna has 35 grams of natural protein, all nine essential amino acids, and omega-3 fatty acids, making it a great option for someone who needs a daily source of lean protein. Click here to read testimonials from the athletes who use Safe Catch to fuel their activity.
You! All of the reasons above mean that Safe Catch tuna is an excellent choice for your Whole30 and beyond. Whether you're creating the delicious tuna burgers from the recipe below, or mashing some Safe Catch tuna together with Primal Kitchen mayo and tossing it over greens for a quick and easy lunch, we think you'll enjoy eating Safe Catch tuna as a regular part of your Whole30 meals.
[Tweet "On the #Whole30 Blog: Delicious recipes with #Whole30Approved @safecatch! #Whole30Recipes"]
Spicy Tuna Sliders with Mango Guacamole, from Laura of @cookathomemom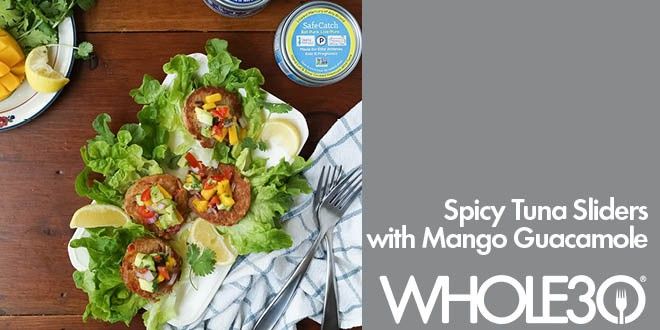 Ingredients
For the Mango Guacamole
1 ripe mango
2 ripe avocados
Juice of 1 lime
2 T chopped red onion
1/2 large vine tomato
1 medium bunch of cilantro
1/2 small jalapeño
1/2 tsp salt
1/4 tsp pepper
For the Sliders
2 cans Safe Catch tuna
½ red bell pepper
2 T. red onion
1-2 small cloves garlic
2 eggs, lightly beaten
1 1/2 T. coconut flour
½ tsp salt
½ tsp pepper
¼ tsp cayenne pepper (optional)
Instructions
MAKE the guacamole by cutting the avocados in half, removing the pit, and slicing in crossed pattern. Scoop out the insides with a large spoon into a bowl and add the lime juice. Dice the tomato, mango, and red onion and add to avocado mixture.
REMOVE the large stems from the cilantro and the seeds from the jalapeño. Finely chop and add the cilantro and jalapeño to the mixture and season to taste with salt and pepper.
MAKE the sliders by draining excess liquid from tuna. Finely chop the pepper, onion, and garlic, and combine with tuna in a medium bowl. Add the eggs, flour, and seasonings and mix until fully incorporated. Cover and place in the refrigerator to chill for at least 20 minutes.
FORM the mixture into 3-4 inch patties and set aside. Warm 1 T avocado oil in a pan on medium heat. Cook the patties for about 5-7 minutes, gently turning halfway. Serve with lettuce wraps, salsa, and mango guacamole!
Tuna Croquettes with Grilled Romaine Salad, from Laura of @cookathomemom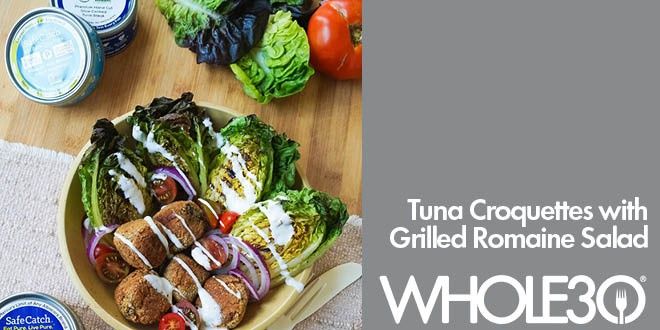 Ingredients
2 cans Safe Catch tuna
2 eggs
¼ cup frozen spinach
1 T. almond meal plus ¼ cup for dredging
3 T. raw unsalted sunflower seeds
½ tsp garlic powder
½ tsp dried basil
¼ tsp salt
¼ tsp pepper
3-4 heads of romaine lettuce
2 T. avocado oil
pinch of salt
Your favorite Whole30 compatible ranch dressing (this Ranch from Tessemaes is Whole30 Approved, or you can make your own)
Instructions
DRAIN the excess liquid from the tuna. Thaw the spinach and squeeze out the excess water. Gently mix together the tuna, spinach, almond meal, sunflower seeds, and seasonings in a bowl. Cover and place in the refrigerator, allowing to chill for at least 20 minutes.
POUR the almond meal onto a plate. Carefully form the mixture into balls about the size of a golf ball. Gently roll each ball in the almond meal until fully coated. Heat 1-2 T. avocado oil in a pan over medium heat. Cook the balls for 7-9 minutes, turning occasionally until browned on all sides.
CUT each head of lettuce in half lengthwise. Trim off the browned bottom and any loose leaves. Brush the inside lightly with oil and sprinkle with salt. Grill face down for about 4-5 minutes or until beginning to brown, flipping once.
PLATE each salad and dress with Whole30 compatible Ranch dressing.
Try Safe Catch for your #SeptemberWhole30
You can find Safe Catch tuna at you local health food store nationwide (including Sprout's), online through the Safe Catch store (free delivery on all orders!), or through Amazon. Stock up now, just in time for the #SeptemberWhole30!
---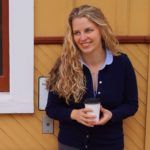 Laura of @cookathomemom is a recipe creative and photographer, and a frequent contributor to the Whole30 community.
Save
Save
Save
Save
Save
Save
Melissa Urban
Co-Founder / CEO
Melissa Urban is a 7x New York Times bestselling author (including the #1 bestselling The Whole30) who specializes in helping people establish healthy boundaries and successfully navigate habit change. She has been featured by the New York Times, People, the Wall Street Journal, Forbes, The Today Show, and Good Morning America, and is a prominent keynote speaker on boundaries, building community, health trends, and entrepreneurship. She lives in Salt Lake City, UT with her husband, son, and a poodle named Henry.