We are counting down the days until the next Whole30 Endorsed cookbook launches. Look for Buck Naked Kitchen: Radiant and Nourishing Recipes to Fuel Your Health Journey by Kirsten Buck in bookstores everywhere on April 7, or pre-order your copy today. Until then, you can enjoy this warm and cozy Whole30 Cottage Pie. It's a lovely sneek peek into Kirsten's nourishing, creative recipe style.
From the moment Kirsten Buck won our first-ever "Next Whole30 Star" contest in 2016, we knew her colorful, veggie-forward recipes were something special. Her cookbook is filled with gorgeous photos and recipes that highlight fresh, seasonal produce. There are 100 recipes in the cookbook; 74 of them are Whole30 compatible or easily modified to be so. As with every Whole30 Endorsed cookbook, there are also a handful of Food Freedom recipes that include whole food ingredients like grains, legumes or natural sugars.
Enjoy this sneak peek recipe for Whole30 Cottage Pie from Buck Naked Kitchen.
Whole30 Cottage Pie with Bison
From Kirsten: A mashed sweet potato topping on a savory base of ground bison and vegetables makes the ideal meal for a chilly day. Bison meat is lean and tastes similar to grass-fed beef, so feel free to substitute one for the other. I like to serve the pie family-style with a big green salad and let guests serve themselves.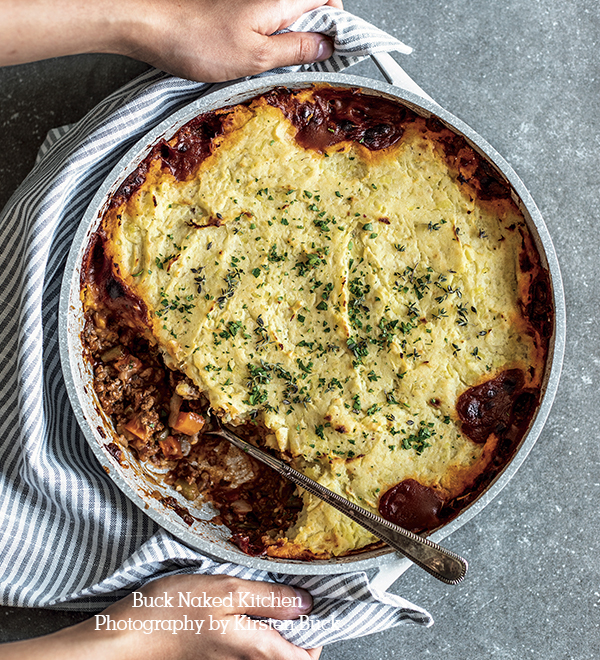 INGREDIENTS
1 1/2 to 2 pounds sweet potatoes (I prefer Japanese sweet potatoes), peeled and cubed
1/4 cup melted Ghee (page 9) or clarified butter
1/4 cup full-fat coconut milk
Salt and black pepper
2 pounds ground bison
1 medium onion, finely diced
2 carrots, peeled and finely diced
2 celery ribs, finely diced
1 cup chopped green beans
5 garlic cloves, minced
1 tablespoon fresh thyme leaves
1 tablespoon chopped fresh parsley, plus more for garnish
2 tablespoons arrowroot starch
2 cups beef broth
2 tablespoons coconut aminos
1 (6-ounce) can tomato paste
INSTRUCTIONS
PREHEAT the oven to 400°F.
BRING a large pot of salted water to a boil. Add the potatoes and cook until fork-tender, about 20 minutes. Drain well and return to the pot.
ADD the melted ghee and coconut milk. Mash until the consistency is light and fluffy. Season with salt and pepper to taste. Set aside.
IN a large oven-safe skillet (see Note) over medium heat, cook the bison, breaking it up with a wooden spoon, until browned, 7 to 10 minutes. Drain any excess fat. Add the onion, carrots, celery, green beans, and a pinch of salt and pepper and cook, stirring, until fragrant and softened, 3 to 5 minutes. Stir in the garlic, thyme, and parsley.
IN a separate bowl, mix the arrowroot starch with 1 cup of the beef broth until it is fully dissolved and there are no lumps. Add to the bison along with the remaining 1 cup broth, the coconut aminos, and tomato paste; mix well. Bring to a simmer and allow the sauce to thicken for about 10 to 15 minutes. Season with more salt and pepper if necessary.
SPREAD the mashed sweet potatoes evenly over the bison mixture. Bake for 20 to 25 minutes, until the potatoes are golden and the edges are bubbling. For even browning on the top, broil on high for 3 to 5 minutes. Sprinkle with fresh parsley and serve.
NOTE: If your skillet is not oven-safe: In the last step, transfer the bison mixture to a baking dish before topping with the mashed potatoes.
Bison Cottage Pie is excerpted from Buck Naked Kitchen: Radiant and Nourishing Recipes to Fuel Your Health Journey © 2020 by Kirsten Buck. Photography © 2020 by Kirsten Buck. Reproduced by permission of Houghton Mifflin Harcourt. All rights reserved.
Some links used in this post are affiliate links, meaning Whole30 makes a small commission off of purchases made via our link. Thank you for supporting our Whole30 partners.