The Whole30 Fast & Easy Cookbook won't be available until December 5 (less than a month away!), but you can cook a dish from the book today! This recipe for Pork Chops and Squash over Green Onions is a fast Whole30 weeknight meal, especially now that winter squashes are in season. Pick your favorite variety of winter squash and enjoy!
Want even more recipes from The Whole30 Fast & Easy Cookbook? We'll send you 5 recipes from the book as a pre-order bonus! Just forward your receipt from any retailer to [email protected] We'll verify your purchase and send you information on how to access your bonus content!
Pork Chops and Squash over Green Onions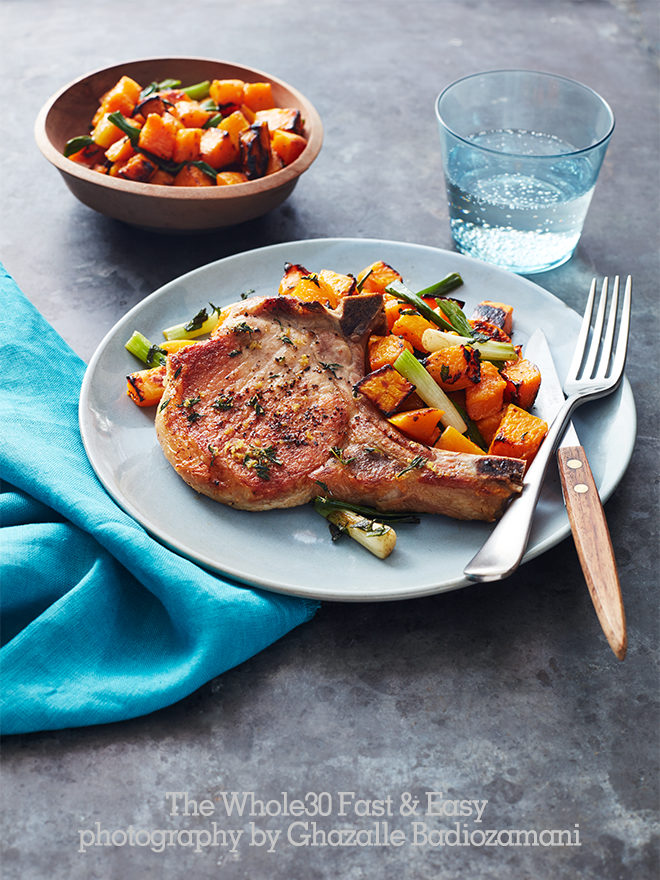 Serves 4
The green onions in this dish get deliciously crispy when roasted—and bathed in the juices of the pork seasoned with lemon and thyme. They are wonderful with the squash, which turns lightly caramelized on the outside and sweet and tender on the inside.
Prep: 15 minutes
Roast: 25 minutes
Rest: 5 minutes
Total: 45 minutes
Ingredients
2 tablespoons extra-virgin olive oil
2 bunches green onions, trimmed and cut into 2-inch pieces
20 fresh sage leaves, coarsely chopped
1 teaspoon coarse salt
3/4 teaspoon coarsely ground black pepper
2 teaspoons minced fresh thyme
1 teaspoon grated lemon zest
4 (3/4 – to 1-inch-thick) bone-in pork chops (about 2 pounds total)
1 1/2 pounds peeled and chopped butternut squash (or other hearty squash such as delicata, which doesn't need to be peeled if using)
Instructions
PLACE the oven rack in the center of the oven and preheat the oven to 400°F. Brush a large rimmed baking pan with 1 tablespoon of the olive oil. Arrange the green onions on the pan to cover. Sprinkle the sage on top of the green onions.
IN a small bowl, combine ½ teaspoon of the salt, ½ teaspoon of the pepper, the thyme, and lemon zest. Sprinkle the seasoning on the chops; place the chops on one side of the pan.
IN a large bowl, combine the squash with the remaining 1 tablespoon olive oil, the remaining ½ teaspoon salt, and the remaining ¼ teaspoon pepper and toss to coat. Place the squash on the other half of the pan.
ROAST the pork and squash for 20 minutes. Turn on the broiler and broil 4 inches from the heat source for 5 minutes, until the internal temperature of the pork reaches 145°F. Let the pork rest for 5 minutes before serving.
Excerpted from The Whole30 Fast & Easy. Copyright © 2017 by Melissa Hartwig. Used by permission of Houghton Mifflin Harcourt. All rights reserved.
Save
Save
Save