Our @whole30recipes Instagram feed brings you delicious, Whole30 compliant recipes all day, every day. And, in our series, The Best of Whole30 Recipes, we bring our favorites to the blog.
We have to sit out a lot of National Days. National Wine Day? National Pizza Day? National Doughnut Day? We don't know her. But National CHILI Day? That's a day of celebration we can get behind.
Whole30 chili is simple to make and usually comes together quickly with ingredients you already have on hand. There's something so comforting about throwing a bunch of ingredients into your slow cooker or favorite soup pot and coming back a few hours later to dinner that's nutritious and ready to eat (and a yummy-smelling house, too).
We rounded up ELEVEN Whole30 compliant recipes, so there is something to suit every chili taste. Enjoy!
Ingredients
1 T ghee
1 clove garlic, finely chopped
1/3 C yellow onion, sliced or diced
1 T diced jalapeño (optional)
half of roasted, diced sweet potato
2 T diced green chile
3-4 oz cooked chicken
3/4 C chicken broth
1/3 C canned coconut milk
1/4 t cumin
1/4 t cayenne
salt & pepper, to taste
1 T fresh cilantro
lime wedge
Instructions
HEAT your ghee until melted in a medium-high skillet over medium heat, add garlic and cook until slightly browned.
ADD in onion and jalapeño, cooking until onions have browned slightly.
ADD roasted sweet potato, green chiles and chicken to the pan. Toss to combine.
POUR in bone broth and coconut milk, stir.
ADD in cumin, cayenne, salt, and pepper. Taste and add seasoning as needed.
TURN heat up to high until the mix starts to boil. Bring heat back down to medium-low and let simmer until your chili has reached your desired consistency.
GARNISH with fresh cilantro and a lime wedge.

Ingredients
2 T olive oil
1 onion, chopped (~ 1 C)
2 lb ground beef
4 clove garlic (or ½ t garlic powder)
2 T chili powder
1 T cumin
½ t paprika
1 t oregano
1 28 oz can diced tomatoes
1 red bell pepper, chopped
1 green bell pepper, chopped
1 yellow bell pepper, chopped
1 jalapeño pepper, chopped
1 poblano pepper, chopped
3 C chopped sweet potatoes
Instructions
HEAT the olive oil in a large soup pot. Cook onion, beef, and garlic until fully cooked, about 7-10 min.
DRAIN the fat- feel free to save it for another use- it's really delicious!
ADD chili powder, cumin, paprika, oregano, and diced tomatoes.
ADD all peppers plus sweet potatoes.
BRING the soup to a boil, then simmer for 30 minutes.
ENJOY topped with avocado, guacamole, cilantro, and/ or radishes.

Ingredients
2 lbs beef stew meat, cut into bite-sized pieces (you can substitute ground beef)
1 (14.5 oz) can organic diced tomatoes
1 (14.5 oz) can organic tomato sauce
1 (4 oz) can diced green chiles
1 red bell pepper, diced
1 green bell pepper, diced
1/2 red or white onion, diced
1/4 cup coconut aminos
3 Tbsp chili powder
2 Tbsp minced garlic
2 Tbsp tomato paste
1 Tbsp dried oregano
1 Tbsp cumin
1 Tbsp cooking fat (I like avocado oil)
salt, to taste
garnish: sliced avocado, diced red onion, chopped cilantro, lime wedges, Whole30 compliant ranch (I love Primal Kitchen Foods)

Instructions
SET the Instant Pot to "sauté" mode. Once the metal insert is hot, melt a tbsp of cooking fat.
ADD the beef, cooking until browned on all sides (don't worry about cooking it through).
ADD the bell peppers and onions, and cook for 2-3 minutes or until just softened.
STIR in the tomato paste, minced garlic, and spices, and cook until fragrant.
ADD the diced tomatoes, tomato sauce, green chiles, and coconut aminos. Stir until combined then place the lid on top of the Instant Pot. Make sure the vent is set to "sealing."
COOK on "meat/stew" (high pressure) for 15 minutes, then allow the pressure to release naturally. (Manual release works fine too if you're in a hurry!)
SEASON with salt to taste, and serve hot with your choice of garnishes on top.
ENJOY!
Ingredients
1 tablespoon beef tallow or avocado oil (I used the grease from the spaghetti sauce if you're batching like I did!
1 small yellow onion, chopped
1 red bell pepper, seeded & diced
1 green bell pepper, seeded & diced
3 pounds ground beef
1 (28-ounce) can chopped tomatoes, with juice
1 cup Beef Bone Broth
2 tablespoons tomato paste
2 cloves garlic, minced
1 bay leaf
2 1/2 tablespoons chili powder
2 teaspoons ground cumin
1/2 teaspoon sweet paprika
1/2 teaspoon mild curry powder
1/2 teaspoon ground cinnamon
1/4 teaspoon cayenne pepper
1/4 teaspoon red pepper flakes
Fine sea salt & freshly ground black pepper
1 ounce unsweetened chocolate (see Tidbits)
For serving: chopped green onions, avocado, & Tangy Cashew Sauce (optional)
Instructions
MELT the tallow in a large Dutch oven over medium-high heat. Add the onion & both bell peppers & cook for 2 to 3 minutes, until the onion is softened.
ADD the beef & sauté until browned, about 10 minutes more. Drain the fat from the pan & return the pan to medium-high heat.
ADD the tomatoes & their juice, bone broth, tomato paste, garlic, bay leaf, chili powder, cumin, paprika, curry powder, cinnamon, cayenne, red pepper flakes, 3 1/2 teaspoons salt, & 1/4 teaspoon pepper & stir together. Bring to a boil, then turn the heat to medium-low.
STIR in the chocolate & simmer for 45 minutes.
MAKE it ahead: Prepare & cook chili, then store in an airtight container in the refrigerator for 5 days, or in the freezer for 4 months. Defrost chili, warm it on the stove over medium heat for 15 minutes.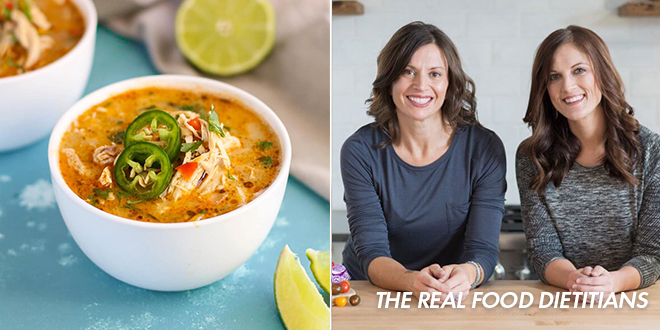 Ingredients
1 ½ lb. Boneless, skinless chicken breasts or thighs
1 Tbsp. ghee or avocado oil
1 medium onion, diced
1 medium bell pepper, any color; diced
1 small jalapeno, seeds and membranes removed and finely diced
6 cloves garlic. minced
2 ½ tsp. ground cumin (add more to taste)
1 tsp. dried oregano
2 tsp. chili powder (add more to taste)
1 tsp. sea salt
¼ tsp. black pepper
3 cups compliant chicken broth (homemade or compliant) – for a thicker soup, reduce broth to 2 cups
1 (14-ounce) can compliant full-fat coconut milk
Juice of ½ lime
½ cup fresh cilantro, chopped
Optional: Fresh cilantro, diced avocado, and lime wedges for garnish

Instructions
ADD onion, peppers, garlic, and spices (cumin through black pepper) to the bottom of a slow cooker. Arrange chicken on top of vegetables in a single layer.
ADD broth and place lid on slow cooker.
SET heat to LOW and cook 7-8 hours or until chicken is done and vegetables are tender.
REMOVE chicken from slow cooker and shred with two forks. Return chicken to slow cooker.
TURN heat to high. Add coconut milk, stir and replace lid. Continue heating an additional 10-15 minutes or until soup is heated through.
STIR in lime juice and cilantro. Taste and adjust seasonings as desired. Serve in bowls garnished with chopped cilantro and lime wedges, if desired.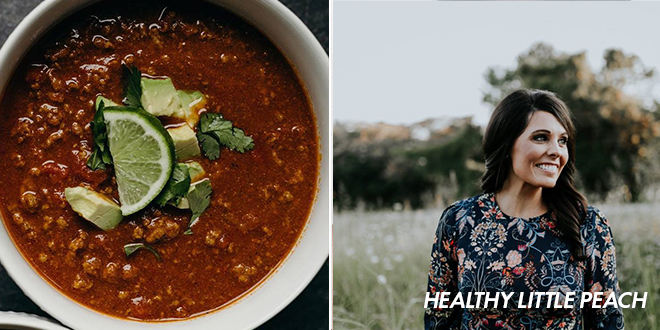 Ingredients
Chili:
2 pounds ground beef or ground bison.
3 cans diced tomatoes (petite if you can find)
1 can tomato sauce
3 tbsp tomato paste
3/4 cup beef broth
1/3 cup water
l tbsp light olive oil
1tbsp ghee
1 Lime
1 avocado
1/3 cup chopped cilantro
1 whole sweet onion, chopped
Chili Seasoning:
2 tbsp chili powder
1 1/2 tsp cumin
1 tsp crushed red pepper flakes
1/4 tsp cayenne pepper
1 tbsp Pink salt
1 tsp onion salt
1 1/2 tsp garlic powder
1 tsp ground black pepper

Instructions
HEAT your dutch oven on high heat with 1 tbsp olive oil.
ADD in your ground bison meat and let simmer. Once your meat is a little crispy and cooked through, set heat to medium and add in your diced tomatoes, tomato sauce and paste.
MIX together and let simmer on medium heat for another 5 minutes.
ADD in all of your chili seasoning spices and set heat on low.
SIMMER on low all afternoon or until the desired doneness. I usually let mine simmer on low for 4-5 hours.
SERVE with diced onions, avocados, cilantro and lime juice.
Want even more Whole30 chili-goodness? Check out these fantastic recipes:
White Chicken Chili A recipe preview from The Whole30 Slow Cooker, shared in partnership with our friends at Thrive Market
Smoky Beef & Bacon Chili Shared by popular demand, this recipe is a runaway hit from The Whole30 Slow Cooker
Instant Pot Chili Dogs from A Dash of Dolly Take your chili to the next level with this Whole30 take on "Chili Dogs" from Whole30 Certified Coach Dolly Sengsavang.
Instant Pot Spicy Carob Beef Chili Spicy and rich (from the carob), this chili from Sarah Steffens comes together easily in your Instant Pot
Instant Pot Ground Beef Chili from Nom Nom Paleo Michelle Tam of Nom Nom Paleo is one of the best recipe developers around, and her Whole30 compliant chili recipe is a classic, traditional take.