Dear Melissa,
Do I really have to eat vegetables with every meal, even breakfast/my husband says he'd consider doing the program with me, but he hates vegetables so he can't/I want to bring my kids along on the Whole30, but they're so picky when it comes to anything green. HELP. – So many of you everwhere
Dear Veggie-Haters,
Let me start by saying you're not alone. Your veggie-aversion is an experience shared by so many people new to our Whole30 community. While fruit is an easy sell, veggies are a little bit harder to accept. And it's no wonder.
For so long, veggies were nothing more than a canned or steamed sidekick to the main course. So, OF COURSE we gradually ignored them when it came time to learn how to shop for and prepare food for ourselves. Who wants to eat a blanched carrot when processed, hyper-palatable food is a quicker, easier option?
But today I've got good news, great news and a tip or two to help along the way.
[Tweet "Need help eating your vegetables? Let #Whole30 headmistress @melissahartwig_ lend a hand."]
There are more veggies out there than you realize.
Since the days of our youth, veggies have gotten a bad rap. For many of us, vegetables consisted of a pile of soggy canned peas, over-steamed Brussels, and/or instant mashed potatoes pushed to the edge of our dinner plate. And you had to finish them to get dessert, which was a crime in itself.
Now that you're all grown up, here's a secret: There's a lot more than steamed Brussels sprouts on the menu.
Start your next shopping trip by taking a walk through the produce aisle and seeing everything that's out there. From sweet potatoes to eggplants to zucchini; kholrabi to leeks to fennel; Dino kale to Swiss chard to collard greens; there are a range of different tastes, textures and colors to choose from, and so many ways to prepare them.
Which brings me to my next point…
You've been eating vegetables all the wrong ways.
Whole30 is about so much more than just eating. It's about crafting a better relationship with food, which includes learning to prepare nourishing recipes that you love. There are so many tantalizing, innovative ways to cook, simmer, steam, saute, grill and season vegetables. Here are a few preparations that are popular among the Whole30 community:
Spiralizing Use a counter-top spiralizer to create veggie "noodles" from nearly every vegetable imaginable. This works well for zucchini and yellow squash, potatoes of all varieties, winter squash varieties, beets, jicma and more. Spiralized zucchini noodles are the star of the show in the Chicken Zoodle Pho recipe on page 207 of The Whole30 Fast & Easy Cookbook.
Ricing Use your food processor to "rice" cauliflower, broccoli, and some of the harder winter squashes, like butternut. This makes an excellent base for Whole30 stews, curries and bowls, like the Tomato-Coconut Curry with Chicken on page 172 of The Whole30 Cookbook.
Roasting If you want to start experimenting with your veggies without investing in any new gadgets and tools, roasting is the way to go. With just your oven, a baking sheet and some ghee or duck fat, you can coax delicious, rich flavor out of almost every veggie. Try this Pork Chops and Squash over Green Onions recipe (a preview from The Whole30 Fast & Easy Cookbook), which has you roast butternut squash at high heat, yielding a caramelized, sweet veggie side.
Wraps, Shells and Buns Clever Whole30'ers have figured out how to make "buns," "wraps," and "shells" out of various vegetables like tomatoes, mushrooms, lettuce and even jicama (a starchy root). Check out our Hey Whole30, Make Me a Sandwich post for several options, or the Jicama Street Tacos with Barbacoa from The Whole30 Cookbook (page 49).
Take inspiration from the Whole30 community The bloggers and recipe creatives we collaborate with are vegetable geniuses. Just scroll through our @whole30recipes feed for inspiration and encouragement, and you'll be loving your vegetables in no time. If you're looking for a single veggie-focused resource, check out Kelsey Preciado's comprehensive Love Your Veggies e-book, and use the code "whole30" for 30% off. (Note: we aren't compensated for recommending Kelsey's book; we just love her work and think our community will, too!)
When in doubt, DIP (or sauce).
You know how your kids will eat anything if you put enough sugary ketchup on it? Well there's a good chance your partner or roommate will love those green beans, asparagus spears, or baby potatoes if you drizzle them in compatible Ranch, chimichurri, almond sauce, or pesto. Using a dressing or a sauce to spice up the flavor of your protein and veggies isn't cheating! It's a smart way to include some healthy fats while varying the tastes on your plate.
Use dressings, marinades, and sauces from our Whole30 Approved partners, or whip up your own using a recipe from any of our cookbooks. (We're especially fond of three recipes in The Whole30 Cookbook : the Arugula and Walnut Pesto on page 256, the Dump Ranch on page 261, and the Lemony Tahini Sauce on page 264.)
Your tastes can (and will) change.
Finally, as you try new veggies and new ways to prepare them, you'll discover something shocking happen—you'll start to enjoy vegetables more than you thought possible. You'll notice that, by replacing grains, legumes and processed carbs with vegetables, some fruit, and fresh herbs and spices, your taste buds will reset, and you'll catch yourself craving cauliflower and kale. (Well, maybe not craving, but definitely not dreading.) The key is to keep experimenting with different vegetables, prepping and cooking techniques, and dressings or sauces until you're eating the rainbow like a Whole30 champ.
Best in Health,
Melissa
---
Got a question for Melissa? Submit it here.
Remember, we aren't answering questions about the Whole30 rules via this column (use the forum!), nor are we able to offer you specific advice about your medical issue, health condition, or body composition.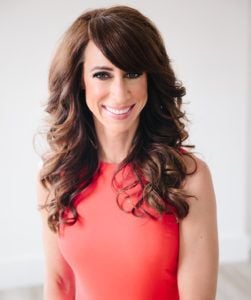 Melissa Hartwig is a Certified Sports Nutritionist, and a 5-time New York Times bestselling author (It Starts With Food; The Whole30; Food Freedom Forever; The Whole30 Cookbook; The Whole30 Day by Day; and The Whole30 Fast and Easy Cookbook). She has been featured in the Wall Street Journal, New York Times, Forbes, Details, Outside, SELF, and Shape as the co-founder of the Whole30 program. Melissa lives in Salt Lake City, UT.
Photo credit: Marie Carmel Photography