A good sweet and tangy BBQ sauce is a pantry staple. But finding a store-bought version that is plant-based and no-sugar added can be a challenge. This homemade Plant-Based Whole30 BBQ Sauce is fast, easy, and budget-friendly! With a tomato paste base, simple dried spices, plus a bit of apple juice and a few dates to sweeten, you'll have an addictive condiment in no time.
First whisk ingredients together, then simmer for 10 minutes to combine flavors and soften the dates. Next, blend the mixture until smooth, adding additional water to your desired bbq sauce thickness. It doesn't get much easier than that!
Make it your own!
This recipe is super simple to customize to your personal taste preferences. Want it a little sweeter? Add another date next time. More of a kick? Increase the chipotle sauce. Love your bbq sauce a little bit smokey? Include the liquid smoke.
---
Liquid smoke is a condiment usually found in the salad dressing aisle or the seasoning aisle. It's made by burning wood chips, capturing the smoke, and then condensing it into a liquid substance. This clever ingredient gives dishes a smoky flavor sans actual wood smoke.
---
This Whole30 BBQ sauce is the perfect condiment to dip, slather and spread on all your favorite plant-based favorite. Who knew making your own Whole30 bbq sauce could be so easy? Once you do, we bet you will again and again!
Plant-Based Whole30 BBQ Sauce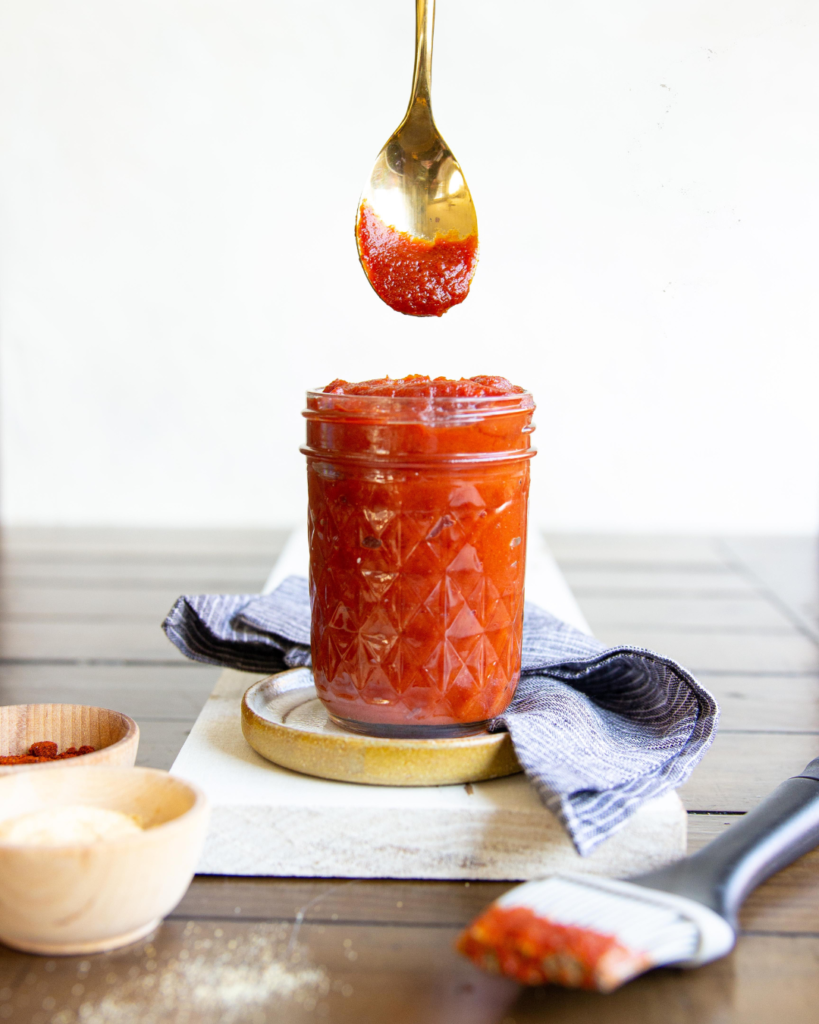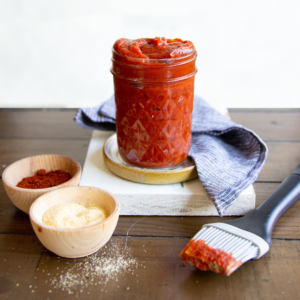 Plant-Based Whole30 BBQ Sauce
Ingredients
1 (6) oz can tomato paste"
1/2 cup water
1/4 cup 100% apple juice
1/4 cup coconut aminos
1 tbsp apple cider vinegar
1 1/2 tsp yellow mustard
1 tsp salt
1 tsp garlic powder
1/2 tsp onion powder
1/2 tsp chili powder
4 dates seeds removed
1 tsp liquid smoke optional
Instructions
WHISK all ingredients except the dates in a small pot over low heat.

ADD dates and simmer, covered, for 10 minutes, stirring regularly to prevent burning.

BLEND sauce until nice and smooth. Add additional water 1-2 tablespoons at a time, if desired for a thinner sauce.

STORE in a sealed container in the fridge for up to 3 weeks.