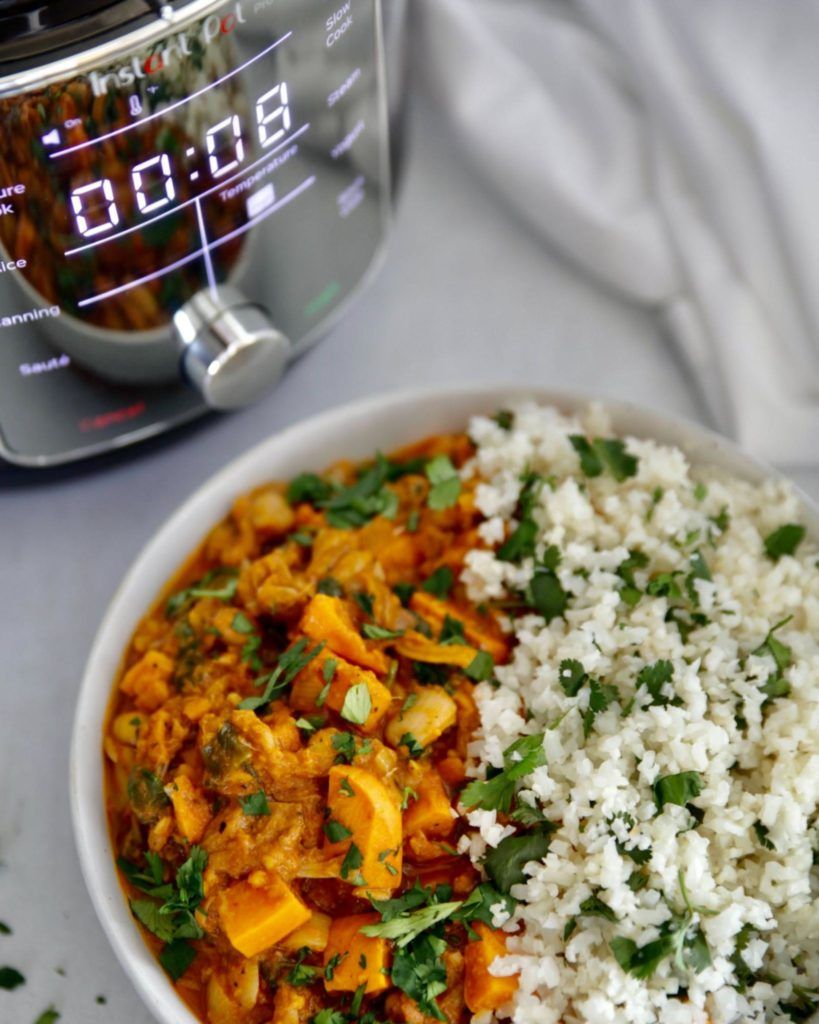 This recipe is part of the Plant-Based Whole30 program: a 30-day dietary reset to address your health, habits, and relationship with food. Learn More about the Plant-Based Whole30.
This jackfruit curry in the Instant Pot tastes like it's been simmering on the stovetop all day, but in reality it comes together in under an hour. That's the magic of the Instant Pot! It's a great Plant-Based Whole30 dinner to serve on a weeknight. To make it, you'll need:
Jackfruit Curry in the Instant Pot: Key Ingredients
Jackfruit: This is the fruit of a tropical tree grown in Asia, Africa and South America. Often in the U.S., you'll find jackfruit sold in cans or pouches instead of fresh. (This recipe calls for canned jackfruit.) It's gained popularity in recent years in vegetarian and vegan dishes because when unripe, it has a neutral flavor and a texture similar to pulled meat. However, it's not a significant source of protein, so when preparing it as part of a Whole30 meal, be sure your meal has a protein element like legumes, tofu, protein powder, or another form of plant-based protein. Jackfruit is high in fiber, and is a good source of vitamins and minerals.
Cauliflower "Rice": This is simply cauliflower pieces cut to the size of a grain of rice. You can make it at home by blitzing large cauliflower florets in a food processor, but it's also widely available in the fresh and frozen sections of most major grocery stores. It's used in many Whole30 recipes as a compatible alternative to rice or other grains.
Chickpeas: Chickpeas are a legume, also commonly called garbanzo bean. They're the main ingredient in hummus, and they're also often used in plant-based stews, soups, and curries. They're a common source of protein in Plant-Based Whole30 meals.
These primary ingredients come together with sweet potato, fresh greens, coconut milk, tomato sauce, and a delicious spice blend for a nourishing and tasty Plant-Based Whole30 dinner.
Looking for more Plant-Based Whole30 dinner inspiration? Try our White Bean Mushroom "Meatballs" or Thai Inspired Tofu "Larb."
Jackfruit Curry in the Instant Pot: A Plant-Based Whole30 Recipe
Photo and Recipe by Sarah Steffens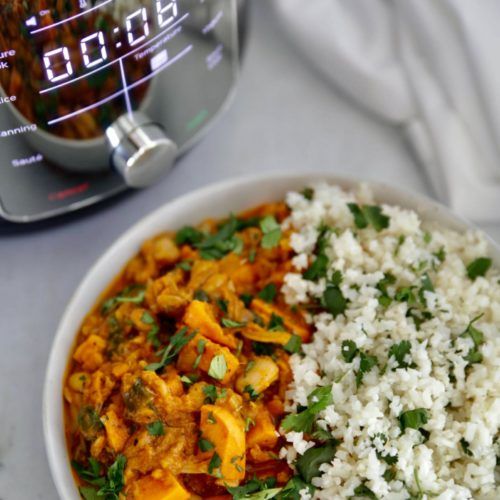 Jackfruit Curry in the Instant Pot
Ingredients
Jackfruit Curry
2

20-ounce

cans of jackfruit

,drained and rinsed

1

tbsp

of coconut or avocado oil

1

medium yellow onion

,peeled and diced

4

medium garlic cloves

,peeled and minced

2

tsps

sea salt

1

tsp

black pepper

1

tsp

ground turmeric

1

tbsp

garam masala

1

tsp

ground coriander

1

tsp

plain or smoked paprika

1

tsp

dried red chili flakes

2

tbsps

ground yellow curry

1

cup

purified water

4

medium sweet potaotes

,peeled and cubed

1

14.5-ounce

can of full-fat coconut milk

1

14.5-ounce

can of tomato paste

6

cups

arugula or baby kale

1

14.5-ounce

can of chickpeas

,drained

¼

cup

fresh cilantro

,minced
Garnish
¼

cup

fresh cilantro

,minced
For Serving
1

tbsp

coconut or avocado oil

4

cups

cauliflower rice

2

tbsp

fresh cilantro

,minced
Instructions
Add the drained and rinsed jackfruit to a bowl and shred it with your hands so that it resembles shredded chicken. Discard any tough ends.

Plug your Instant Pot in and set it to "Sauté". Once hot, add the coconut or avocado oil, diced onion and minced garlic. Season with sea salt, black pepper, turmeric, garam masala, coriander, plain or smoked paprika, red chili flakes and yellow curry powder and stir well with a wooden spoon.

Sauté until the onions are soft and translucent, about 5 minutes.

Deglaze the bottom of the pot by adding in 1 cup of water and scraping the bottom of the pot with your spoon to loosen up any brown bits.

Add the cubed sweet potatoes, shredded jackfruit and canned coconut milk and stir well to combine. Press "Cancel" on your Instant Pot.

Secure the lid and select "Pressure Cook" at High Pressure and Natural steam release. Set the cooking time to 8 minutes.

Once the timer has finished, allow the steam to release naturally for at least 10 minutes before removing the lid.

At this point, prepare your cauliflower rice by adding coconut or avocado oil and cauliflower rice to a skillet set to medium-low heat and sauté until soft, about 5 minutes. Stir in minced cilantro. Set aside until ready to serve.

Remove the lid of your Instant Pot and stir in the canned tomato sauce, arugula or baby kale, canned chickpeas and minced cilantro.

Serve with additional minced cilantro and cauliflower rice, storing any leftovers in the fridge for up to 5 days. You can also freeze this dish in an airtight plastic bag for up to 6 months.