Loaded with flavor and veggies, this Tempeh Pineapple Stir Fry is the perfect excuse to skip your takeout routine! Featuring Plant-Based Whole30-compatible Lightlife Original Tempeh, fresh veggies, and sweet, juicy pineapple, this stir fry is bursting with flavor and packed with plenty of protein.
This dish is ready in just 30 minutes and is delicious on top of cauliflower rice or in lettuce-wrapped cups. A perfect quick and tasty Plant-Based Whole30 Meal!
Substitutions:
The sesame oil in the sauce gives this dish extra flavor, but you can use an equal amount of avocado oil in its place.
About Lightlife Tempeh
Are you looking for more protein options to incorporate into your Plant-Based Whole30 or favorite plant-based dishes? Lightlife Tempeh is a convenient and versatile option for an endless amount of recipes you and your family will love.
Lightlife Tempeh packs 18G of protein and 6G of fiber per serving and contains all 9 essential amino acids. Plus, it's fermented, which can support gut health. Tempeh has a light, savory taste that will pair perfectly with your favorite sauces and seasonings. Slice it into thin strips and pan or air fry, cut into cubes and toss with veggies and bake for an easy sheet pan meal, or crumble and saute for a salad or taco bowl topping – the options are endless.
Click to learn more and find Lightlife products near you!
Tempeh Pineapple Stir Fry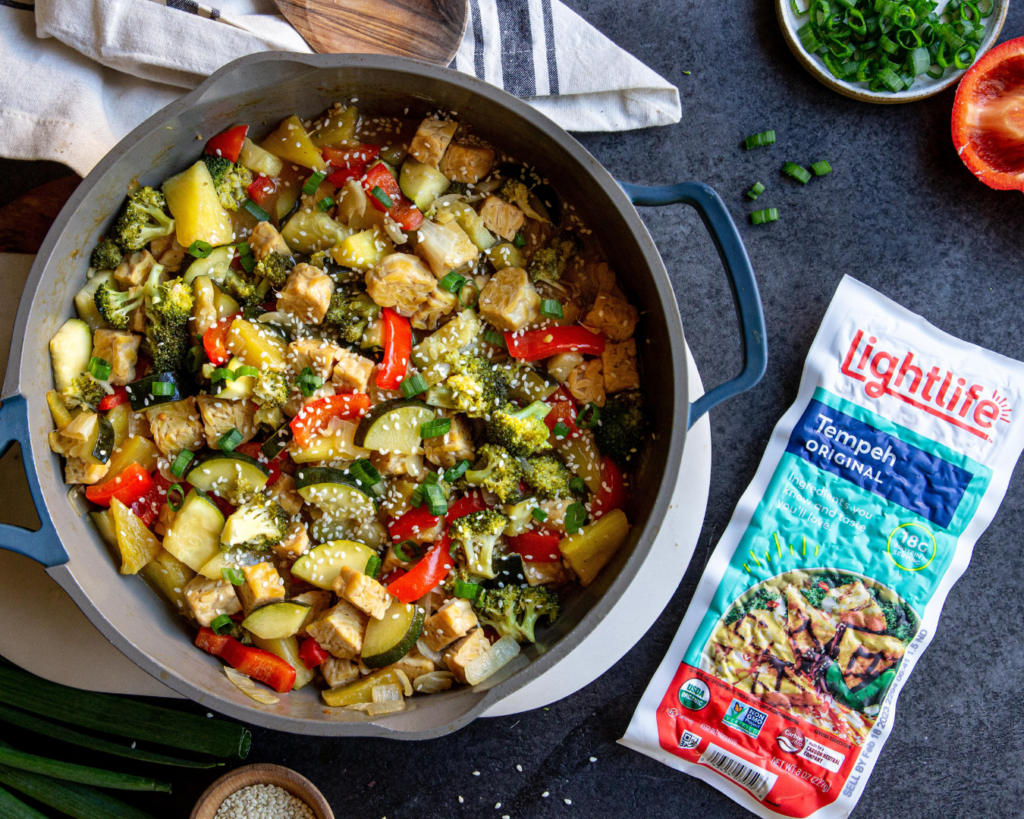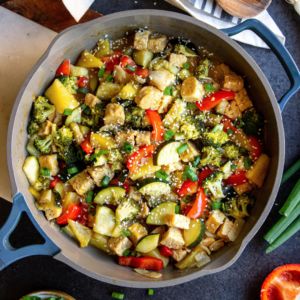 Tempeh Pineapple Stir Fry
Ingredients
Sauce
2 tbsp coconut aminos
1/2 cup pineapple juice
3 tbsp rice vinegar
1 pinch red pepper flakes
1 pinch ground black pepper
1 tsp sesame oil
2 tsp potato starch or arrowroot powder
Stir Fry
8 oz Lightlife Original Tempeh cubed
2 tbsp avocado oil
1/2 onion chopped
2 tsp ginger minced
2 cloves garlic minced
1 bell pepper chopped
1 small zucchini halved and sliced
1 cup cup broccoli cut into small florets
1 cup pineapple chopped
2 green onions sliced
Toasted sesame seeds
Instructions
MIX sauce ingredients in a bowl.

STEAM tempeh on stovetop or in microwave. For stovetop: Place steamer basket in a saucepan and fill with water about 1-inch deep, or until the waterline is just below the steamer basket. Bring to a simmer, then add cubed tempeh to steamer basket. Cover and steam for 10 minutes. For microwave: Add cubed tempeh to a microwave-safe bowl with 2 tbsp of water. Cover and microwave for 2 ½ minutes.

MARINATE tempeh in 2 tbsp of the sauce for at least 15 minutes.

HEAT avocado oil in a deep pan or wok. Add onion, garlic, and ginger and stir fry until onions turn translucent, 3-5 minutes.

ADD tempeh, bell pepper, zucchini, broccoli, and pineapple and stir fry another 5 minutes or until the veggies are tender.

GIVE the sauce a quick stir, then pour into the pan. Toss well to coat all the ingredients with sauce. Turn off the heat once the sauce thickens.

GARNISH with green onions and toasted sesame seeds. If desired, you can serve the pineapple tempeh with cauliflower rice or in lettuce cups.