Have some extra veggies on hand? Toss them in our Tofu-Veggie Scramble. The recipe is flexible enough to turn your odds and ends in to a satisfying delicious meal. Broccoli, Brussel sprouts, red bell pepper, kale, summer squash, shallot, and/or green onion tops … whatever you've got lying around in your fridge, this recipe will put it to use.
Looking for more Plant-Based Whole30 breakfast ideas? Try our Chickpea, Tomato, and Veggie Skillet.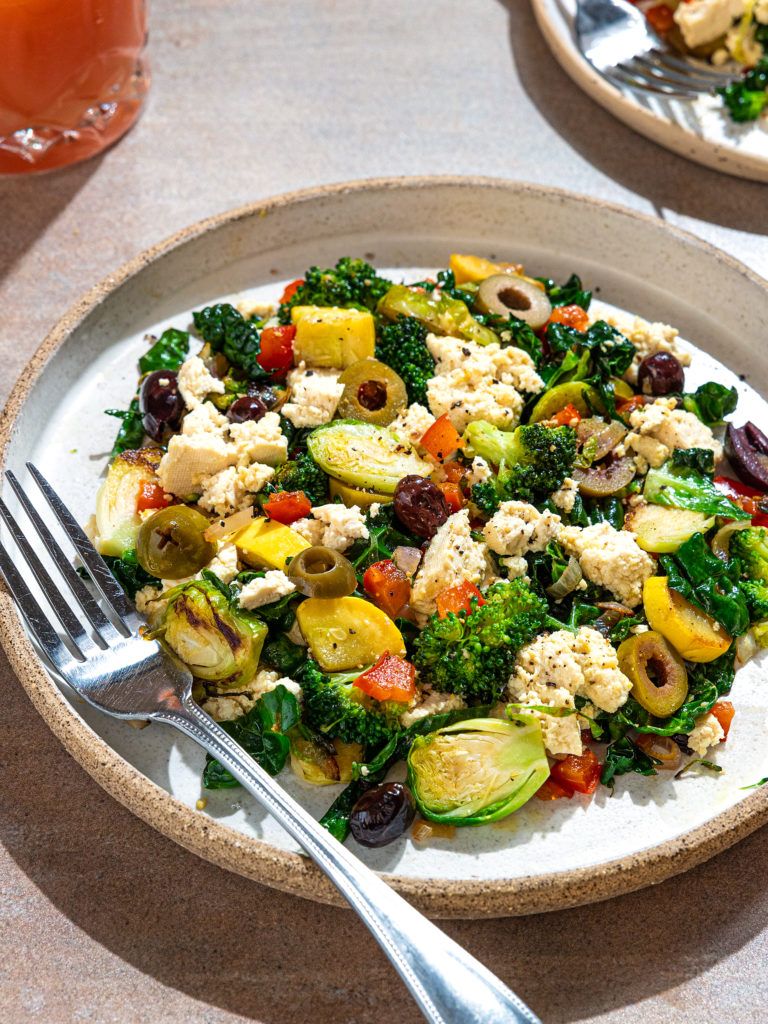 Tofu-Veggie Scramble: A Plant-Based Whole30 Breakfast Recipe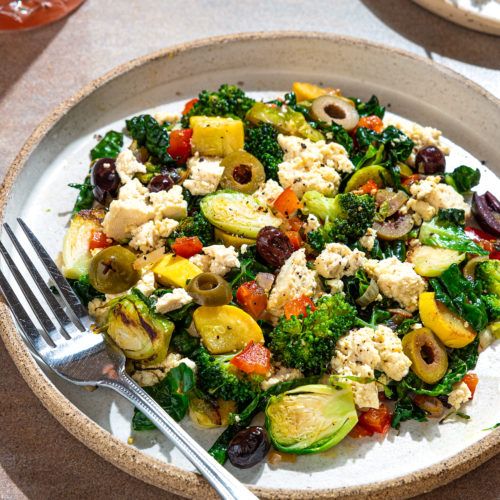 Tofu-Veggie Scramble
Ingredients
1

(14-to-16 oz)

super-firm tofu

,drained

3

tbsps

nutritional yeast

¾

tsp

black salt

½

tsp

ground turmeric

¼

tsp

smoked paprika

2

tbsps

extra-virgin olive oil

2

cups

finely chopped vegetables, such as broccoli, Brussel sprouts, red bell pepper, kale, summer squash, shallot, and/or green onion tops

½

tsp

coarse salt

¼

tsp

black pepper

⅓

cup

assorted olives
Instructions
Finely crumble the tofu into a medium bowl. In a small bowl stir together the nutritional yeast, black salt, turmeric, and smoked paprika. Sprinkle seasoning on tofu and stir to combine.

In an extra-large skillet, heat 1 tablespoon oil over medium heat. Add the vegetables and season with salt and black pepper. Cook, stirring often, until crisp-tender, about 3 minutes. Push the vegetables to the outer edges of the skillet, creating an empty center. Add 1 tablespoon oil to the center of the skillet. Add the seasoned tofu and cook, stirring, until tofu is heated through, about 3 minutes. Add chopped olives, then stir vegetables and tofu together and cook 1 minute more.

Divide scramble among 4 serving plates.
Notes
Tip: Super-firm tofu doesn't need to be pressed. If you buy extra-firm instead, press out the excess water before crumbling. To press a block of tofu, wrap the block in a dish towel and place on a rimmed plate. Place a cast-iron skillet on top or other heavy object on top; let tofu drain for 20 minutes. This can be done up to 24 hours ahead of time.
---
You Might Also Like…