By Laura Miner
This single serve Whole30 Baby Kale, Apple, and Bacon Salad is a perfect prep-ahead lunch for when you need something nourishing, seasonal, and flavorful. It was created especially for us by our longtime collaborator Laura Miner of Cook At Home Mom.
Laura used one of Zip Top's medium dishes to assemble her salad, store it overnight, and to take on the go for lunch the next day. Imagine if a plastic bag and a glass container had a baby. A baby that didn't require you to match lids with containers. A baby that zipped shut, stood on its own in your fridge, and stacked neatly in your drawer or cabinet.
That's Zip Top. (Our HQ team is officially in love.) Their one-of-a-kind design stands up, stays open, and zips shut. They are extremely versatile for Whole30 meal prep, food storage, and eating on the go. And, they're good for the planet and your budget. One Zip Top can replace 5,000+ disposable bags … invest once, and say goodbye to buying single-use plastic bags in every size.
Zip Top's 100% platinum silicone construction contains no BPA, plastic, fillers, or other harmful chemicals, and it also means they're extremely durable (microwave, dishwasher, and freezer safe).
If you've been wanting to clear out that food storage container clutter and start fresh, now's your chance. We have an exclusive code for 15% off PLUS free shipping on your Zip Top order. Use WHOLE30 at checkout—click here to check out their line of products and place your order.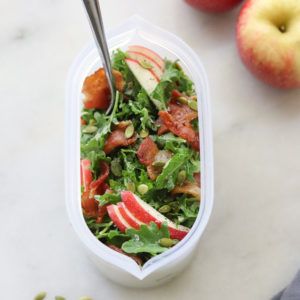 Whole30 Baby Kale, Apple, and Bacon Salad
Ingredients
2

cups

baby kale

½

small apple

2

tbsp

raw pepitas

2

slices Whole30 compatible bacon

1

tbsp

olive oil

1

tsp

red wine vinegar

Salt and Pepper to taste
Instructions
Cook the bacon until it's crispy and cut into bite sized pieces. Slice the apple.

Toss the baby kale with the oil and vinegar. Transfer to the Zip Top medium dish. Add the bacon, apples, and pepitas, and season lightly with a little salt and pepper.
You Might Also Like…
This post is sponsored by Zip Top. Thanks for supporting our Whole30 partners.
Laura Miner
Laura is the recipe creator behind the food blog Cook at Home Mom. She lives in Lynchburg, VA with her husband and three kids.