Our @whole30recipes Instagram feed brings you delicious, Whole30 Approved recipes all day, every day. And, in our new series,  The Best of @Whole30Recipes, we'll be bringing them to our blog! Each week, we'll feature a new mini-collection of our favorite recipes.  This week is all about chicken.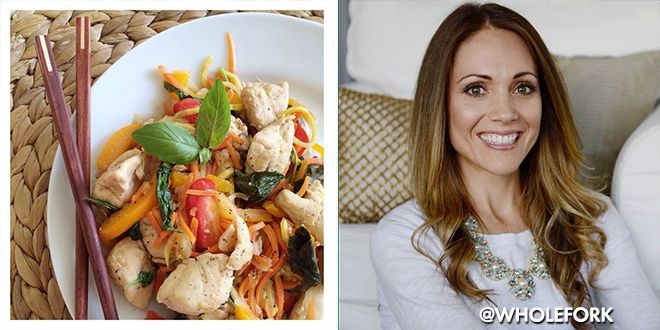 Thai Basil Chicken (Pad Grapow), from @Wholefork
Per person:
1/2 Tbsp olive oil
1 garlic clove, minced
1/8 onion, chopped
4 oz boneless chicken chopped into bites
1/8 cup coconut aminos
1/2 red or orange bell pepper chopped
1/2 yellow zucchini shredded
Handful of carrot shreds
Handful of fresh basil
Warm olive oil in a pan over medium heat. Sauté onions and garlic until they turn translucent. Add chicken and aminos and cook until chicken turns white, stirring every 2 min. Add veggies and mix with chicken and sauce. When veggies have softened to your liking add fresh basil and stir a few times until basil slightly wilts. Salt and pepper to taste. You can easily add a splash of fish sauce, serve with cauli rice to add even more veg, or add red pepper flakes if you want heat!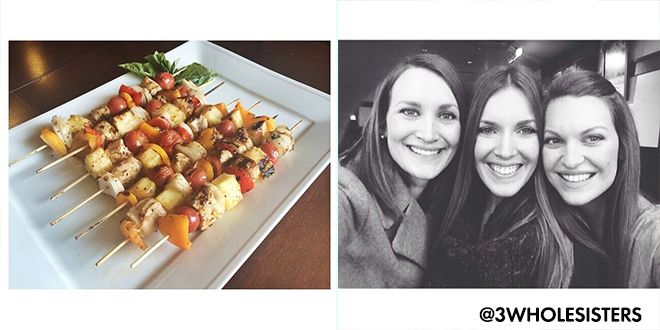 Hawaiian Kebobs, from @3wholesisters
1 chicken breast
1 bell pepper (any color)
1 sweet onion
1 pineapple
1 1/2 c. cherry tomatoes
1/4 c. coconut aminos
1/4 c. olive oil
1 TBS. apple cider vinegar
3 cloves of garlic (minced)
1 tsp. chili pepper flakes
1 tsp. ground ginger
1 tsp. salt
Bamboo skewers
Soak the skewers in water (to prevent them from burning). Dice the first 5 ingredients into 1 to 2 inch cubes. Combine the remaining ingredients, and divide the mixture in half. In a bowl, pour 1/2 of the marinade over the chicken and place it in the refrigerator for 1 hour. Build the kebobs by threading the veggies and chicken onto the skewers. Brush the remaining marinade on all sides of each kebob. Grill until cooked thoroughly (or until an internal thermometer reads 165* in the chicken).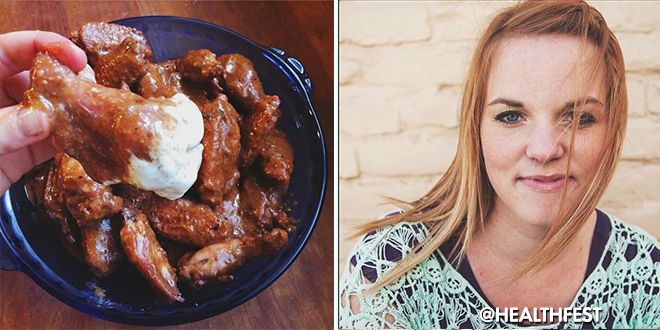 Jalapeno Berry Slow Cooked Wings, from @healthfest
Makes 20-25 chicken wings
1/4 cup avocado or light olive oil
1/3 cup Frank's hot pepper sauce (or other compatible hot sauce)
2 jalapeños, deseeded and chopped
1 1/2 cups ripe raspberries
1/3 cup unsweetened apple juice
Salt to taste
Line a baking sheet with foil and place chicken wings on top, sprinkling a little salt on each one. Place them under the broiler for a few minutes on each side until lightly browned. Watch them carefully. Mix oil, hot pepper sauce, jalapeños, raspberries, and apple juice together in a blender. If you use a high powered blender then you probably won't have to strain seeds. If not and there are still a lot of seeds in the mixture, strain them out with a sieve or cheesecloth. Place wings and all but 3/4 cup sauce in a crockpot and cook on low for 4 hours or high for 2 hours. Right before serving, heat the remaining 3/4 sauce in a pan on the oven or in the microwave and pour over wings. Serve with your favorite Whole30 ranch dressing and devour!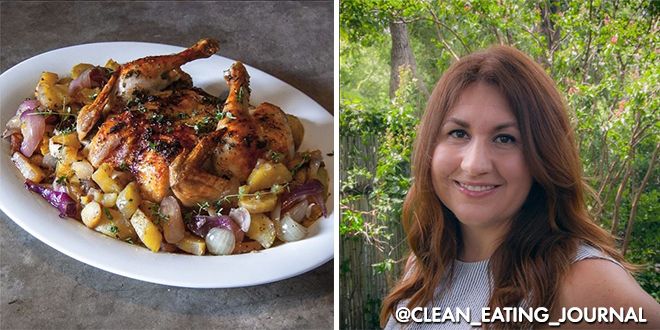 Butterflied Chicken with Roasted Vegetables, from @clean_eating_journal
3 large carrots, peeled and chopped into 1″ chunks
3 medium onions (white, red, or a medley of both), coarsely chopped
3-4 sweet potatoes (I prefer Hannah sweet potatoes. They are more firm and less sweet than the traditional orange ones), peeled and chopped into large chunks
6 garlic cloves, crushed and peeled
Coarse salt + pepper
1 orange
1 whole chicken
1 Tbsp fresh or dry thyme, plus more for garnish
4 Tbsp avocado oil or ghee
1 lemon
Preheat oven to 425 degrees. Fill the bottom of an oven safe high-rimmed dish with onions, carrots, sweet potatoes. Add a dash of salt + pepper, and 4 crushed garlic cloves. Slice half of the orange into rings, peel, place on top of the vegetables. Discard the peels. Butterfly the chicken by removing the backbone with a sharp knife or kitchen shears. Lay the chicken skin side up on your work surface, and apply firm pressure with your hands to flatten it. Rub the chicken with the 2 remaining garlic cloves, salt, pepper and thyme. Place the chicken on top of the vegetables. Squeeze lemon and the remaining half of the orange over the chicken. Drizzle oil or ghee over the chicken and vegetables. Cook for 1 hour, or until done.
 Have a favorite from the @whole30recipes feed?  Is there a collection you'd like to see? Let us know in comments!
Melissa Urban
Co-Founder / CEO
Melissa Urban is a 7x New York Times bestselling author (including the #1 bestselling The Whole30) who specializes in helping people establish healthy boundaries and successfully navigate habit change. She has been featured by the New York Times, People, the Wall Street Journal, Forbes, The Today Show, and Good Morning America, and is a prominent keynote speaker on boundaries, building community, health trends, and entrepreneurship. She lives in Salt Lake City, UT with her husband, son, and a poodle named Henry.