We've been using EPIC Provisions Bars and Bites as a favorite on-the-go food for years. We also like to keep our pantries stocked with their Bone Broths and Animal Fats, which provide a flavorful base for many Whole30 recipes. Today, we're sharing three comforting, delicious, and nourishing Whole30 recipes featuring EPIC Broths and Fats.
Please note, not all EPIC Provisions products are Whole30 Approved, as some contain sugar. For a complete list of Whole30 Approved EPIC Provisions products, visit their Whole30 collection.
[Tweet "EPIC recipes + a discount + giveaways from @epicbar, on the #Whole30 blog #ad #Whole30isEPIC"]
A New EPIC Product, Plus Exclusive Savings and Giveaway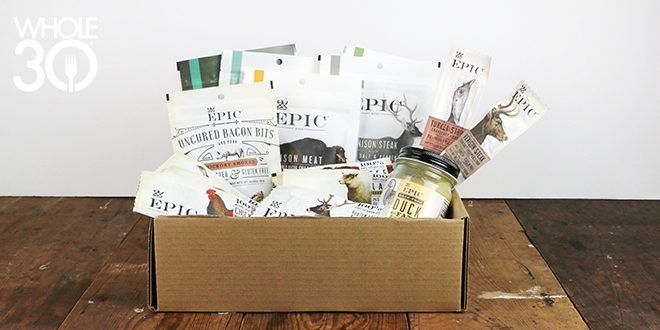 This month, EPIC is launching a brand new on-the-go option: Snack Strips. These meat strips are created using high quality animal protein, seasonings, and simple dehydration. The result is a tender and flavorful snack that's easy to toss in your work bag or stash in your desk drawer.
Right now, you can take 15% off your order of all EPIC products, including their brand new Strips. Click here to see their entire Whole30 Approved collection, and enter the code EPICSAVESTHEDAY to take 15% off at checkout.
Click here to purchase your EPIC Whole30 Kit
This week, the EPIC wolfpack is also giving away items like boxes of their delicious Bars, exclusive EPIC gear, a copies of The Whole30 Cookbook and Food Freedom Forever, a Whole30 Starter Kit and more. Follow them on Instagram and Facebook for your chance to enter and win.
And now, onto the recipes…
Braised Bone-in Duck Simmered in Orange-Thyme Sauce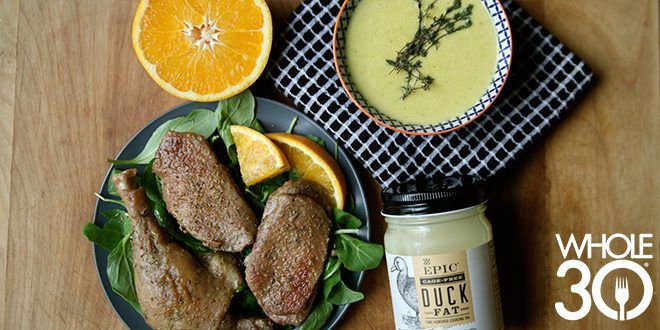 Ingredients
For the Braised Duck
4 pieces of duck (we used a combination of bone-in legs and boneless breasts)
2 Tbs. of EPIC Duck Fat
1 Tbs. of sea salt
Dash of white pepper
Sprinkle of dried thyme
For the Orange Thyme Sauce
1 fresh orange, peeled, white piths removed
1/4 cup of purified water
1 Tbs. of EPIC Pork Lard
4 Tbs. of ghee
2 Tbs. of coconut aminos
1 tsp. of sea salt
Dash of white pepper
1 tsp. Of dried garlic powder
1 tsp. Of dried onion powder
1 Tbs. of dried thyme
1/2 tsp. Of arrowroot powder
Zest from 1 fresh orange
Instructions
PLACE 2 tablespoons of EPIC Duck Fat in a cast iron skillet and turn to medium low heat. Add duck, skin-side up, and sprinkle with sea salt, white pepper and dried thyme. Cover skillet and cook on low heat, flipping once or twice, for 30 minutes.
WHILE your duck is braising, place all Orange Thyme Sauce ingredients (except fresh orange zest) in a small saucepan and simmer for 15 minutes. After 15 minutes, whisk in 1/2 teaspoon of arrowroot powder. Transfer to a high-speed blender, add your orange zest, and blend until smooth. Place sauce in a bowl and set aside until you are ready to serve it with your duck.
HEAT your oven's broiler and place skillet with the duck skin-side up under its heat for 5 minutes, or until the duck skin turns a golden brown color. Remove from heat and serve with Orange Thyme Sauce.
Porky Roasted Brussels Sprouts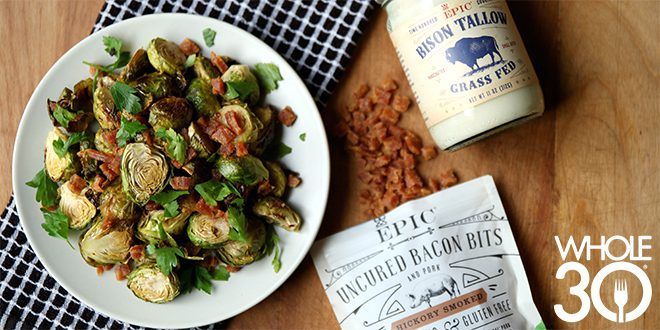 Ingredients
1 lb. of Brussels sprouts
2 Tbs. of melted EPIC Bison Tallow
1 tsp. of sea salt
Dash of white pepper
1 tsp. of dried garlic powder
1/4 cup of minced parsley or cilantro
1/4 cup of EPIC Hickory Smoked Uncured Bacon Bites
Instructions
PREHEAT your oven to 350 degrees.
RINSE your Brussels sprouts and slice off each end, then slice in half. Arrange on a baking tray lined with parchment paper. Sprinkle sea salt, white pepper, dried garlic powder and 2 Tbs. of melted EPIC Bison Tallow and toss on the tray to combine.
ROAST in the oven for 25 minutes, tossing with a spatula once after 15 minutes.
REMOVE from the oven and sprinkle with freshly minced parsley (or cilantro) and EPIC Hickory Smoked Bacon Bits.
Zucchini Carrot Parsnip Fritters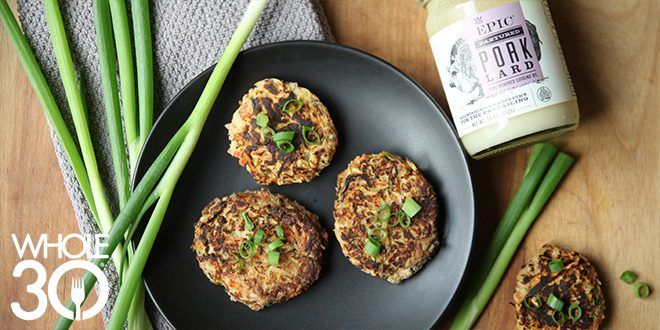 Ingredients
4 eggs
1 tsp. of sea salt
Dash of white pepper
2 whole scallions, minced
1 Tbs. of dried dill
2 medium zucchini, shredded
2 medium carrots, peeled and shredded
2 medium parsnips, peeled and shredded
3 Tbs. of coconut flour
4 Tbs. of EPIC Pork Lard for frying
Note: EPIC Provisions is currently sold out of Pork Lard, but their Duck Fat is a great substitution
Instructions
MIX eggs, sea salt, white pepper, minced scallion and dried dill in a large bowl. Ad shredded zucchini, carrot and parsnip and gently toss to combine with a baker's spatula.
SPRINKLE coconut flour evenly over tossed veggie mix and gently combine. Form 1" thick patties in your hands, about the size of your palm, and set on a plate.
HEAT 1 Tbs. of EPIC Pork Lard in a cast iron skillet to medium high, then fry each patty for 3 minutes per side. Add an additional tablespoon of EPIC Pork Lard each time you fry a new batch of fritters.
ENJOY with freshly minced scallion.
This post is sponsored by EPIC Provisions
Save
Save
Save
Save
Save
Save
Save
Save
Save
Save
Melissa Urban
Co-Founder / CEO
Melissa Urban is a 7x New York Times bestselling author (including the #1 bestselling The Whole30) who specializes in helping people establish healthy boundaries and successfully navigate habit change. She has been featured by the New York Times, People, the Wall Street Journal, Forbes, The Today Show, and Good Morning America, and is a prominent keynote speaker on boundaries, building community, health trends, and entrepreneurship. She lives in Salt Lake City, UT with her husband, son, and a poodle named Henry.