This Ranch Green Bean Casserole is a zesty remake of an old favorite! Cozy, creamy and perfect for your holiday gathering or a veggie-forward side for any time. The velvety sauce is gluten-free and dairy-free, but there is no way your guests could tell, and we dare say it beats anything from a can. Plus, we love that this casserole is nut-free!
Not only is the sauce creamy and delicious, but the crispy onions on top really seal the deal. They are battered in a gluten-free flour mixture, then pan-cooked in shallow oil to get them nice and crispy, while still being Whole30-compatible.
Tricks and tips:
This Ranch Green Bean dish uses canned coconut cream in place of heavy cream. Note that coconut cream is not the same as canned coconut milk — canned coconut cream has a higher fat content which results in a wonderfully creamy sauce. (Using regular coconut milk will result in the sauce being too thin.) Can't find canned coconut cream? Put a can of regular (not lite or reduced-fat) coconut milk in the fridge overnight. Once you open it, use only the solid white portion of the coconut milk, not the liquid. To measure and whisk the coconut cream effectively, it will need to be liquified again before using it in the recipe. Either heat in the microwave for 20 seconds or on the stovetop over low heat, stirring frequently until smooth
For an easy way to steam your green bean, use a microwavable reusable zip-top bag (like a Stasher bag) or glass dish. Add ¼ cup water to the bag or container and seal the bag or cover the dish with microwavable plastic wrap. Microwave on high for 5 minutes and then drain.
For the crispiest onion topping, prepare half the onion topping to cook with the casserole. Finish cooking the other half of the onion topping while the casserole is cooking, and top after the casserole is finished. If you are in a crunch for time, cook and add all the onions to the top of the green bean casserole before baking the second time.
You can use potato starch instead of arrowroot to thicken the sauce. Tapioca starch is not ideal for this recipe, as it will make the sauce tacky. You can also use 1 ½ pounds of frozen green beans, steamed and drained.
Vegan Variation:
Use vegetable broth instead of chicken broth and a vegan ranch dressing. Use the leftover coconut cream instead of the whisked egg to coat the onions.
Ranch Green Bean Casserole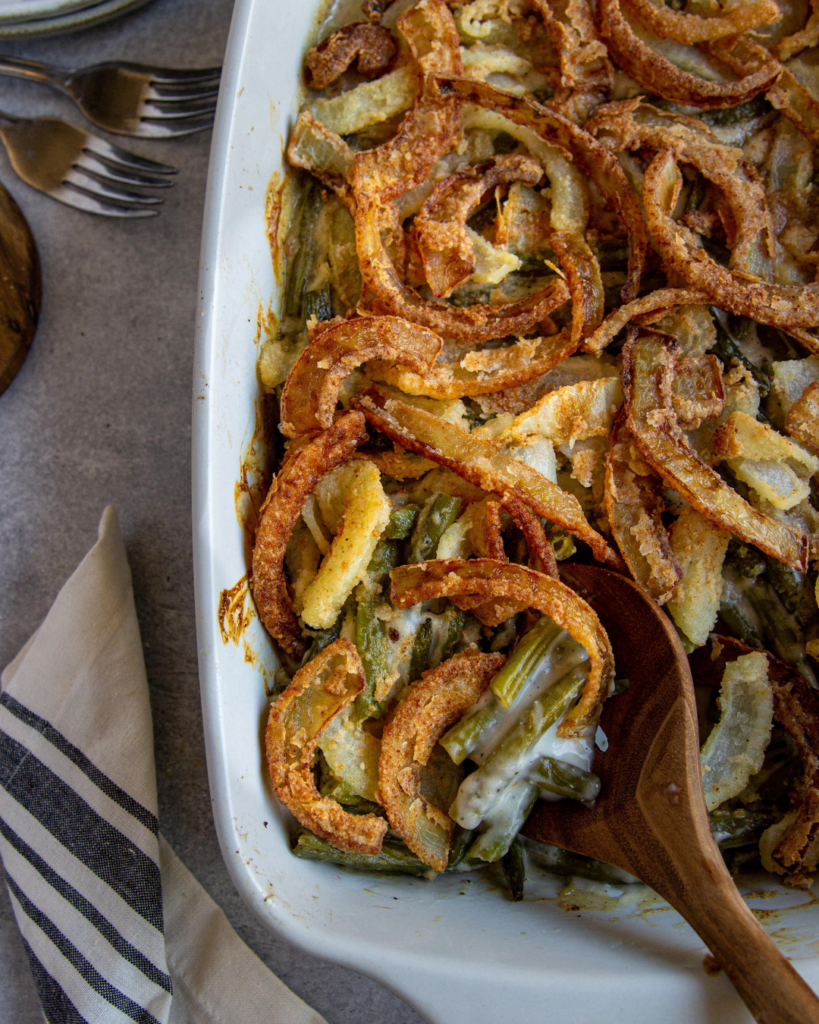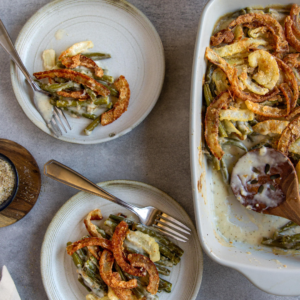 Ranch Green Casserole
Ingredients
Casserole
1 ½

lb

fresh green beans

trimmed and cut in half and steamed

1

cup

chicken broth

1

cup

canned coconut cream

½

cup

Whole-compatible ranch dressing

2 ½

tbsp

arrowroot flour

1

tsp

garlic powder

1

tsp

salt

½

tsp

pepper
Onion Topping
1

large yellow or white onion

cut into narrow rings or half-circle strips

1

egg

whisked

½

cup

arrowroot flour

¼

cup

coconut flour

1

tsp

garlic powder

1

tsp

onion powder

1

tsp

salt

⅓

cup

high-heat oil such as avocado or coconut oil
Instructions
PREHEAT oven to 400 degrees Fahrenheit. Set aside a 9×13 pan.

COMBINE broth, cream, ranch, flour, garlic powder, salt and pepper in a medium pot. Whisk to combine.

COOK on the stove over medium-high heat, stirring constantly for 3-4 minutes until sauce thickens.

COMBINE the steamed green beans and sauce in the 9×13 pan and cook uncovered for 15 minutes.

TOSS the onion slices with the whisked egg. Drain excess.

COMBINE flours, garlic powder, onion powder, and salt in a medium bowl. Add onion and toss until coated, shaking off excess.

HEAT oil in a medium skillet over medium-high heat. Add onion pieces, not crowding the pan, cooking until golden brown on both sides, about 3-4 minutes per side.

TOP casserole with half or all the onion topping (see note above) and bake at 400 degrees for an additional 10 minutes. Remove from oven and cool for at least 15 minutes, topping with other half of crispy onion topping if desired.

FREEZE leftovers in a sealed container for up to 3 months.
You Might Also Like…
Some links used in this post are affiliate links, meaning Whole30 makes a small commission off of purchases made via our link. Thank you for supporting our Whole30 partners.
---
Autumn Michaelis
Recipe Creator | Whole Food for 7
Autumn Michaelis is an ACSM Certified Exercise Physiologist, with a B.S. in Exercise Science from BYU. Though exercise was her first love in the health world, nutrition has become her passion. She created the blog Wholefoodfor7, sharing easy and budget-friendly Whole30, Paleo, and gluten-free + dairy-free recipes for families. In August 2022, Autumn released the newest Whole30 Endorsed cookbook, Whole Food for Your Family. She is mom to 5 boys (yes 5!) and when not in the kitchen can be found adventuring, hiking, and tearing up the dance floor.